Nutricost Whey Protein Isolate Chocolate Flavor Review
Get the right amount of protein for your workout routine with whey protein isolate powder.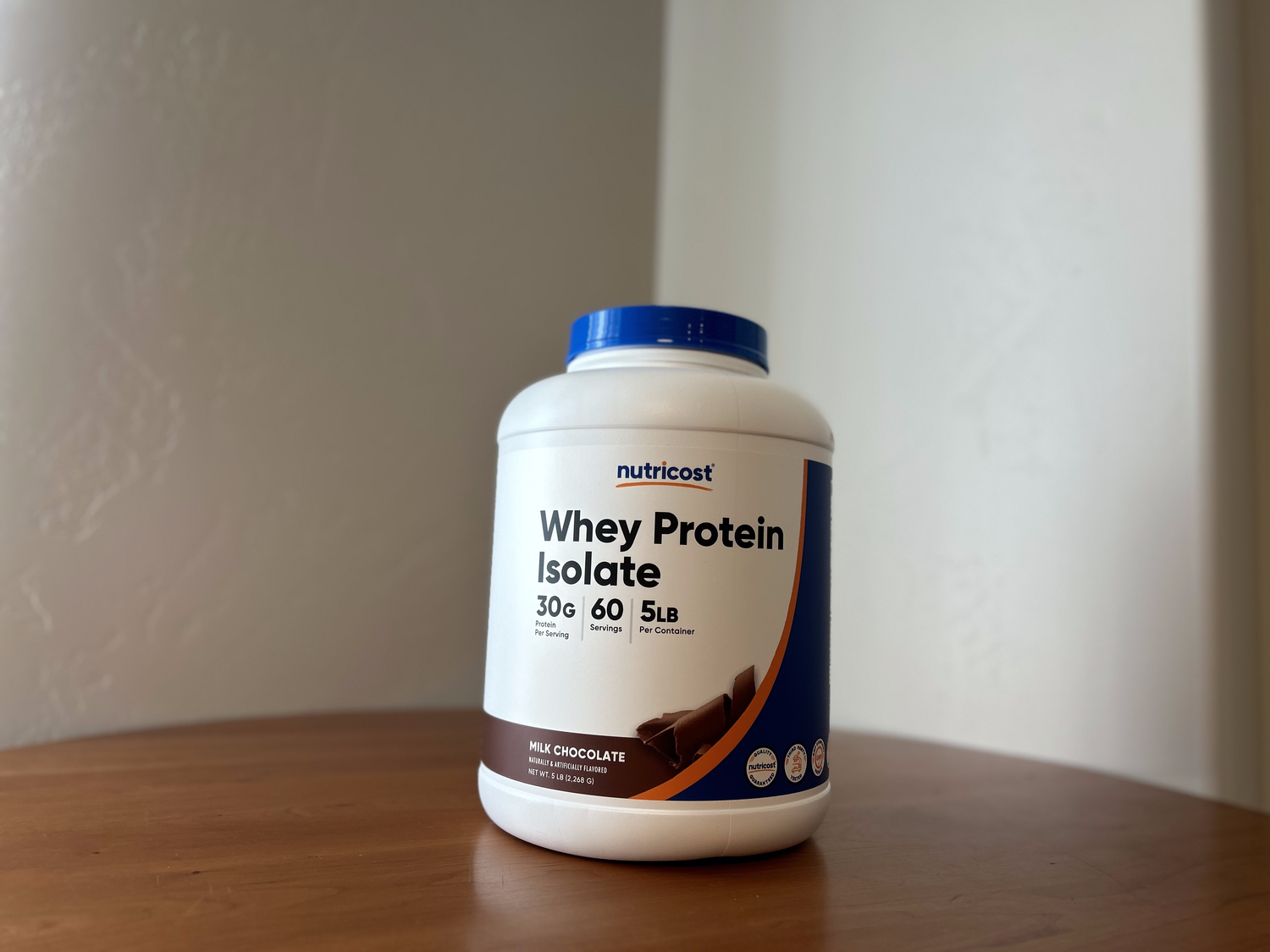 Nutricost Whey Protein Isolate
Many fitness enthusiasts and gym-goers struggle to get enough protein. Nutricost has a highly-rated whey protein isolate powder that delivers 30 g of protein per serving. Paired with delicious chocolate taste and an unbeatable price, this is definitely worth your time!
Buy on Amazon
Nutricost is a large-scale supplement brand that offers over 1,000 health and wellness products, including a great flavor line up as well as an array of  gummies, tablets, powders, and capsules. They are known for making high-quality supplements for consumers at an affordable price without sacrificing quality. 
One of their top products on Amazon is Whey Protein Isolate Powder, so naturally, I had to order some! I'm always trying to make sure I get enough protein and am on the lookout for the best possible whey protein options out there. 
Key Features of Nutricost Whey Protein Isolate 
30g protein per serving
60 servings per tub
Made in a GMP Compliant, FDA Registered Facility
The Best Isolate? In-Depth Review and Analysis
Simply put, the Nutricost Whey Protein Isolate Chocolate has a high 4.5 star rating, so I had to order some and try it for myself. 
I got the 5 lb size, and it was delivered the same day, which was a nice surprise!
Pros
A Great Deal
Of the protein powders, whey isolate can cost a little more than other kinds of protein powder. This is because the process to purify and isolate the protein is more involved than other forms of protein, resulting in higher protein content and less carbs.
That said, Nutricost delivers a great deal on their whey protein isolate. The 5 lb tub costs $69.95 and has 60 servings.  That breaks down to about $1.16 per scoop. 
Comparing prices to other 5lb whey protein isolate options on the market, there is a range of prices and most of them run upwards of $70 per tub, even up to $100. 
That makes this $69.95 Nutricost whey isolate one of the most affordable options. 
Reliable Formula
While some whey protein isolates might provide 20-25g per serving, each scoop of Nutricost whey protein isolate provides 30g of protein. This is definitely on the higher end for a whey protein isolate. 
In addition to 30g of protein, each serving includes a small amount of fat (1 g), cholesterol (15 mg), sodium (230 mg), and carbohydrates (2 g). 
Each scoop only has 130 calories, making this a stellar option for those looking to increase their protein while keeping their calories low.
You will also get some extra


Calcium 105 mg
Potassium 174 mg
Phosphorus 94 mg
Magnesium 33 mg
Also, the protein powder is gluten free, which could be important for some folks! 
Mixing Magic
I mixed a scoop with 10 oz of water in a shaker bottle. It mixed very easily, I only shook it for 15 seconds and it was smooth and just a little foamy. 
No grit or clumps in this mix! You could also mix it up with almond milk or oat milk for a different texture and some added calories. 
After mixing it up with plain water, I added a little coconut water, and it was a little tropical chocolate treat! 
Classic Chocolate Flavor
Not everyone is a chocolate fan, but I think this flavor could make anyone like chocolate! It has a super delicious, smooth, milk chocolate flavor. If you aren't a fan of chocolate, Nutricost has 9 other flavors as well!
It is not too sweet, and has no bitterness. It is good on its own in water, but if you wanted to mix it with banana and peanut butter, that would be great too! 
High Quality Ingredients
Nutricost uses high-quality ingredients to ensure maximum quality. 
Consumers like you and I can rely on Nutricost because they have GMP-certification.  GMP-certification is notable because it indicates that the brand has taken extra measures to ensure quality control. 
Additionally, Nutricost's whey protein isolate is non-GMO and also 3rd-party tested for purity. 
Cons
Can Stock Out
One of the only drawbacks of a highly rated product like this one is that it is sometimes out of stock due to popularity. However, Nutricost usually restocks whey protein isolate quickly, so you won't have to wait long!
Simple Formula
Some people may be looking for a protein powder that offers more calories or other blends and ingredients. 
Nutricost provides a straight-forward 30g of whey protein isolate. That said, if you want to find something that can offer more benefits than just protein (like higher calories, or additional complexes or blends), that might be a reason to keep looking for another option.
My Final Thoughts
This whey protein isolate checks all the boxes for me, and I definitely recommend it! I love the flavor, the price point, and the high quality. 
The 60-serving tub should last about 2 months (if you take 1 scoop a day), and has that affordable price point at $69.95. And while this is an extremely popular protein that might stock out occasionally, rest assured the positive qualities outweigh that possibility. 
10/10 stars! 
Why Supplement with Whey Protein Isolate?