Nutricost Whey Protein Concentrate (unflavored)  – Is it Really the Best?
Join the thousands of people who are enjoying the benefits of whey protein concentrate.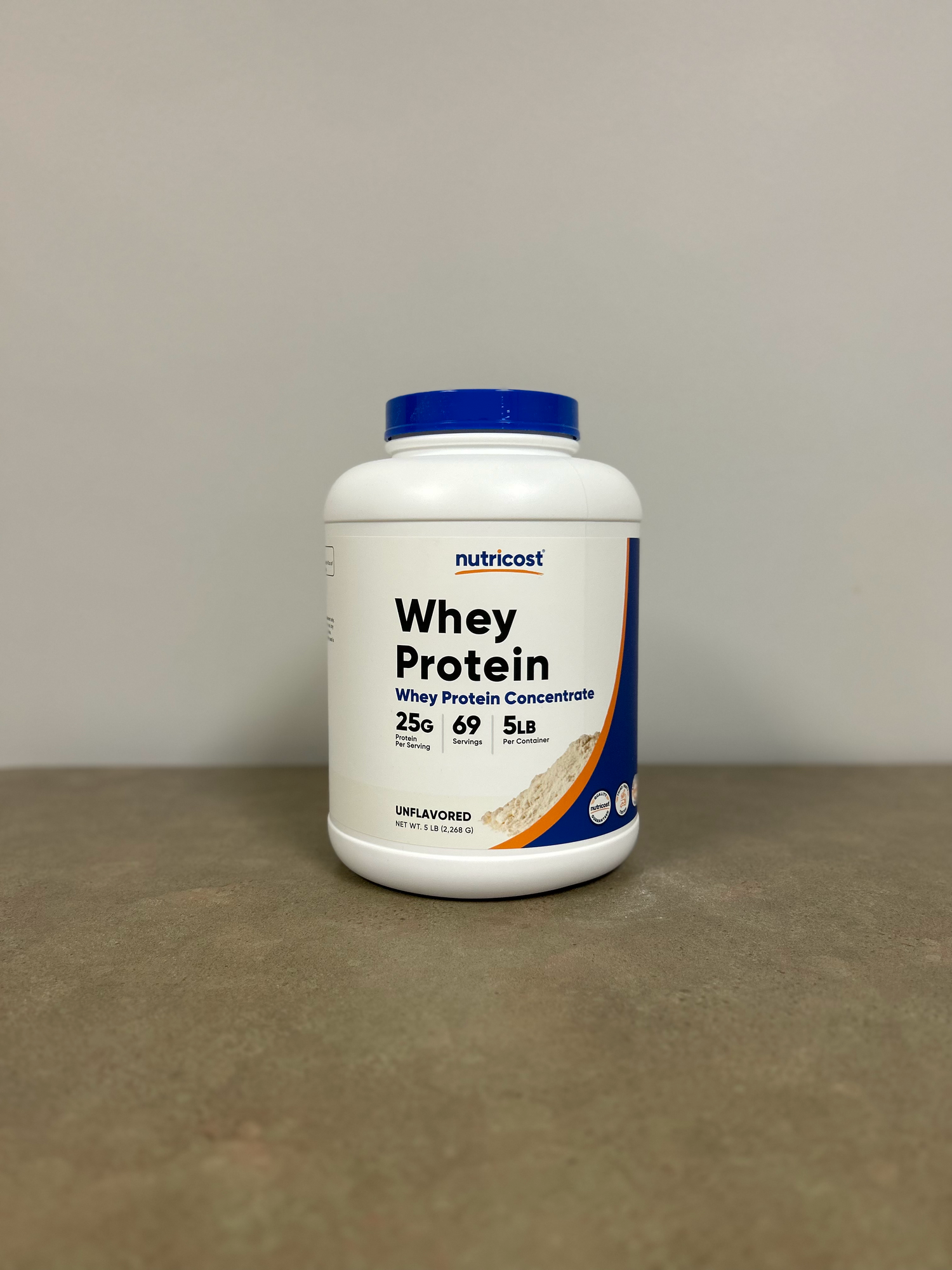 Nutricost Whey Protein Concentrate
Need to add some protein to your life? Nutricost has an unflavored whey protein concentrate option with 25g per serving. The 5lb tub container has over two months of servings at 82¢ per scoop. Non-GMO and 3rd-party tested for quality assurance.
Buy on Amazon
Nutricost is a health and wellness company that offers a wide range of products. Their lineup includes powders, capsules, gummies, tablets, as well as a popular performance line.
On Amazon, there are thousands of raving reviews for Nutricost in general, and their whey protein concentrate has an impressive 4.5 star rating on Amazon. 
Like many fitness enthusiasts, I often need to take extra measures to get enough protein. After seeing the high ratings, I had to check out their unflavored option for myself. 
Read my full review below, with a bonus whey protein concentrate smoothie recipe! 
Nutricost Whey Protein Concentrate at a Glance: 
25g protein per serving
Unflavored 
69 servings
5lb container
Under the Lid - My In-Depth Review
Pros
An All-Star Deal
Nutricost Whey Protein Concentrate comes in a 5lb tub and costs $56.95 for 69 servings. That breaks down to 82¢ per serving. 
If you shop on Amazon, there are Subscribe and Save options to be delivered every 2 months so you never run out, which gives consumers an even better deal! Even if you don't opt in for the subscription, the one-time purchase is a great price.
When you're picking a protein powder, price will definitely be a deciding factor. I recommend taking all of the factors into consideration, serving size, amount of protein per serving, price per serving, and overall price. 
For example, some brands might have whey protein concentrate that provides a lot of servings per tub, but the amount of protein per serving is a lot less.
Other whey protein concentrate powders may also appear cheaper at first, but with a closer look you will see that they provide far fewer servings, making it way more expensive in the long run. 
All that said, Nutricost's Whey Concentrate price is totally solid. It provides a nice amount of whey concentrate (25g) at only 82¢ per serving, with 69 servings per tub!
Formula that Shines!
Whey protein concentrate comes from milk and this formula has all the nutritional benefits of milk. And Nutricost's Whey Concentrate provides a 25g of protein per serving, which is pretty standard. 
Each serving is easy to measure with the included scooper, but if you lose the scooper, the dry weight is ⅓ cup.
In addition to 25g of protein, each serving includes a small amount of fat (3 g), cholesterol (75 mg), sodium (65 mg), and carbohydrates (1 g). 
You will also get some extra 
Calcium 178 mg
Potassium 139 mg
Phosphorus 134 mg
Magnesium 20 mg
The protein powder is gluten free, which could be important for some folks!
Unflavored – Great for Mixins and Recipes!
Since this is an unflavored powder, there are a lot of possibilities with this.  The powder has the expected milky aroma, and will mix easily with lots of flavors in a smoothie. 
I personally like a fruit-forward protein smoothie, and maybe sometimes a really simple mix with oat or almond milk for flavor. If you're a chocolate lover, this unflavored protein will act as the perfect base to your protein shake.
Based on my experience, most people like the unflavored option because it is a really easy to use powder and allows for whatever mix-ins you want to fit your preferences.
You can also add it to recipes and bake with it for protein-packed treats.
Only the Best Quality
Nutricost uses premium ingredients to ensure maximum quality. All Nutricost products are manufactured in a GMP-compliant, FDA-registered facility. GMP-certification is important because it indicates to consumers that the brand has taken extra measures to ensure quality control. 
Nutricost's whey protein concentrate is non-GMO and also 3rd-party tested for purity.
Cons
Requires Some (Minimal) Prep Time
While you won't need a lot of time to prepare a protein-packed shake, it will require more than just tossing a scoop in a shaker bottle.
Because this protein is unflavored, you'll definitely want to make sure you add some of your favorite mix-ins and toss it all in a blender. 
That said, you can literally cater this protein shake to whatever flavors you are craving by adding in the appropriate mix-ins.
(Keep reading for the bonus recipe!)
Can Stock Out
When you shop from a big, popular brand like Nutricost, especially for an essential supplement like whey protein concentrate, it can sometimes be out of stock. 
However, rest assured that Nutricost usually gets their products back in stock very quickly!
My Final Thoughts
Whey protein concentrate is a staple for many athletes. 
I really like the Nutricost option for a lot of reasons! Obviously, the price is right and I love that the 5lb tub lasts for over 2 months. Also, the 25 g of protein per scoop is the right amount of protein supplement for me. 
The GMP-compliance and 3rd-party testing is a huge plus, and outweighs any potential negatives of being out of stock. 
So grab your favorite mixins for a protein shake and order a tub of Nutricost's whey protein concentrate today!
Why Supplement with Whey Protein Concentrate?
Whey Protein is derived from milk and comes in several forms. Whey protein concentrate is distinct because it has low levels of fat and carbohydrates. (Note that whey isolate has the lowest levels of fat and lactose). In addition to having high nutritional value, whey protein concentrate has been studied to have many health benefits.
Whey protein concentrate: 
*Bonus Recipe: Breakfast Smoothie 🍓🧉🍓
I really feel that the unflavored protein tastes best blended up with some fruit and juice. Swap out orange juice for water or almond milk to change it up. 
Combine the following ingredients into a blender and enjoy!
1 cup Frozen Strawberries
½ cup Plain Greek Yogurt
½ cup Orange Juice
(1 scoop) Whey Protein Powder
Nutrition Facts
Servings: 1
Amount per serving
Calories 313
% Daily Value*
Total Fat 3.6g 5%
Saturated Fat 2.2g 11%
Cholesterol 72mg 24%
Sodium 142mg 6%
Total Carbohydrate 38.2g 14%
Dietary Fiber 3.3g 12%
Total Sugars 28.9g
Protein 30g
Vitamin D 0mcg 0%
Calcium 346mg 27%
Iron 3mg 17%
Potassium 710mg 15%