Type Zero Vitamin D3 Review
Help improve mood and increase immunity with vitamin D3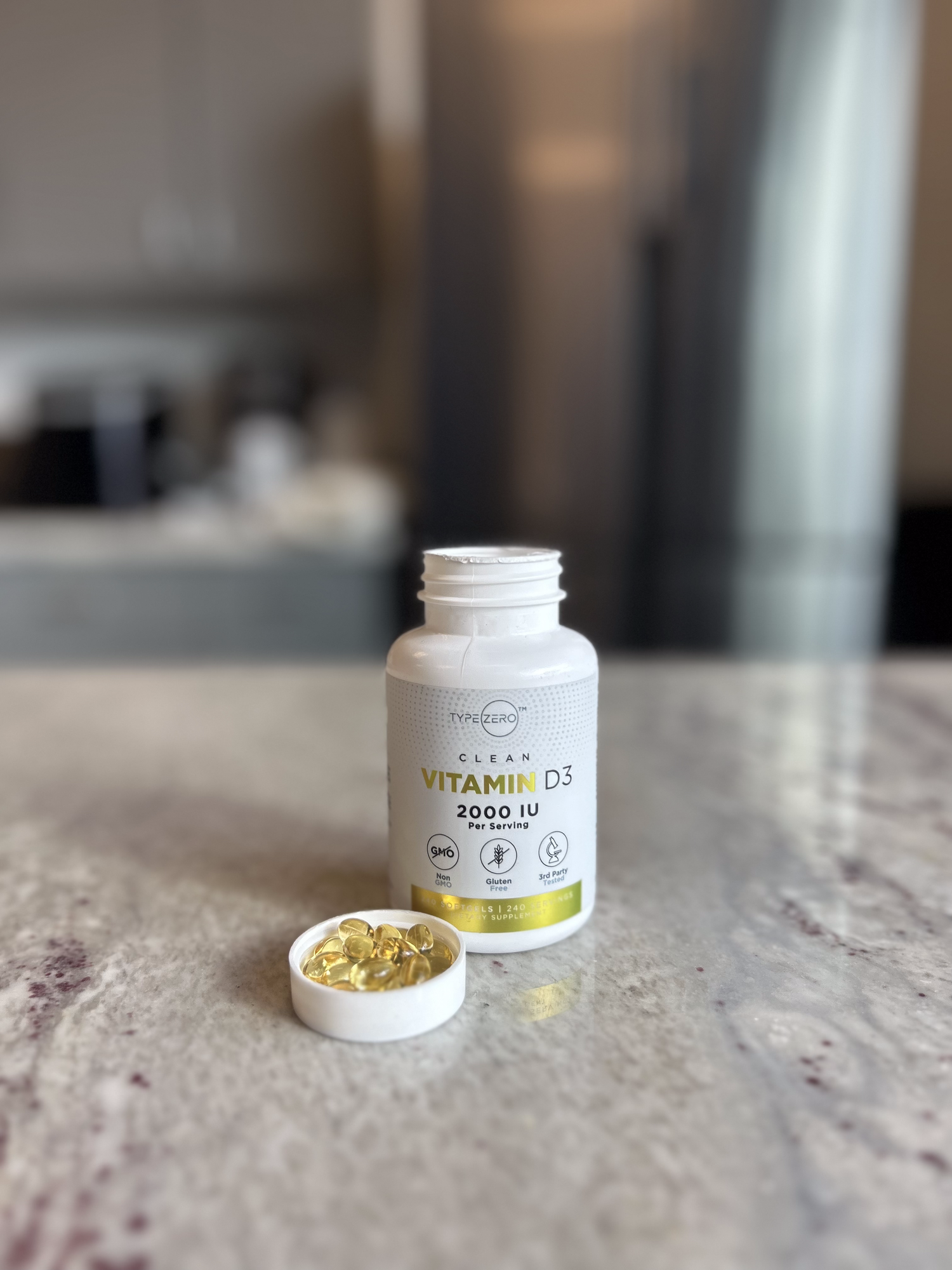 Type Zero Vitamin D3 Review
Get a long-lasting supply of vitamin D3 from Type Zero. This little bottle of sunshine has 240 servings for just $16.95.
Buy on Amazon
Strength is more than hulk-like muscles. Bones need support to maintain strength and durability. Lucky for us, vitamin D supplements help aid the body to draw calcium from food sources, which can help strengthen bones.  

Vitamin D is also sometimes called the 'sunshine supplement' because a daily dose of vitamin D3 can help improve mood and mental health. This is in addition to that great bone support from vitamin D –  PLUS supplementing with vitamin D can aid the immune system. 
I first noticed Type Zero's Vitamin D3 bottle when shopping online. I was looking for a long-lasting supply of vitamin D3 at a moderate dosage, not too big or too small. The price was right and the dosage is 2,000 IU per serving, so I ordered it. The softgels arrived quickly and I like that they are a pretty amber color. 
Read my full review to learn more about Type Zero's Vitamin D3 softgels. 
Type Zero Vitamin D3 softgels at-a-glance: 
240 servings per bottle 
2,000 IU per serving 
High quality supplement 
3rd-party tested
Pros
No Fuss Formula
Each serving has 2,000 IU of vitamin D3. There are no other fillers or ingredients in the gelcaps, which is great. I am a fan of the single-ingredient supplements so I can easily keep track of which ones I've taken each morning and night. 
Professionals suggest 600 - 4,000 IU of vitamin D each day, and indicate that adults should not take more than 4,000 IU of vitamin D per day. 
Type Zero's dosage of 2,000 IU is perfectly in the range. I like that it is a medium sized dose -  plenty of vitamin D but not too much. 
Last thing - the gelcaps are non-GMO and gluten-free. 
Unbeatable Price
I'm not joking when I say this price is unbeatable. The bottle only costs $16.95 and has 240 servings. That means that this bottle can last up to 8 months and is less than $20. 
As if it couldn't sound any better, the price-per-serving breaks down to  just 7¢ !
Like, wow. Truly unbeatable.
Reliable Quality
Type Zero shines as a great brand, and not just due to its shiny labels. In my research, I found that Type Zero has all products 3rd-party tested to ensure purity and potency. 
Additionally, Type Zero manufactures vitamin D3 in a GMP-compliant & FDA-registered facility, which is a unique high-quality step that not all brands take the time to complete. 
Cons
I literally do not know if there are any cons for this product. It lasts forever – not literally, but 8 months is a long time. 
The benefits are great, quality is high, and the price is so affordable. I usually try to be critical of the new products I try, but there are literally no complaints here.
Support Your Bones With a Golden Gelcap
If you're in the market for a bottle of vitamin D3, Type Zero has a really great option. I also didn't mention before that the gelcaps are really small, so if you have any issues with capsules, this one should be super easy. 
At just $16.95, the whopping 240 serving bottle with 2,000 IU of vitamin D3 will last for many months. I even take this little bottle when I travel, it's that easy. 
Type Zero delivered a slam dunk with these vitamin D3 gelcaps. Read about all the benefits of supplementing with vitamin D below.
Why Supplement with Vitamin D?