Get A Little Bit of Everything in Nutricost Vitamin B Complex
Try out a high potency vitamin for your everyday needs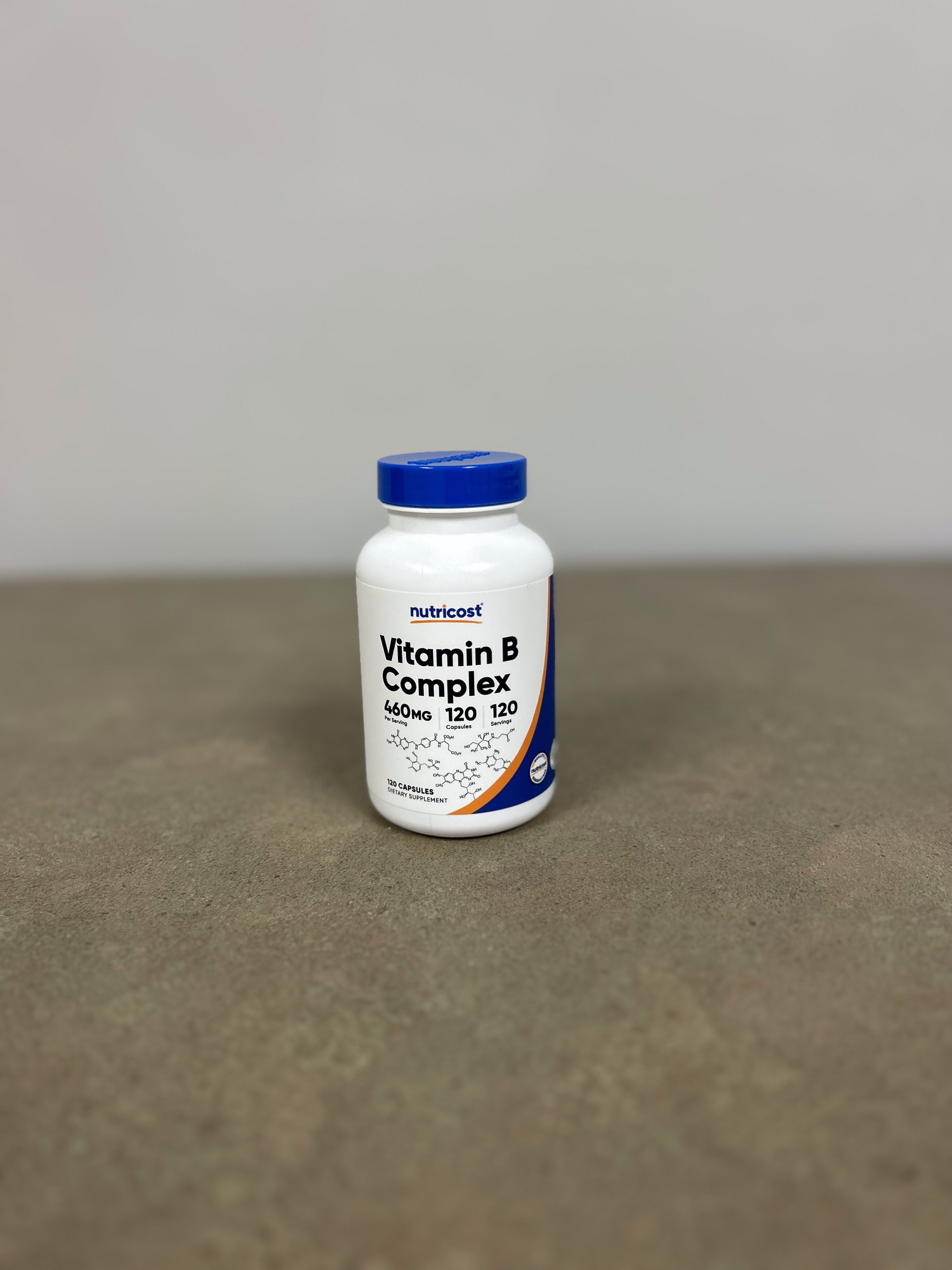 Nutricost Vitamin B Complex
Get 460 mg of vitamins B1, B2, B3, B5, B6, Biotin, Folic Acid, B12 and C in this powerful capsule. Four months of supply costs only $14.95, which is only 12¢ per day. High quality guaranteed by Nutricost.
Buy on Amazon
If you've ever shopped for supplements online, you've probably come across Nutricost. This is because they are a major player in the health and wellness field and offer a gigantic line of products including gummies, tablets, capsules, and powders. 
They have several popular supplement lines, like a performance line, a women's line, organics line, and more. On Amazon, the entire brand has impressive ratings, and vitamin B complex has thousands of high, 4.5 star reviews. 
I was curious to find out if their vitamin B complex could be the robust daily vitamin that I'm looking for, so I ordered a bottle to review. Keep reading for all the deets!
Nutricost Vitamin B Complex at a Glance: 
Only 12¢ per serving 
Complex formula 
Easy, one-a-day capsule 
Non-GMO
All For One, and One For All! This Capsule Has It All
Nothing beats the convenience of an all-in-one vitamin capsule. I was so excited to check out the Nutricost vitamin B complex, especially because this is the one of the first results to come up on Amazon for a high potency capsule.
Pros
Stellar Price
With prices rising pretty much everywhere these days, I was so happy to find a great price for vitamin B complex. The 120-serving bottle costs $14.95, which is a great deal for a 4 month supply. 
If you take the recommended dose of one capsule per day, it costs just 12¢ per day. Considering this powerful formula, that price is *chef's kiss*. 
I haven't seen any other high potency vitamin B complex options that are this affordable with the same amount of servings. You could find a less expensive bottle, but those bottles have far fewer servings, so it's not actually going to save you money in the long run. 
Robust Formula
Wow, this is a totally packed capsule with tons and tons of potential benefits. If you had to pick just one supplement to take every day, this one would be a top contender because it supports your wellness from all sides. 
This is not your average vitamin: 
Nutricost B complex provides a high potency dose - 460mg in each serving. I also love that it comes in a vegetarian capsule, uses non-GMO ingredients, and is gluten-free. 
The Highest Quality
Like all of their products, Nutricost B complex has been 3rd-party tested, which ensures purity and high quality. 
Also, they have gone the extra mile with GMP-certified facilities, and registered with the FDA, to make sure the capsules are produced with the absolute highest quality. 
If you check out other brands on the market, you will notice that not all brands and companies can provide this level of quality control, which makes Nutricost stand out as a top shelf brand. 
Cons
Not A Multivitamin
While this is a comprehensive vitamin B option, it is not a multivitamin. If you're looking for a one and done option with lots of different vitamins, then this is probably not for you since it focuses only on vitamin B.
Nailed It - Highly Recommend
If you're looking for a complex, high-powered vitamin B supplement, this is the one. Some folks might prefer a more complex daily vitamin, which is not found here. This is a wide spectrum vitamin B, not a multivitamin. 
However, this formula is exactly what I've been looking for. It packs a punch with  a high-potency dose and tons of possible benefits. I haven't seen any other bottles that are this affordable at only $14.95 for a 4-month supply. 
Factor in the GMP-certification at an FDA-registered facility and you can see why this is my top choice! 
Why Supplement with Vitamin B Complex?
Vitamin B complex is a staple for many health and wellness-minded folks. Vitamin B complex assists in turning food into energy, building red blood cells, cellular metabolism, promoting healthy skin and nails, and has antioxidants to help eliminate free radicals.
Supplementing with B complex is a great way to make sure you are getting a bunch of vitamins and their essential benefits in just one capsule. Vitamin B complex is not the same as taking B12, but most B complex supplements do include B12 as well. See the formula section above for a comprehensive list of vitamins and their benefits.