Nutricost Taurine: A Comprehensive Review
With new clinical research recently released, will you join the new wave of health enthusiasts embracing taurine???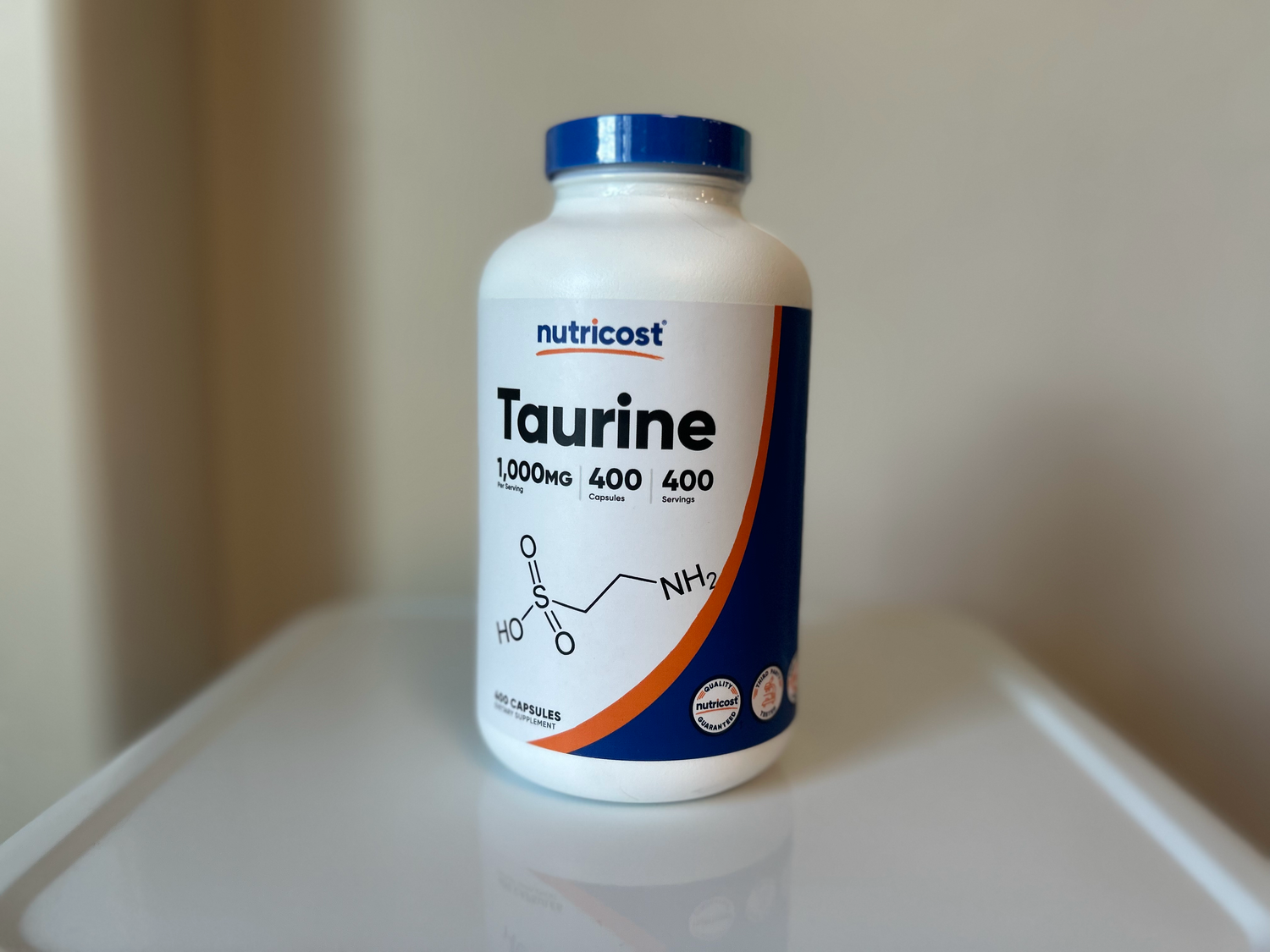 Nutricost Taurine Review
Check out Nutricost's Taurine – a 400-serving bottle for just $19.95. Get 1,000 mg of taurine in this high-grade, single-ingredient product serving. Nutricost's taurine is non-GMO and manufactured in a GMP-compliant facility. 
Buy on Amazon
Nutricost is a supplier of health and wellness products. They are known for their high-quality, straightforward products that don't break the bank. Their performance line is popular with athletes; they also offer women's and kids' product lines along with their many supplement options. 
I saw that a few hot articles came out about its potential effects on anti-aging, and taurine started to trend even more. Between the breaking news on taurine and Nutricost's high reviews, I needed to check it out myself! Read my full review below.
Nutricost Taurine at a Glance: 
400 servings
Single-ingredient product
$19.95 per bottle
Non-GMO
Under the Lid - My In-Depth Review
Pros
Good Value
One of the first things I notice about a supplement is its affordability. I am sure I'm not alone in this! Nutricost's taurine runs at $19.95, which is a solid deal. This bottle has a whopping 400 servings, which very few other brands offer. Most other brands cost more per serving as well – but, let's face it, 4¢ per serving seems impossible to beat!
Most other brands offer fewer than 120 servings, most of them running at around $14.99, which looks less expensive but won't last as long and does cost more over time. So don't be tricked. 
Also, Nutricost has a few easy ways to save even more money, like subscribing and saving options or buying a 2 or 3-pack of taurine to deepen those savings. 
Finding the right price is a significant factor for many people, and Nutricost delivers a top-notch option!
Single-Ingredient Formula
This is an excellent option if you're a fan of single-ingredient formulas. Each serving is 1,000 mg of pure taurine in a vegetable-based capsule. When I was researching how Nutricost stands compared to other brands, 1,000 mg is right in the median range. There are options for less taurine per serving and higher mg serving options. 
If you're trying taurine for the first time, it might make sense to pick a supplement with a mid-range dose, but (of course) consult your physician first.
Additionally, the supplement is non-GMO and gluten-free, which could be important for particular consumers.
Additional Certifications
Nutricost manufactures taurine in a GMP-compliant, FDA-registered facility. It's also important to note that they have products 3rd-party tested to ensure quality control. 
GMP stands for Good Manufacturing Practices and indicates to consumers that a brand has followed federal guidelines that hold its products to the highest standards. This protects people like you and me from any accidental cross-contamination or discrepancies.
Cons
Limited Ingredients
This product doesn't include any extra ingredients - it is ONLY taurine. If you're looking for a product that can bundle supplements, some options I saw online included taurine in a greens mix powder. 
Some people prefer to take a supplement that includes quite a few ingredients. While there are a lot of health benefits connected with taurine (see below), this supplement only delivers that daily dose of taurine.
Can Be Out Of Stock
One of the downsides of getting on the Nutricost bandwagon is that it's so popular that occasionally their products are hard to get. If this happens to you, don't worry.  They usually get their stock refilled pretty quickly.
My Final Thoughts
When I saw all the articles coming out on how taurine may improve aging, I knew I had to learn more and try the supplement out for myself. Nutricost has an excellent option for health enthusiasts who want an affordable, single-ingredient option. 
Those who want a more complex formula or a different amount of taurine in each serving may need more research to find the right supplement. 
However, for me, this one checks all the boxes. I love the quality assurance, the considerable amount of servings, and the great price.
Why Supplement with Taurine?