Unleash Your Potential with Nutricost Pre-Workout
Push your limits and increase gym performance with pre-workout powder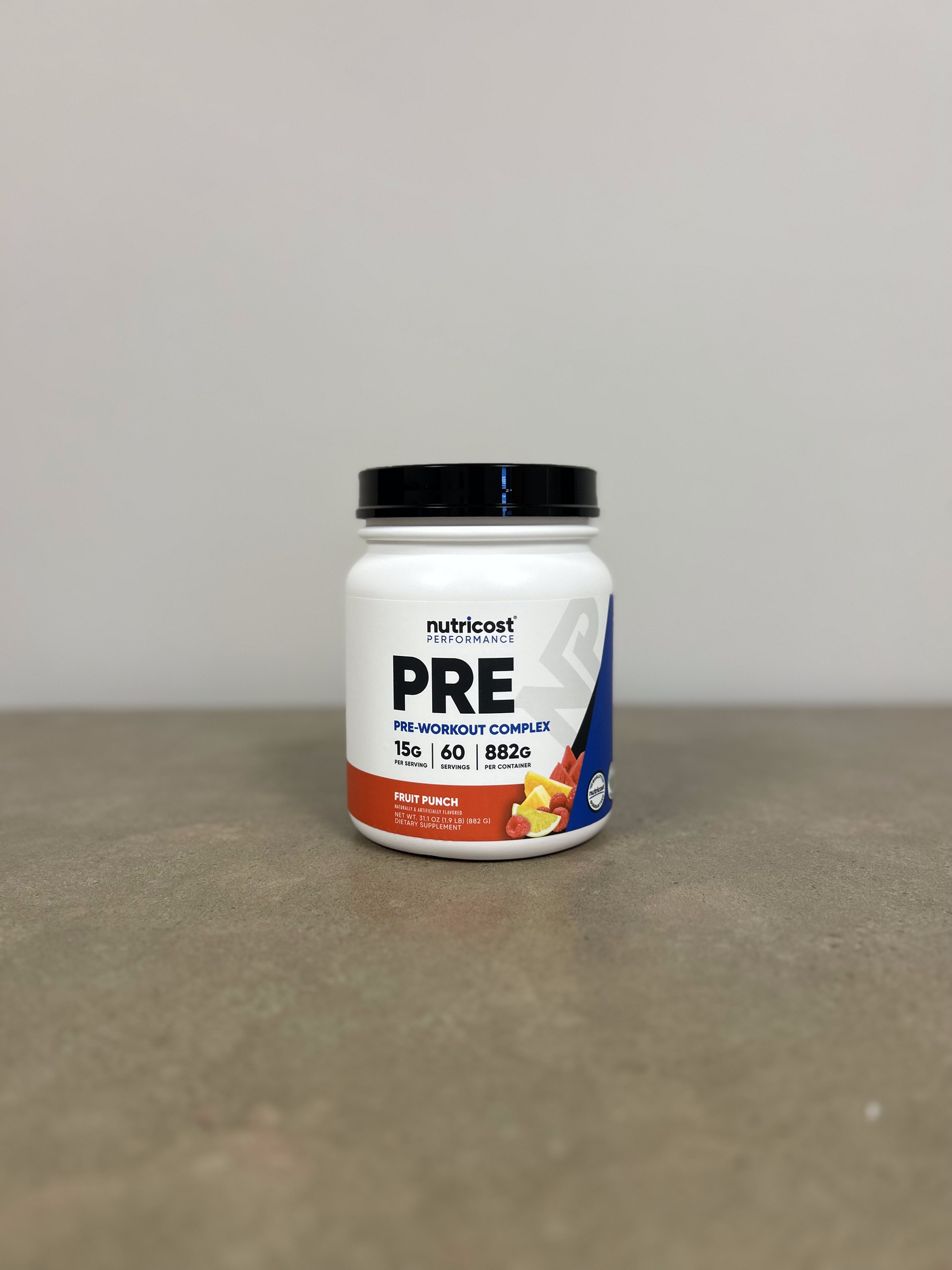 Nutricost Pre-Workout
Nutricost offers a powerful pre-workout powder in a delicious fruit punch flavor. This powder is part of Nutricost's performance line and the 60-serving tub costs $37.95. Each scoop of high quality powder has 15g of amino acids and includes 300mg of caffeine.
Buy on Amazon
Nutricost is a prominent health and wellness company with a wide selection of supplements. Their line up has over 1,000 products, including many flavor options, tablets, capsules, powders, and gummies. Nutricost is known for affordable products with superb quality. 
Pre-workout is a staple supplement for any gym-goer, and there are many options to consider when choosing a powder. One of the most notable options is the level of stimulant, or caffeine, in a product. You can get a preworkout with low or zero stim, regular stim, or high stim.  
I noticed Nutricost's powder because of very high reviews on Amazon, and the formula is packed with performance-enhancing ingredients like taurine and l-theanine. It is also a high-stim powder with 300mg of caffeine, plus other nootropics. 
Fruit punch is one of my favorite flavors, so I had to order it. Keep reading for my full review and analysis!
Product at a Glance: 
Non-GMO
60 servings
$37.95 
Great flavor
Pros
Competitive Price
Since this is an everyday supplement for gym-goers who are hitting the gym regularly, it is extra important that the price is right. Otherwise, you'll be paying out the nose each month. 
At only $37.95 per tub and 60 servings, Nutricost pre-workout breaks down to just 63¢ per scoop. This is definitely a solid price point. 
While there are a few less expensive options on the market, their formula is less impressive. On the other hand, there are a LOT that are far more spendy. Considering the high quality ingredients, this is an incredible price point.
Nutricost Pre-Workout lasts approximately 2 months, if you take one scoop per day. 
Formula Packs a Punch
The fruit punch flavor formula is 'punchy' 😉, and has everything you need in a pre-workout powder. Calories are low, only 5 per scoop. 
This powder includes small amounts of niacin, thiamin, vitamin B6 and B12. 
The main benefits of the powder come from several different aminos designed to support gym performance, including: 
This packed powder offers a LOT of benefits. Note that this is a high-stim powder due to the amount of caffeine – read more below! 
Additionally, the pre-workout powder is gluten-free and vegetarian friendly. 
High-Stimulant Powder
If you're looking for a pre-workout that you can feel, the high amounts of caffeine and beta-alanine will give you that LFG energy! We all like that energy boost from caffeine.

Each scoop of pre-workout has 300mg of caffeine.
Convenient and Easy to Mix
I love the convenience of the Nutricost powder. I mixed up the water and powder with a shaker and it only took 10 seconds. The powder dissolved very quickly, leaving no clumps or grit in the drink.
Great Fruit Punch Flavor
The fruit punch flavor is delightful. Each sip is sweet and tangy, a medley of ripe fruits. I like the combination of zesty citrus, featuring the brightness of oranges and the tang of berries.
The overall sensation is refreshing and invigorating, one of my favorites! I could definitely see myself enjoying this for several months.
Additional Certifications
I am always more likely to recommend a product when I see that it has been 3rd-party tested. This is because 3rd–party testing ensures purity and high quality. Not all brands take the time to get their supplements 3rd-party tested, but Nutricost does, which I appreciate. 
Nutricost also manufactures this non-GMO powder in a GMP-certified facility, indicating an even stricter set of guidelines that prioritize consumer safety by following practices that minimize the risk of contamination, errors, and deviations in the manufacturing process.
Cons
Beta-Alanine Can Feel Funny
The label offers a warning about beta-alanine, which affects each person differently, and is not unique to Nutricost's product, but is normal for this amount of beta-alanine. 
Beta-alanine can make some people feel a prickly or itchy sensation, and can cause flushed skin.
Note that the label also advises to only take one scoop per day. Taking more won't produce more benefits, and could have adverse side effects. 
Again, this is not unique to Nutricost products, but is common across the board for pre-workout powders that have higher amounts of beta-alanine. 
High Amount of Caffeine
For those of you who are sensitive to caffeine, this is a fairly high amount of caffeine at 300mg. I drink coffee every day, and need to be aware that I could accidentally drink too much caffeine while taking a higher stimulant powder like this one. For reference, 400mg is considered a safe amount of caffeine per day, which is either 4 cups of coffee or 2 energy drinks. 
If caffeine affects you easily, then you may want to do a half scoop to mitigate any unwanted side effects. If that is fine, then you can try to increase how much powder you mix with water, or not!
*Note* that the label says it is also inadvisable to consume any additional caffeine, since there is a hefty amount in the formula. 
My Final Thoughts
Nutricost has formulated a delicious and strong pre-workout powder. I love the flavor, the price is right, and the ingredients are high quality. 
A few things to remember about this powder are the higher levels of caffeine and beta-alanine, which some people may find a bit high. One solution is to use less than a full scoop in your shaker bottle, or look for a lower-stim powder option. 
However, some people really like feeling that buzz from the caffeine and beta-alanine. If you're looking for a powerful, affordable, and extremely drinkable option that includes a hefty dose of several awesome aminos to help support workout performance, this is for you! 
Why Supplement with Pre-Workout?
In the quest for maximizing athletic performance, gym-goers often turn to pre-workout supplements as a means to enhance energy, focus, and overall workout effectiveness.
 These formulations have gained popularity in recent years, promising a range of benefits that help individuals push their limits during exercise.
Depending on the individual formula, benefits include: