Support Liver Health with Nutricost Ox Bile Capsules
Liver support capsules are here for you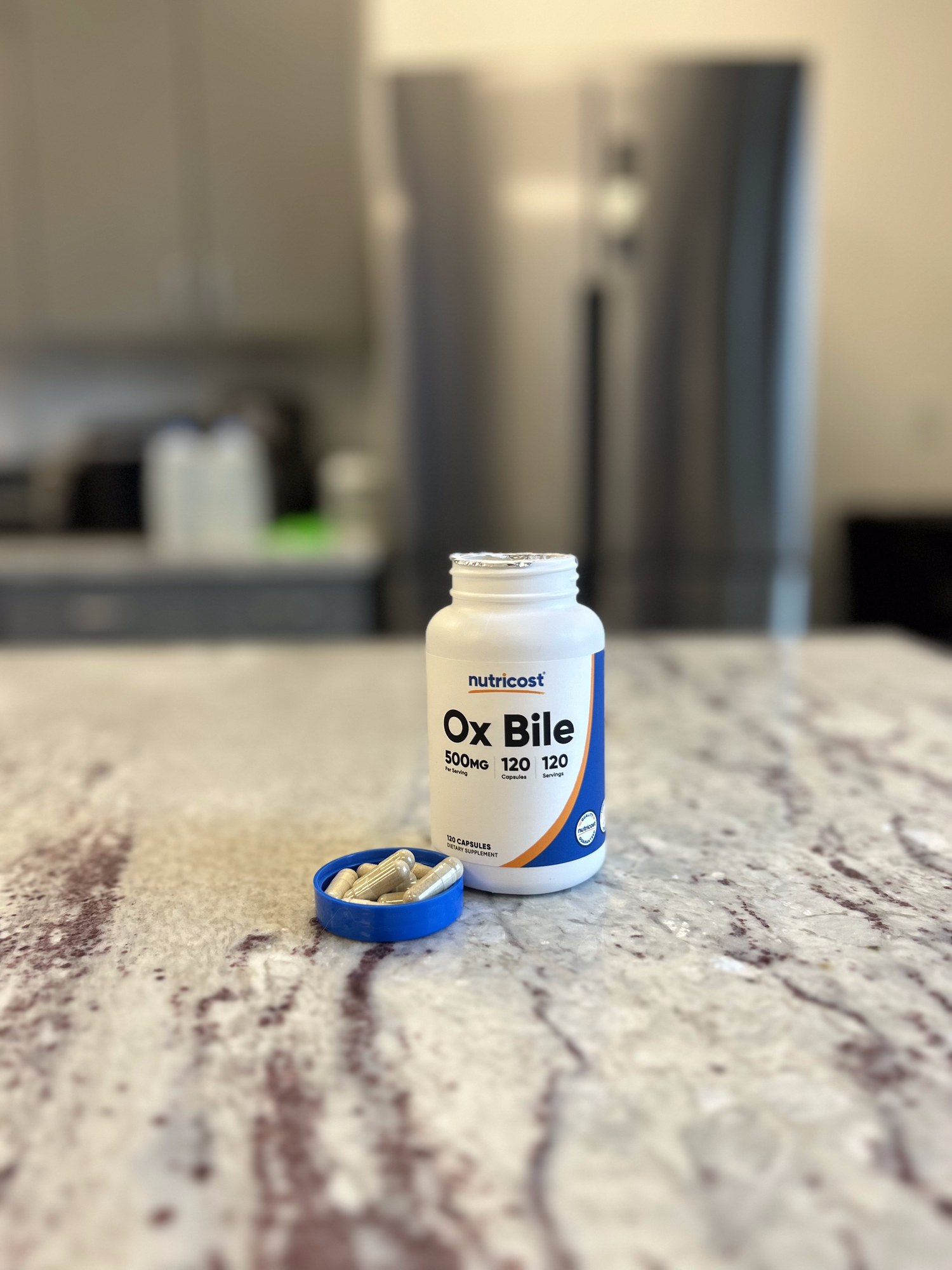 Nutricost Ox Bile
Nutricost provides a reliable and effective solution for supporting liver health with Ox Bile capsules. Each bottle can last up to four months and costs just $18.86.
Buy on Amazon
Have you ever tried an Oxtail soup?? I had a bowl of it in Hawaii on vacation, which was absolutely delicious! I had no idea that we could get so many health benefits from oxen. 
Do you know what other benefits come from oxen? Bile. Yes, you read that right! 
While Ox Bile may sound like a strange supplement to some, Ox Bile is actually full of important liver and gut support nutrients. Ox Bile supplements are designed to support the breakdown of fats and aid in nutrient absorption, making them a valuable addition to any wellness routine.
Since I'm always looking for more ways to level up my overall health and fitness level, I was curious what Nutricost's Ox Bile capsule could do for me. This particular supplement caught my eye because of the thousands of high, 4.5-star reviews.

Keep reading for my full review of this highly-rated supplement!

Nutricost Ox Bile Capsules at-a-glance:
120 Capsules per bottle
500 MG per serving
Non-GMO ingredients
15 cents per serving
Everything You Need to Know About Ox Bile Supplements
Pros
Your Wallet Will Love This Price
Nutricost offers excellent value for money, which is a key factor for me and many people when picking a supplement. This $18.86 bottle provides a generous 120 capsules with 500 MG ox bile per serving.

Nutricost Ox Bile capsules are cost-effective for those seeking long-term liver and digestive support. 
When considering other brand options, Nutricost offers the most servings in a bottle for a low price point of $18.86. Each serving costs just 15 cents, and the closest competitor offers 100 servings for $18.99. That breaks down to almost 19 cents per serving, which is not nearly as affordable as the Nutricost bottle. 
To-The-Point Formula
The 500 MG dosage of Ox Bile per capsule is well within the general range I've seen available for Ox Bile capsules. Some offer higher dosages, and some are lower. Nutricost's middle-range formulation of 500 MG provides enough potency without overwhelming the system. 
In addition, Nutricost Ox Bile is free of common allergens, including gluten, wheat, artificial sweeteners, artificial flavors, and preservatives. 
High-Quality Brand
Nutricost is a brand known for its commitment to high-quality supplements. They are the official supplement provider for BYU athletes, and their products are 3rd-party tested for purity. The fact that they operate in a GMP-compliant and FDA-registered facility further adds to their credibility.
Not all brands have taken the time to become GMP-compliant and 3rd-party tested, so this is definitely a unique 'pro' for Nutricost.
Cons
Mental Block
While bile is a natural and important part of a bodily process, it can be tough for some people to get over a mental block. Some may feel squeamish taking an ox bile supplement. 
The good news is that Nutricost's Ox Bile capsules don't smell like anything and are great for digestion. I took it with my other daily supplements and didn't have any trouble with it! The capsules are normal and go down easily with a glass of water. (Gotta stay hydrated!!)
Drumroll, Please: Final Thoughts
Nutricost Ox Bile capsules stand out as a top-tier digestive health supplement. My recommendation is based on the good price point, high-quality formula and ingredients, recognizable brand, and standard dosage size. 
With a potent formula backed by the credibility of the Nutricost brand, these capsules offer a cost-effective solution for folks who want to support liver and digestive health. Each bottle can provide up to four months of capsules if you follow the suggested dose of 1 capsule per day. 
While Ox Bile may sound like a funny supplement, it's actually an ancient remedy. Nutricost has a great option, and I highly recommend it! 
Why Supplement with Ox Bile?