Nutricost's Nitric Oxide Booster Review
Help improve blood flow with a Nitric Oxide Booster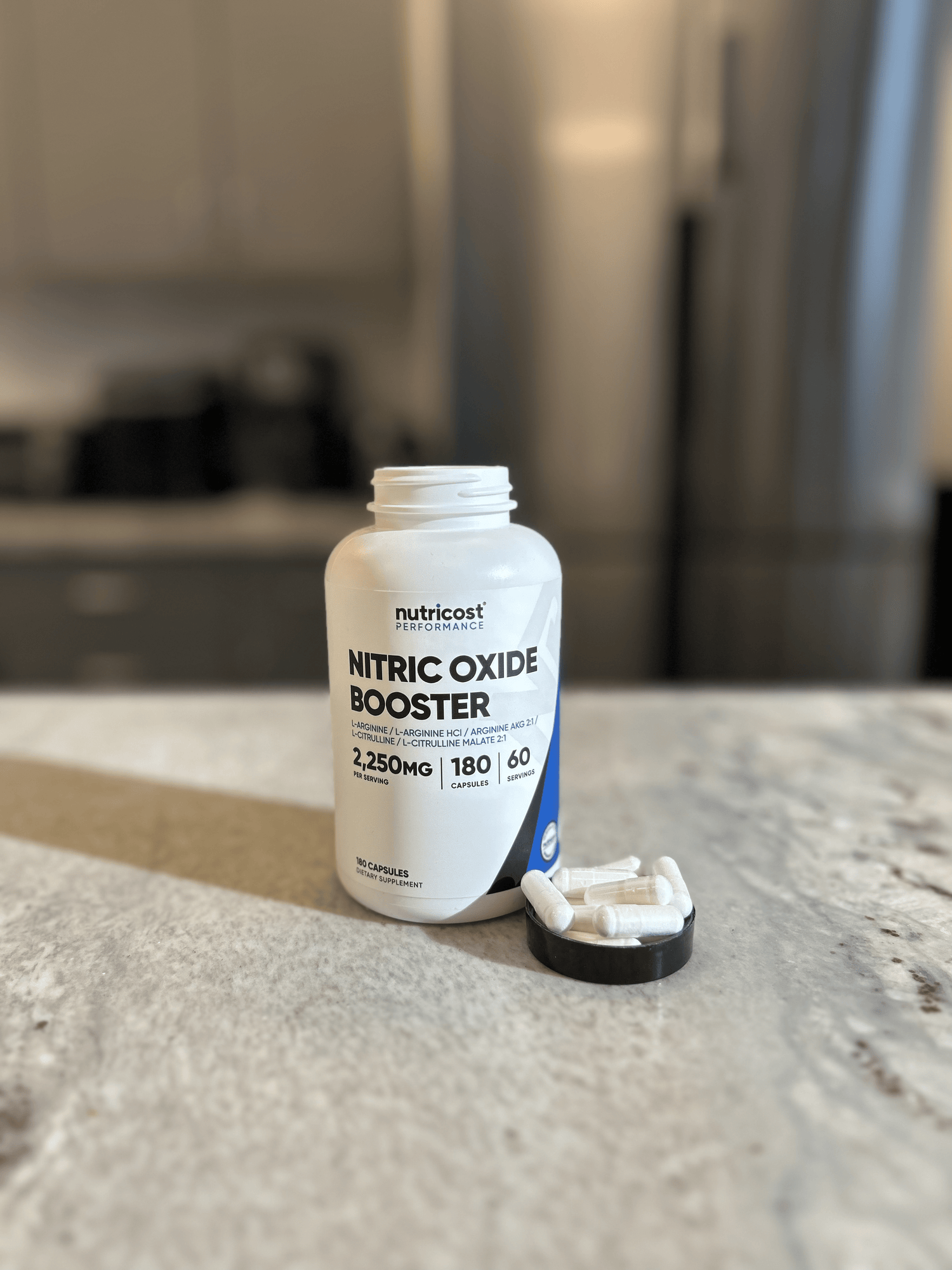 Nutricost Nitric Oxide Booster
For those seeking to get the most out of their workout, the Nitric Oxide Booster Supplement is a favorite for wellness enthusiasts. Nutricost has a potent formula, with each serving containing a 2,250 MG blend of amino acids. Nutricost Nitric Oxide Booster comes at an affordable price of only $13.95.
Buy on Amazon
Show of hands: who is addicted to the feeling of a good pump after the gym? 🖐️🖐️🖐️
Whether you've been working out for decades or years or are just starting, it's safe to say everyone chases that gym pump on their journey to building their ideal physique.
I certainly fall into that group. I'm always looking for ways to kick my workouts and my results up a notch.
Nutricost has a big performance line, and their Nitric Oxide Booster caught my eye. Obviously, I have taken L-arginine and L-citrulline as single ingredients before a workout, but a blend seemed like a great option. With the high ratings of Nutricost across the board, I had to order a bottle for myself. 
Read my full review below.
A Quick Look at Nutricost's Nitric Oxide Booster Supplement:
Servings per Bottle: 60
Price: $13.95
GMP-compliant
2,250 MG blend of aminos
Level-Up Your Workout with the Nitric Oxide Booster Supplement
Pros
Killer Price
At a mere $13.95, I was able to get a bottle of Nutricost's Nitric Oxide Booster. The low price really sets it apart as a great deal. Based on my research, a 60-serving bottle is a standard amount, which is what Nutricost provides. However, most other competitors cost almost twice as much as Nutricost - one I saw was $26.50 for 60 servings and had a smaller dosage.
Effective Formula
If you're looking to get away from the single-ingredient options to increase your pump, this formula has exactly what you need. All of the amino acids included here work together to help improve oxygen flow to your muscles and may improve exercise performance.

Each serving includes 2,250 MG of amino acids:
L-Arginine
L-Arginine HCI 
Arginine AKG 2:1
L-Citrulline 
L-Citrulline Malate 2:1
The last thing about the formula is that Nutricost's Nitric Oxide capsules are gluten-free and non-GMO.
Unwavering Quality
Nutricost consistently gets a thumbs up from me for its unwavering commitment to top-tier quality. The Nitric Oxide capsule undergoes rigorous third-party testing to ensure its purity and potency.

Furthermore, Nutricost strictly adheres to Good Manufacturing Practices (GMP), upholding stringent production standards that mitigate potential flaws or cross-contamination concerns. Since not all brands take the time to get the GMP certification, this definitely makes Nutricost stand out.
Trustworthy Brand
Nutricost, a big name in the health and wellness realm, is known for its diverse array of supplements, spanning tablets, powders, capsules, and gummies. You may recognize Nutricost for its extensive performance product line. But they also offer supplements specific for women and children. 
The reviews for Nutricost are high across the board on Amazon, which is a great sign that you've found a brand worth your time. 
Cons
Some Say Capsules are Too Big
Some reviewers on Amazon said that the capsules were large and difficult to get down. While these are on the larger size, they are definitely not out of the ordinary. 
Each serving is three capsules, so if that is a problem for you, grab your favorite drink and take each capsule one at a time instead of trying to down all three at once.
Potential Side Effects
While Nitric Oxide capsules do not usually cause any adverse reactions, a few people could have side effects. While rare, some people have reported stomach problems, pain, heart palpitations, and nausea after taking a nitric oxide supplement. 
That said, I didn't experience any negative side effects from taking it!
This is uncommon, though! Be sure to speak with your medical provider if you have any questions. 
Make Your Workout the Best Part of Your Day
After ordering a bottle of Nutricost's Nitric Oxide Booster and researching MANY options, I can confidently say I recommend Nutricost! 
The benefits are excellent, and the price is one of the absolute best. If you're worried about potential side effects, just have a little chat with your doctor. 
I like that Nutricost has taken the extra steps to ensure quality control for consumers like me, and the formula is a strong blend delivering 2,250 MG per serving. This Nitric Oxide Booster by Nutricost is perfect for me!
Why Choose the Nitric Oxide Booster Supplement?
A Nitric Oxide Booster is beneficial due to its ability to enhance various aspects of cardiovascular health and overall well-being for gym-goers. 
Here are some key reasons why a Nitric Oxide Booster can be helpful:
Can Improve Blood Flow: Nitric oxide is a vasodilator that relaxes and widens blood vessels. This facilitates better blood flow throughout the body. This can be important for athletes and gym-goers, as it can enhance oxygen and nutrient delivery to muscles, potentially improving performance and reducing fatigue.
Can Help Enhance Exercise Performance: Improved blood flow and vasodilation can lead to enhanced exercise performance. This is especially valuable for athletes and fitness enthusiasts looking to optimize their workouts and achieve better results.
May Help with Intimate Male Performance: Due to its vasodilation function, men often take a nitric oxide booster to support intimacy.