Nutricost Nattokinase Review
Listen to your heart - there's nothing else you can do!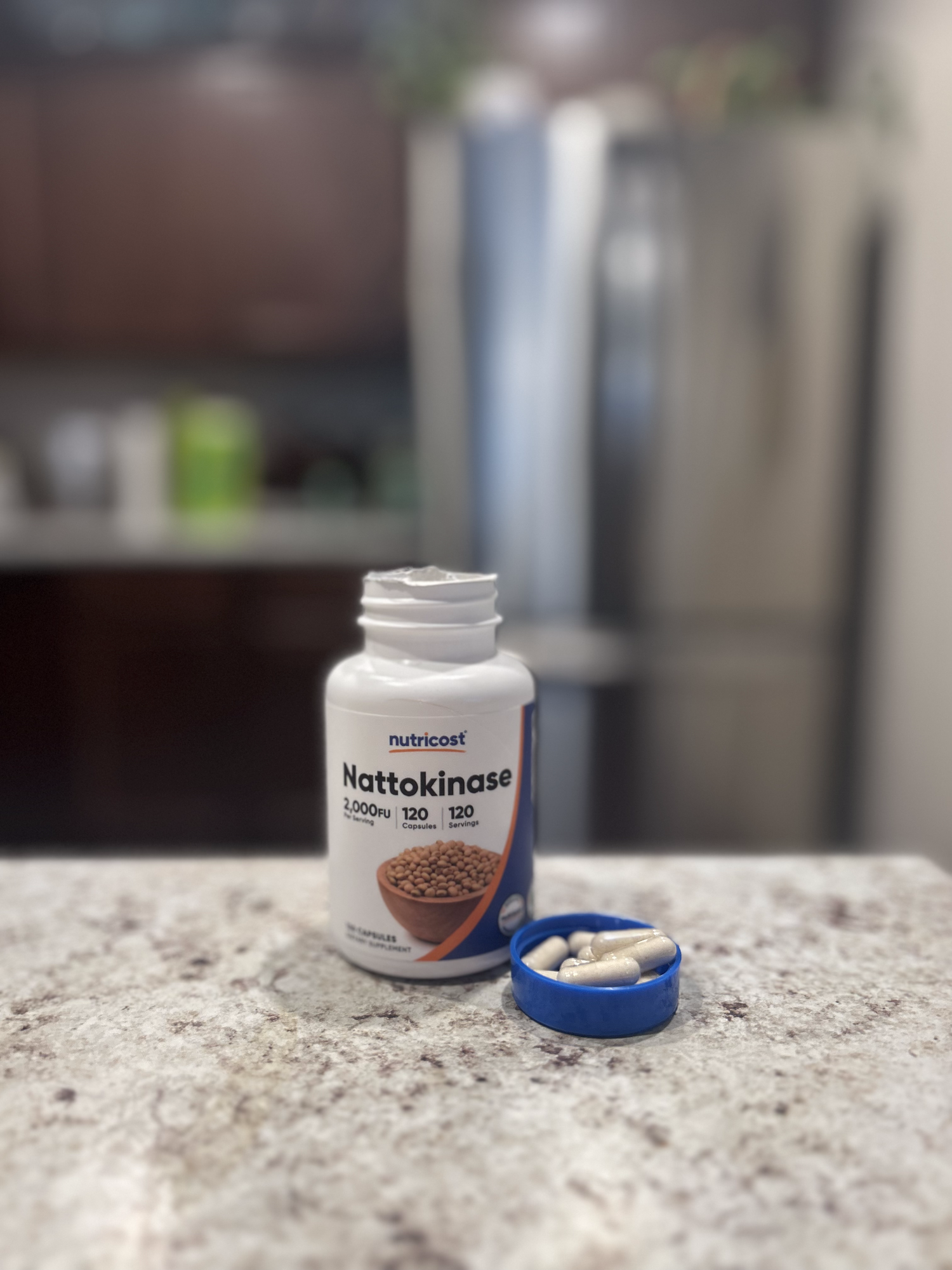 Nutricost Nattokinase
Nutricost offers a great supplement to help improve heart health. Nattokinase is a fermented soybean – this food and supplement originates in Japan. Each serving of Nutricost Nattokinase provides 2,000 FU, or 100 MG, in each serving. A bottle is available for a great deal at just $13.46.
Buy on Amazon
Treat yo' self and your heart. Nattokinase is a heart-support supplement. 
This fermented soybean supplement originated in Japan; it can help manage blood pressure and support cardiovascular health. Nattokinase can help those who simply want to improve their cardiovascular health or help address performance goals at the gym. 
Well, I'm a super competitive person. I want better cardio health AND increased gym performance, so I had to order some.

Nutricost has a great overall brand rating, which made it my first choice. I ordered it for just $13.46 – read my full review to learn more!
Product at a Glance: 
120 servings per bottle
2,000 FU per serving 
Manufactured in GMP-compliant and FDA-registered facilities
Pros
Stellar Savings
Nutricost has a bottle with 120 servings, lasting approximately four months if you take one daily serving. At $13.46, the price per serving is a low 11 cents! That is unbeatable. 
The dosage is on par with other options online, 2,000 FU per serving (100 MG). 
Straight to the Heart Formula  
Nutricost's Nattokinase supplement is clean and simple. Just Nattokinase in a vegetarian-friendly cellulose capsule. There are literally no other ingredients! It's exactly what I need, nothing more. 
Remember, while this is gluten-free and non-GMO, Nattokinase comes from fermented soybeans, so this supplement does contain soy. 
Big, Recognizable Brand
When picking a brand, I always research to ensure I get the highest quality. Luckily, Nutricost is known for high-value and high-quality products. If you do a quick search on Amazon, you'll see that Nutricost has thousands of high, 4.5-star reviews on many products. 
Here are a few things that set Nutricost apart from other brands. 
3rd-Party Tested For Purity
GMP-Compliant Facility
FDA-Registered Facility
Official Supplement Provider for BYU Athletes 
Cons
Can't Always Feel the Effects of Supplementation
Since this supplement works to help improve circulation, help manage blood pressure, and support overall cardiovascular health, it's not something we can usually feel taking effect immediately. 
For example, I immediately feel the effects of a supplement that provides beta-alanine, like a pre-workout. 
But nattokinase is a different supplement altogether. You would have to have tests run in a medical facility to track its impact. 
However, getting tests run is unnecessary for most people. The research (read more below) clarifies how nattokinase can help people.
My Final Thoughts
The only real drawback to taking Nattokinase by Nutricost is that 'Total Eclipse of the Heart' might repeat in your head for a while. But is that REALLY a drawback? Love me some Roxette.
I confidently recommend Nattokinase by Nutricost based on the great price, a large bottle of capsules, and strong brand quality. 
Don't worry if you don't notice an immediate effect from the capsules - let biology and science do their thing and support your health from the inside. 
Why Supplement with Nattokinase?