A Full Review of Nutricost L-Theanine
Did you know Pop star Taylor Swift takes L-Theanine to help manage anxiety?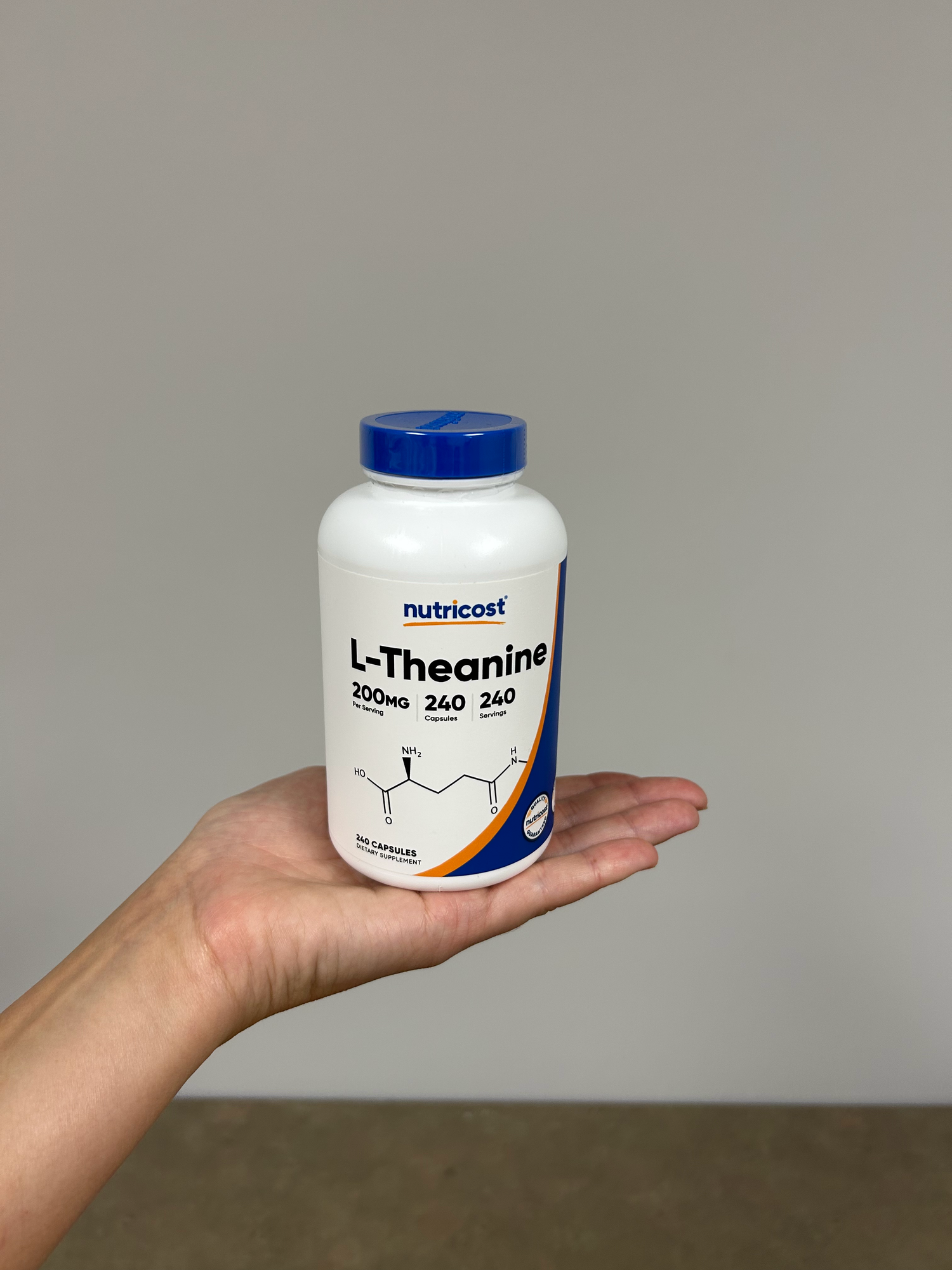 Nutricost L-Theanine
Nutricost offers a large bottle of L-Theanine that will last for months. The supplement is 3rd party tested to ensure high quality and only costs $19.95. With 200 MG of theanine per serving, this focused, single-ingredient supplement is all the rage.
Buy on Amazon
In her "30 Things I Learned Before 30" interview with Elle Magazine, music icon Taylor Swift talks about taking L-Theanine for anxiety. Many people deal with differing anxiety and stress levels and use tools like supplements, seeing a therapist, exercise, and meditation to cope with it. 
At this point in my life, I'm totally willing to try new things to see if they improve the quality! So, I had to check out L-Theanine by the highly-rated brand Nutricost. 
L-Theanine by Nutricost at a Glance: 
240 servings per bottle
$19.95 
GMP-compliant 
Single-ingredient
Many People Are Turning to L-Theanine to Help Manage Stress and Worry
It's important to recognize that Taylor Swift isn't the only one experiencing stress. Stress is a universal human experience. Seeking effective strategies for managing it is essential. L-Theanine is a natural remedy that has gained popularity and is renowned for its dual ability to enhance focus and induce a tranquil state of mind.

This compound, found in tea leaves, has garnered attention for its potential to help many people focus while promoting a relaxed state of mind. 
Pros
Stand Out Savings
You know when you go to find something on Amazon, and one option stands out over the rest because it is marked as 'Amazon's Choice'? Well, Nutricost's L-Theanine is one of those products! And I think the stellar deal is one of the main reasons.
At just $19.95 for 240 servings of 200MG, Nutricost delivers a high-quality L-Theanine supplement. Compared with other online options, the budget-friendly price stands out because Nutricost offers more servings for a lower overall cost. 
For comparison, another brand costs $22.39, and while it has the exact dosage as Nutricost, it only offers half the servings. 
Focused Formula
When picking a new supplement, I know one of the main concerns is ingredients and whether it will be effective. With this focused formula and the high-quality ingredients, (keep reading!) I know I'm getting what I ordered. 
Nutricost's L-Theanine supplement is refreshingly simple: each capsule contains 200 MG of L-Theanine without any fillers or extraneous additives. Since the recommended daily dose of L-Theanine is 200-400 MG daily, this capsule amount falls in that range. 
Moreover, it proudly boasts a trio of quality distinctions - vegetarian, gluten-free, and non-GMO.
Highest Quality
When it comes to supplements, Nutricost consistently earns my recommendation due to their steadfast dedication to top-notch quality. Their L-Theanine capsule undergoes thorough 3rd-party testing to guarantee both purity and potency. 
Furthermore, Nutricost adheres to Good Manufacturing Practices (GMP), exemplifying strict standards in the production process. This commitment assures consumers that the brand takes extensive measures to eliminate potential defects or cross-contamination concerns.
Recognizable Brand
Nutricost is a prominent health and wellness company known for its diverse range of supplements, including tablets, powders, capsules, and gummies. 
Nutricost has garnered excellent online reviews for their L-Theanine product and many good reviews for their performance, women's, and kid's lines of health and wellness products. If I have already had a good experience with a brand, I am definitely more likely to try another product!
Cons
May Not Be For Everyone
Like all supplements, everybody can react differently to certain ingredients. While most people feel the awesome calming power of L-Theanine (like T-Swift!), there will be those who don't feel it works for them. 
Thankfully, no unwanted side effects or risks are associated with taking L-Theanine, so it definitely won't hurt you. It just may not offer that sweet relief that those of us dealing with daily anxiety or agitation are seeing. However, that is totally rare!
Go With The Best For Your Mental Health
When it comes to health and wellness, you and I deserve the best - and that includes mental health just as much as physical health. I know it can be easy to prioritize the physical side of health, so I hope you spend a little extra time today checking in on your mental and emotional health.

The good news is that Nutricost's L-Theanine supplement has it all. It is a stand-out option – even though it's not guaranteed, it will most likely help you feel better!

The price is right at just $19.95. Add in that the 240 serving size will last for up to 8 months, and the single-ingredient formula is high quality, and choosing Nutricost is a no-brainer.
Why Supplement with L-Theanine?