Nutricost L-Lysine Review
Get a large bottle of a unique immune support supplement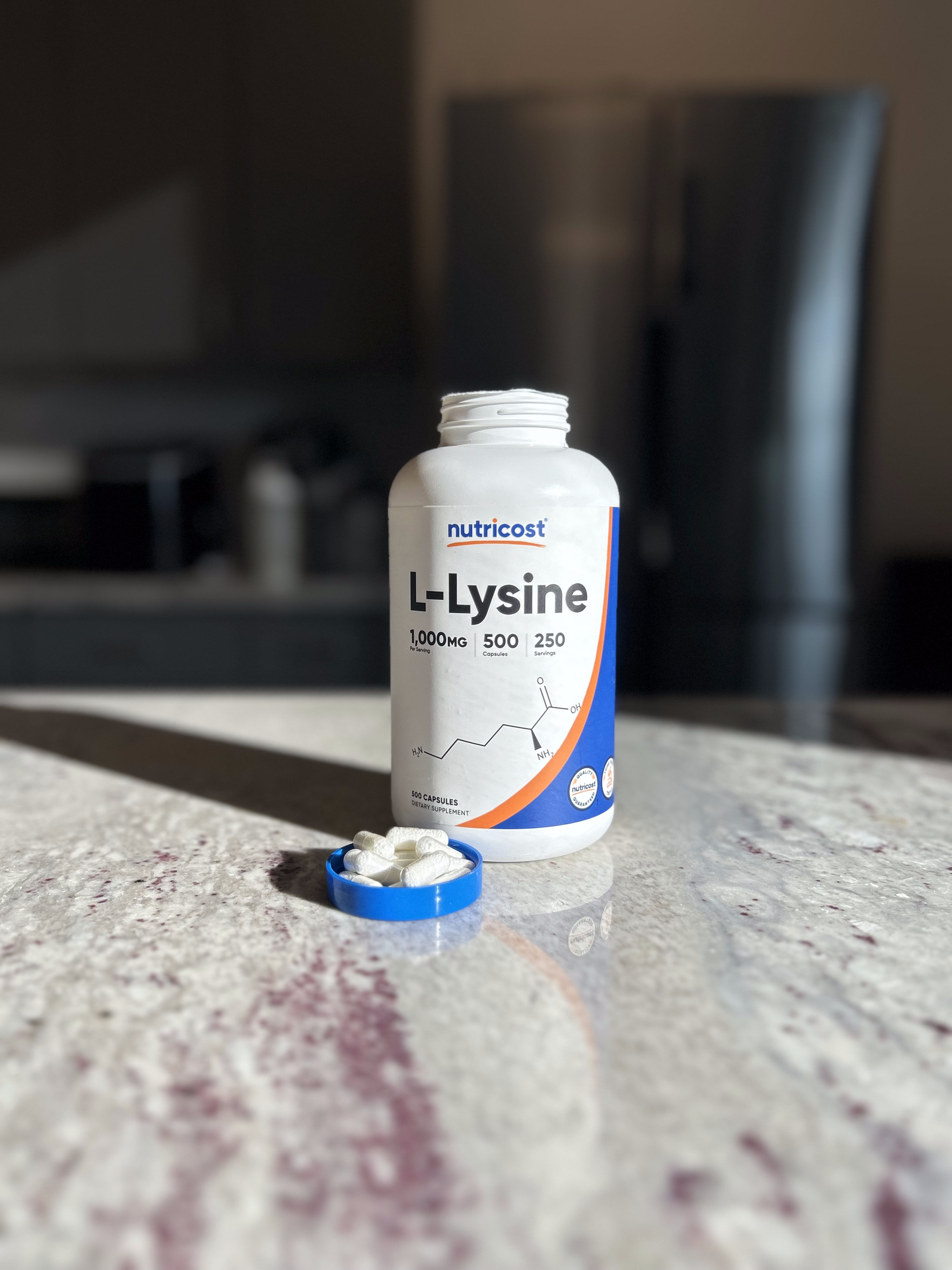 Nutricost L-Lysine
For $19.95, Nutricost offers a massive 8+ month supply of L-Lysine. Each serving is 2 capsules, delivering 1,000 MG of amino acid. The capsules are manufactured in a GMP-compliant facility and 3rd-party tested for high quality.
Buy on Amazon
Remember that scene from Jurassic Park when Jeff Goldblum says 'Life finds a way'? 🦕
That is the same scene when the geneticist explains the Lysine contingency in Jurassic Park, allowing the good Dr. Hammond to create the dinosaurs. 
I know what you're thinking – I don't want dinosaurs! The good news is that this L-lysine isn't used to create terrifying creatures. L-lysine is commonly taken to support the immune system. 
If you're looking for an immunity supplement that will last many months, read my full review of L-lysine below!
Nutricost L-lysine bottle at a glance: 
$19.95 per bottle 
Bottle will last 8 months 
3rd-party tested for purity 
Improve Your Immune System
Pros
Great Price
Nutricost has a winning price - $19.95 for 250 servings, which breaks down to 7 cents per serving. 
The deal gets even better when you consider the nice-sized 1,000 MG dose per serving AND that 250 servings will last over eight months if you take the suggested two capsules daily. 
The only L-lysine capsules that cost less than Nutricost come in smaller quantities - you can spend $8, but those bottles only have 60 servings, as opposed to Nutricost's 250. Over time, the bottle that looks cheaper will cost more in the long run.  
No-Fuss Formula  
I am a fan of single-ingredient capsules like this one. The ingredients are focused and help me get exactly what I need, nothing more and nothing less. 
This capsule is literally ONLY L-lysine, with no fillers or unnecessary ingredients. Also, there are big bonus points because Nutricost used non-GMO ingredients to create the L-lysine supplement and made this capsule gluten-free.
Big, Notable Brand
Nutricost is known for its high quality and has a strong presence in the Amazon supplement market. Nutricost's L-lysine has thousands of high, 4.5-star reviews, which is definitely the norm for Nutricost supplements. 
Additionally, Nutricost demonstrates its high quality by being the official supplement provider for BYU athletes. All Nutricost products are 3rd-party tested for purity and created in a GMP-compliant, FDA-registered facility. 
Since not all brands take the time to get extra certifications, this helps Nutricost stand out as a high-caliber brand. 
3rd-Party Tested For Purity
GMP-Compliant Facility
FDA-Registered Facility
Official Supplement Provider for BYU Athletes 
Cons
Large Capsules
According to a few reviews, the capsules can be challenging for some people due to their size. While these are on the larger size, they aren't out of the ordinary at all. I have definitely taken the same size capsules for other supplements, so it's not a red flag for me, but it could be important for some folks to consider. 
Works For Me!
It can be overwhelming to make decisions sometimes - but this one is easy. Nutricost offers a long-lasting bottle of L-lysine to help boost the immune system. The long-lasting supply is really important to me now that flu season never ends.  
The price is great, and the quality is high. While some people may struggle with the capsule size, these are the same as other supplements I have taken – not really an issue. 
These capsules could make your life easier with a no-fuss formula. I definitely recommend L-lysine capsules by Nutricost.
Why Supplement with L-Lysine?
Few compounds hold as much importance as amino acids in the realm of essential nutrients. These organic compounds are the building blocks of proteins, vital for the proper functioning of the human body. 
L-lysine is a pivotal amino acid with a range of health benefits. Since our bodies do not naturally produce L-lysine, we must get it in our diet and supplements. 
The most common reason people supplement with L-lysine is for immunity support. Some people also take this because they feel it helps combat cold sores and anxiety. Be sure to talk to your doctor if you have specific questions.