An Honest Review of Nutricost L-Citrulline
Increase exercise performance and recovery!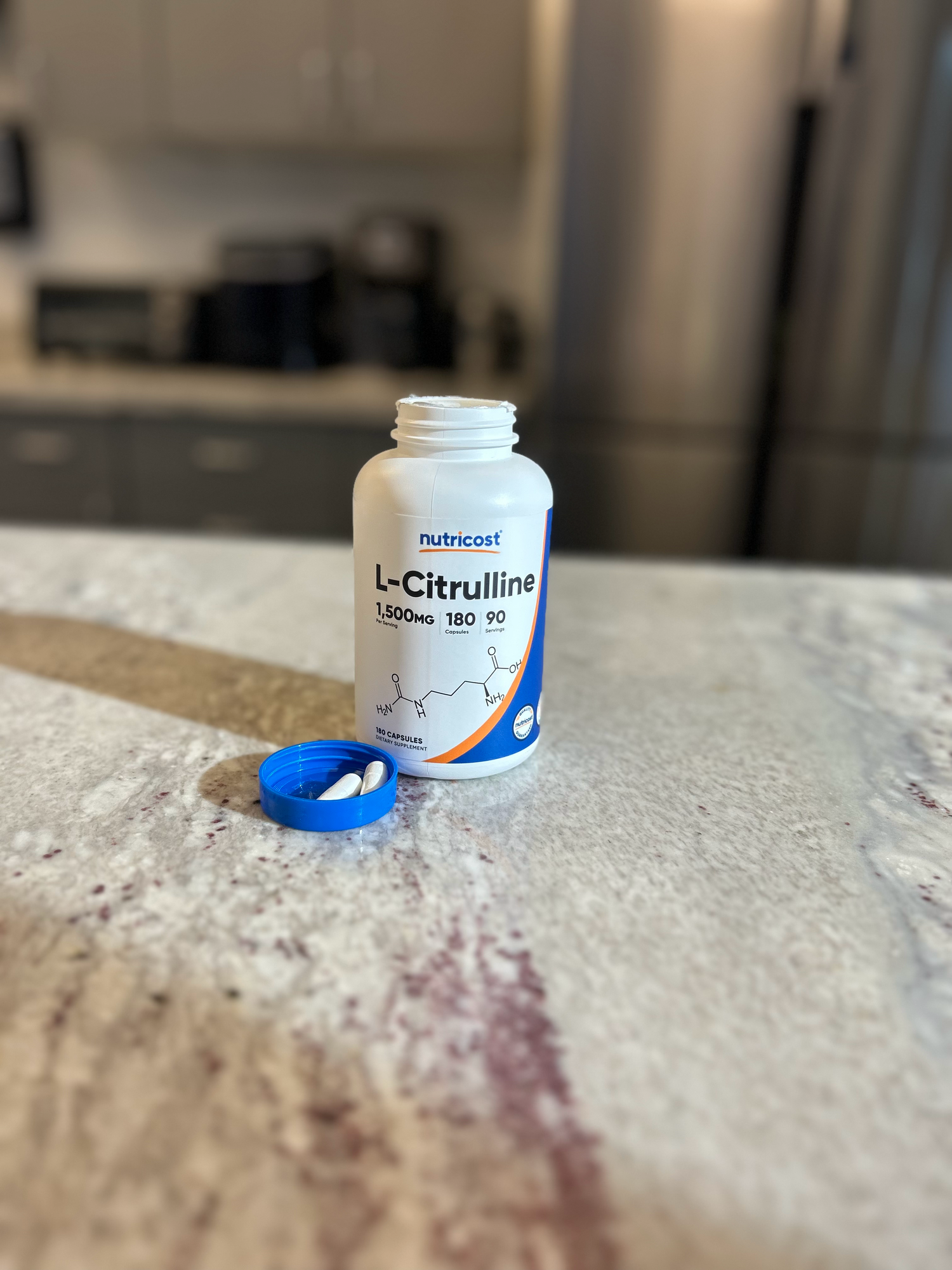 Nutricost L-Citrulline
Thousands of fitness enthusiasts supplement with L-Citrulline to help make more gains at the gym. Nutricost offers a powdered form with a 1,500 MG serving. One bottle is priced affordably at just $17.95 for 90 servings.
Buy on Amazon
I love that heart-pumping feeling I get after a killer WOD. That's why we all go to the gym - to get the physical and mental benefits of pushing the body to its limits. 
If you're like the thousands of gym goers, including myself, looking to hit a new PR on the bench press or just want to increase your workout intensity for better results, L-Citrulline may be what you're looking for. 
L-Citrulline is a common ingredient in many pre-workouts due to its helping boost blood flow and nitric oxide production. This means L-Citrulline can help improve your muscle pump and endurance. 
But this ingredient also comes in a focused, single-ingredient capsule, which is great. I'm hoping that taking L-Citrulline will help burpees suck less! 
Since I am always looking for a great supplement to add to my gym bag, I decided to check out Nutricost's L-Citrulline because of its 3,000+ 5-star reviews.
L-Citrulline by Nutricost at-a-glance:
90 servings in each bottle
Priced at $17.95
GMP-compliant
Keep reading for a full review. 
Get An Extra Edge at the Gym
Pros: The Highlights
Remarkable Cost Savings
Have you ever come across a product on Amazon marked as 'Amazon's Choice' that immediately stands out? Nutricost's L-citrulline is one of those stand-out choices. The outstanding value is a key factor for me, especially when everyone I know is dealing with the rising cost of living – no matter where you live. 
At only $17.95 for 90 servings, Nutricost provides a top-notch L-citrulline powder. Each serving is a potent dose of 1,500 MG per scoop. When comparing the price and dosage, Nutricost comes out on top for the overall price and price per serving. 
Some L-Citrulline options out there cost less than Nutricost, but the vast majority cost more. The only brand I saw that costs less than Nutricost's competitive $17.95 bottle has very few reviews and is not recognizable. So, take that with a grain of salt. 
Just What You Need Formula 
This supplement is a single-ingredient capsule, nice and precise.
You can definitely combine this capsule with other supplements to create a more comprehensive "pre-workout" formula if that's your thing. Or you can simply take this on its own. That's the benefit of having a single-ingredient capsule. It gives you the flexibility you need to take your workout to the next level of intensity. 
Nutricost's L-Citrulline capsule has 1,500 MG of L-Citrulline in each serving (2 capsules per serving). L-Citrulline capsules range from 750 MG - 3,000 MG, so this 1,500 MG dosage from Nutricost is right in the mid-range. Not too much, not too little. 
Also, the capsules are non-GMO and gluten-free. 
Uncompromising Quality
In the realm of supplements, Nutricost consistently stands out due to its unwavering commitment to excellence. 
Their L-Citrulline capsules undergo rigorous third-party testing to ensure both purity and potency. Nutricost also adheres to Good Manufacturing Practices (GMP), reflecting strict standards in the production process.
Not all brands take the time to get 3rd-party testing or get GMP certified. Nutricost's dedication assures consumers that the brand takes extensive measures to eliminate potential defects or other manufacturing concerns.
Trusted Brand
Nutricost is a prominent player in the health and wellness industry, known for its diverse range of supplements, including tablets, powders, capsules, and gummies. 
The L-Citrulline product from Nutricost has great online reviews and positive feedback for their performance, women's and children's lines of health and wellness products.

Having had a positive experience with the brand, I'm definitely inclined to explore other offerings. 
I also like that Nutricost is the official supplement supplier for BYU Athletics, which is a Division I school. This makes them even more credible, especially compared to other brands. 
Cons: Points to Consider
Capsules Can Break During Shipping
When I looked on Amazon before placing my order for Nutricost L-Citrulline, I noticed just a few reviews mentioning that some capsules broke in transit. I can imagine that it would be annoying and off-putting when trying a new brand, but I did not have that experience when ordering this bottle. 
Luckily, based on the Amazon reviews, it doesn't look like it's a consistent issue with these capsules, and I would not worry about it.  
Conclusion: Pump It Up with L-Citrulline by Nutricost
Based on my own experience and research, I recommend L-Citrulline if you want to help improve your muscle pump and workout intensity.

Whether you are working on leg day, chest day, or shoulder day, L-Citrulline can help give you a lift. Nutricost is an affordable product at just $17.95, with a 90-serving capacity lasting up to 3 months. Don't forget that this single-ingredient product gives you exactly what you need. 
Nutricost is a recognizable brand with highly reviewed products online. Occasionally, a capsule may break in transit, but that should not greatly interfere with your experience. 
If you're looking for the best L-Citrulline capsules, I definitely recommend checking out Nutricost.
The Case for Supplementing with L-Citrulline