Nutricost Creatine Monohydrate Capsule Review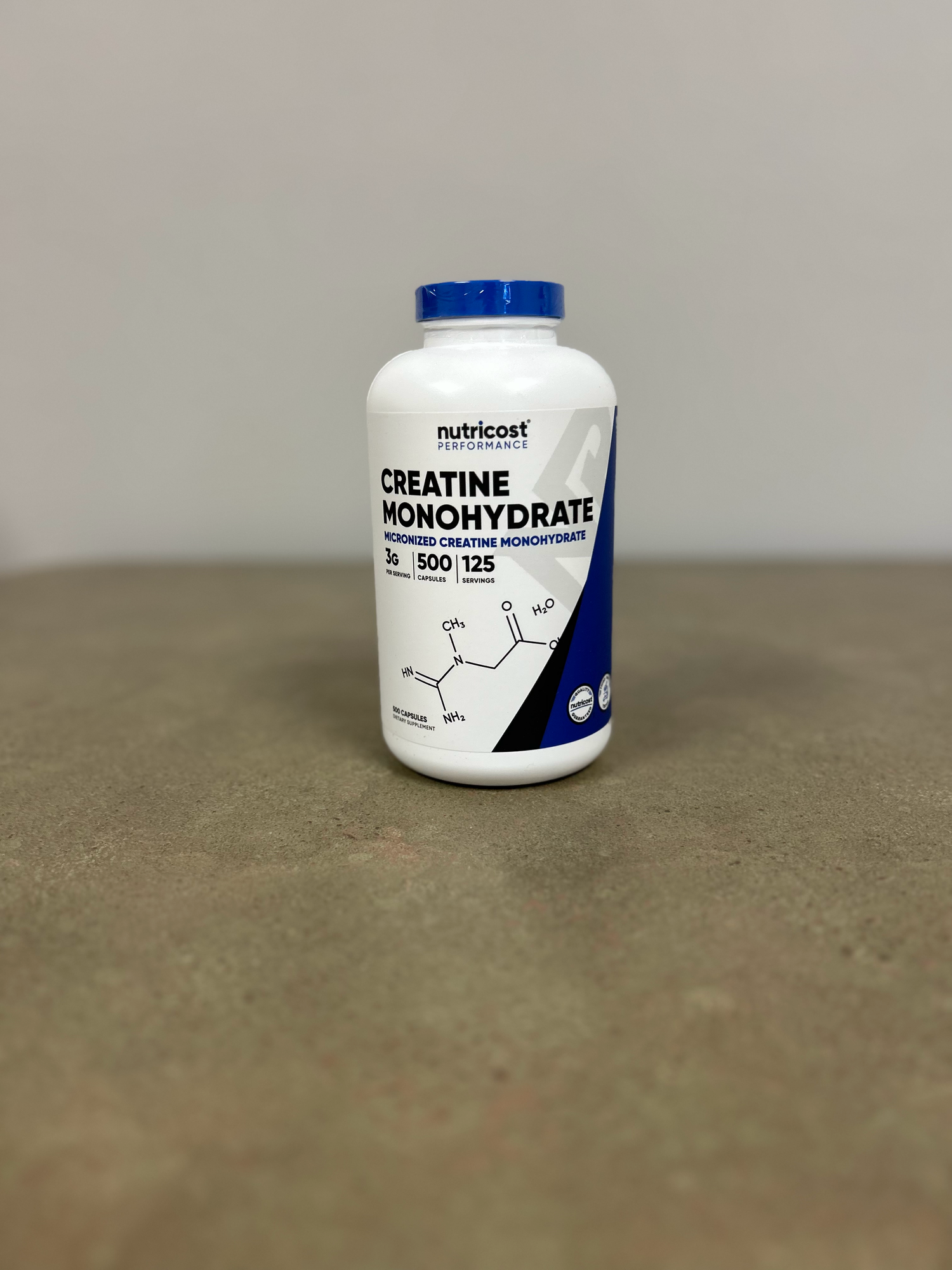 Nutricost Creatine Monohydrate Capsule Review
Many athletes use Creatine to help increase their exercise performance and muscle growth while lifting weights. These capsules are manufactured in a GMP facility and are 3rd-party tested for purity.
Buy on Amazon
Nutricost is a supplement company with an XL sized product line - over 900 options. Nutricost's mission of delivering high-quality supplements at great value to customers has directly led to its exponential growth in the health and wellness space. As a result, Nutricost has become one of the fastest growing supplement brands on the market.
Their creatine is really, really popular, so I had to try out the capsules for myself!
Nutricost Creatine Monohydrate Capsules at a Glance:
26 cents per serving 
3rd-party tested 
3 g Creatine Monohydrate per serving 
Under the Lid - My Full Review
Pros
Price
It will be hard to beat this competitive price! At $32.95 per bottle that has 125 servings, the price per serving is only 26 cents. You can opt in for subscribe and save options or a bottle with even more servings to maximize your savings! 
For comparison, another big company selling creatine capsules offers 120 servings for $43.56. Their price per serving is 36 cents, so you can see that Nutricost has a wallet-friendly price for creatine monohydrate. 
***Remember, each serving is 4 capsules (otherwise the capsule would be unmanageable), so whenever you read a creatine capsule bottle, pay more attention to the amount of servings than the amount of capsules. 
High – Quality with Assurances
It is important to me to check if a supplement follows any quality assurance guidelines. Nutricost does, and their creatine monohydrate capsules are gluten-free, gmo-free, and 3rd-party tested for purity and quality. 
Additionally, some brands follow GMP guidelines, which ensures that customers are getting exactly what they order. GMP guidelines protect people like you from potential manufacturing errors.
Straight- Forward Formula
I like that this is a nice and simple formula. The capsule is from a vegetable source and the only ingredient is creatine. You will get 3g of micronized creatine monohydrate in each serving of 4 capsules.
Cons
High Demand & Trending Product
Nutricost's creatine monohydrate capsules have been exceptionally popular, which means that it can sometimes be out of stock. This can be a problem if you're at the end of your supply, but they usually get products back in stock fairly quickly. One way to prevent this is to buy two at a time or subscribe and save.
10/10 Recommend
If you like your creatine monohydrate in capsules, then this is the product for you. The price is competitive and Nutricost uses the highest-quality ingredients! I like that Nutricost is GMP certified and uses 3rd-party testing. The capsules are easy to take with me wherever I go and I highly recommend this product for you!
Why Supplement with Creatine Monohydrate?
Creatine, a naturally occurring compound found in small amounts in certain foods like meat and fish, is also produced by the human body. 
It plays a vital role in energy metabolism, especially during high-intensity and short-duration activities.
Stored in the muscles, creatine can be rapidly converted into adenosine triphosphate (ATP), which serves as the main source of cellular energy.
Many athletes and fitness enthusiasts incorporate creatine as a dietary supplement to improve their physical performance.Creatine Monohydrate is especially helpful in activities that demand brief but intense exertion, such as weightlifting, sprinting, and jumping. It's possible to see an increase in strength as a result of supplementation with creatine monohydrate. 
How to Take Creatine Monohydrate
Professionals suggest taking creatine monohydrate in phases. 
There is a loading phase, where you ingest a high volume of creatine supplements each day until your muscles are fully saturated. 
Most people divide a high dose of 20 - 25 g throughout the day, taking about 5g creatine at a time. This 5-7 day phase helps to amplify that muscle pump and speed up how soon you can see benefits of the supplement. The pump comes as a result of saturating your muscles with creatine, enhancing the appearance and the power. 
After you've loaded, then it's time to move into the maintenance phase, which calls for a much smaller amount of creatine each day. This smaller daily amount will maintain the pump and other benefits of creatine. For the maintenance phase, it's fine to take 3-5g of creatine daily. 
Also, if you don't want to keep track of your phases, you can just skip the loading phase and take the standard dose per day.