Check Out the 9:6:5 Allmax Aminocore BCAA
Looking for a new formulation for your BCAAs? Check out what Allmax Aminocore has to offer.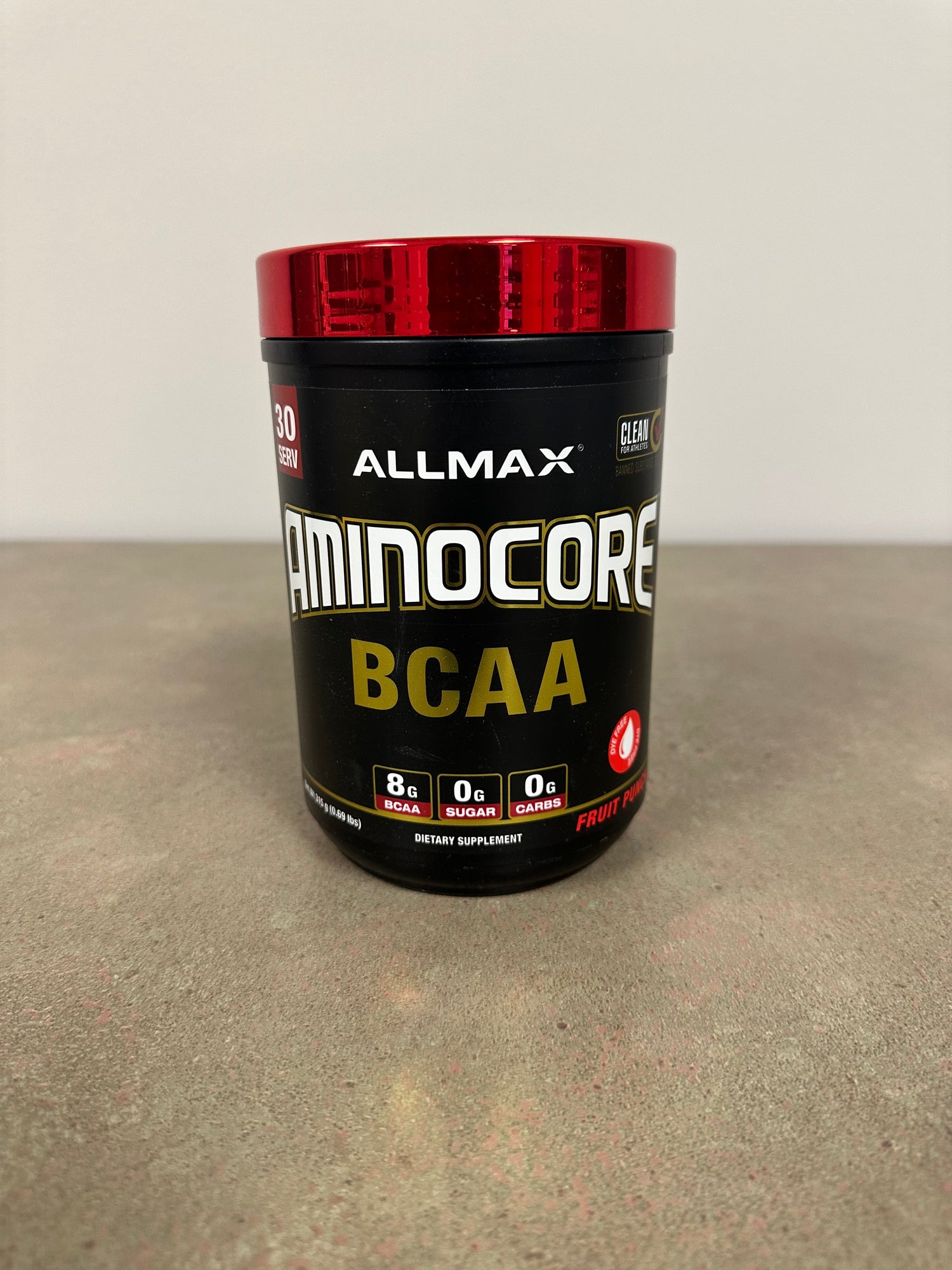 Aminocore BCAA
Feed your muscles with a 9:6:5 ratio of amino acids, plus vitamin B12 and other minerals. Allmax Aminocore delivers a great-tasting BCAA that is highly Lab Tested and made in a certified GMP facility to ensure quality. The slightly higher price point means you get a little something extra in the Allmax Aminocore BCAA.
Buy on Amazon
Allmax Aminocore BCAA Review
Founded in 2004, Allmax Nutrition makes an athlete-specific brand of supplements. They offer a performance line, a naturals line, and athletic apparel. One of their most popular products, and also their flagship product is ISOFLEX whey protein isolate.
However, today I'll share my experience with Allmax Aminocore BCAA. Honestly, the tub design was pretty cool, it reminded me of a boxing gym, so I grabbed it. Also, while I have tried a LOT of BCAA supplements, I hadn't tried a 9:6:5 amino acid BCAA before and wanted to see if this one was special. Could this ratio make it the best BCAA?
Allmax Aminocore BCAA at a Glance: 
9:6:5 ratio
Refreshing Fruit Punch Flavor
Vitamins B6 and B12
Under the Lid – My In-Depth Review
Pros
A New Approach: 9:6:5 and Extra Mix-ins
This formula has a lot going for it! 
First of all, Allmax tweaks the standard amino acid ratio common in BCAA supplements and produces a 9:6:5 blend. 
They state on their packaging, "Aminocore natural BAA supplement delivers 8.18g of BAA in a 45:30:25 ratio clinically proven to provide a 350% increase in activation of muscle growth signals". 
I'm not sure which studies prove this ratio, but rest assured, leucine is still the highest ratio in this blend. Each serving delivers just over 8g of amino acids. They also claim to offer the best amino acids supplement ingredients. 
This formula is free of sugars and carbs and has 15 calories per serving. 
Other additions to this supplement are vitamins B6 and B12. Vitamin B6 helps with keeping cells healthy, metabolism, and creating blood cells. 
Vitamin B12 is useful in boosting energy and essential for the proper functioning of the brain and nervous system.
Lastly, there is folate and niacin in Allmax Aminocore BCAA. Niacin plays a crucial role in converting nutrients into energy, and Niacin supports red blood cells.
Smooth and Clear
One awesome thing is that Aminocore's BCAA mix is dye-free. So it mixes clear!
I had no problem mixing it with a fork in my water glass. It had a little bit of fizz while I mixed it, and totally dissolved to a smooth drink.
Easy Breezy Fruit Punch Flavor
This was one of my favorite Fruit Punch Flavors. It was definitely a berry-based fruit blend, but one flavor didn't dominate the others. I really enjoyed the crisp and sweet flavor. This is a refreshing taste after a tough workout, and I would be happy to take this every day.
Additional Certifications
Allmax has several quality assurances for Aminocore BCAA. 
First, this product has been tested for banned substances through the Informed Choice program. 
Additionally, this product is soy-free and gluten-free. Additional testing is performed to ensure this product is gluten-free. 
Lastly, Allmax Aminocore BCAA is manufactured in a cGMP-compliant facility, which means that customers like you and me can trust this product. What we see on the label is exactly what we are getting in the tub!
Cons
Is the Mid to High Price Worth It?
My Final Thoughts
I definitely recommend this BCAA. The fresh fruity flavor is light and easy to drink, and the mix is smooth. 
If you're looking for a BCAA supplement with extra ingredients like vitamin B, this will do the trick. However, it does run at a slightly higher price, so depending on your budget, that may or may not be a reason to look elsewhere.
If you're looking for a BCAA that breaks the mold of the standard 2:1:1 ratio, Allmax Aminocore BCAA might be just what you're looking for.
Why Supplement with BCAA?
Isoleucine, leucine, and valine are BCAAs that can be found in foods like chicken, milk, eggs, and more!
Depending on your diet, lifestyle, and preferences, using a BCAA supplement can be an extremely convenient way to help support overall intake and help act as a safety net to ensure you are getting enough of them to support your goals.
But what's the big deal about BCAAs anyways, and how can they help support your workout and fitness goals? Great question. 
Research shows that BCAAs can help support: