Nutricost BCAA Powder Review: Is It Worth the Hype?
With an unbeatable price point, Nutricost makes the ultimate BCAA's for fitness and recovery.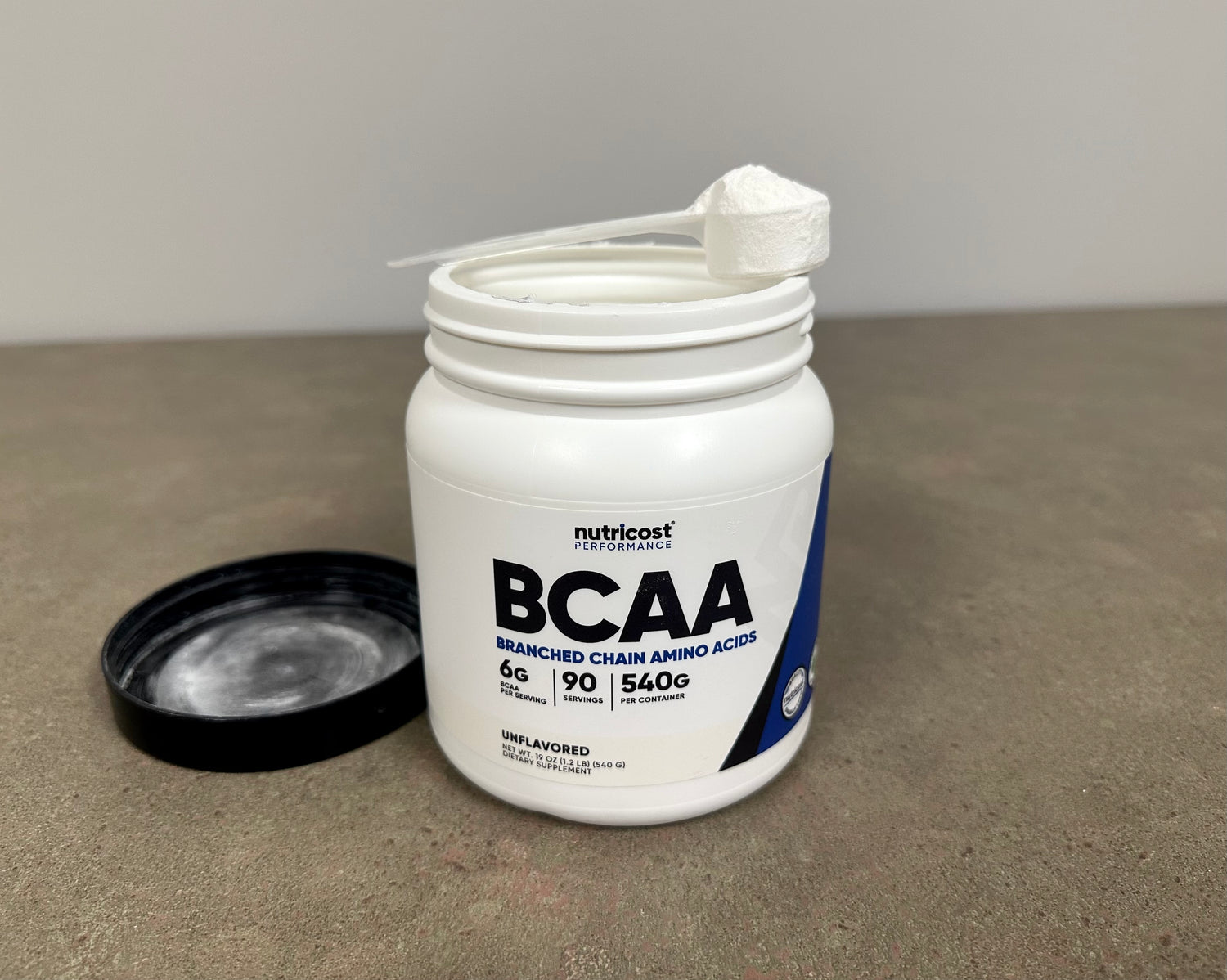 Nutricost BCAA
Nutricost's straightforward BCAA supplement provides the perfectly balanced 2:1:1 ratio in each serving, and with only 5 calories. Get high quality with the best price, and take your pick of unflavored powder as well as many flavor options. Rest assured that your supplement is GMO-free and created in a GMP compliant facility.
Buy on Amazon
The Inside Scoop on Nutricost BCAAs
BCAAs, also referred to as branched-chain amino acids, are 3 specific amino acids that gym goers often supplement with either during their workout or after training because they can help support workout recovery, reduce muscle soreness, and even help with exercise performance.

Let's take a deep dive into a top BCAA supplement that I checked out recently: Nutricost BCAA Powder (unflavored).

Is this BCAA powder worth considering if you're looking for a supplement to help support your gym and recovery efforts? Read on to find out.

(Spoiler Alert: Definitely a big fan of Nutricost's BCAA product. Keep reading and you'll see why.)

Nutricost BCAA Powder– Is It Worth the Hype?
Nutricost is a well-known brand. Just do a search on Amazon and you'll see literally hundreds of products offered with thousands of stellar reviews across the board.

I often like to mix my supplements with other liquids, so their unflavored BCAA option was the perfect product for me to check out.

Here are my overall thoughts on Nutricost's BCAAs unflavored powder.

Pros
Formula
One thing I love is that Nutricost's BCAA powder is just a straightforward product. It doesn't have extra marketing bells and whistles attached to hike up the price unnecessarily. I'll touch on this more in the section below.
Nutricost BCAA's isn't pretending to be something that it's not. It provides a solid 2:1:1 ratio of BCAAs. This means each serving provides:
3,000 mg L-Leucine
1,500 mg L-Isoleucine
1,500 L-Valine
It's worth noting that this is a studied, popular ratio.
What's more, these BCAAs are instantized. What this means is that the branched-chain amino acids have undergone a process to improve their solubility and mixability. 
At the end of the day, this just makes for an even better drinking experience. No clumps, no excessive settling at the bottom of the shaker, etc.
Cost (Price Per Serving)
Let's face it, everything is increasingly more expensive these days: gas, groceries, eating out–you name it. It all adds up so quickly.
Supplements are an additional expense. And that's where this product absolutely shines. 
Nutricost's mission is to provide high-quality supplements at extremely affordable prices so everyone can take control of their health. And that couldn't be more true with Nutricost BCAAs.
They provide a whopping 90 servings per tub, and each tub is only $23.95. The cost per serving breakdown comes to about $0.26 cents per serving.
Let me repeat that: If you take a scoop everyday, you have a 3-month supply of BCAAs for less than $25.
Needless to say, I was super impressed with the pricing.
Mixabilility
I drank these BCAAs during a couple of my workouts, mainly because I wanted an excuse to drink more liquid while training to help stay hydrated.
Because of the instantized formula, the powder mixed super easy in my sports drink. Just a couple good shakes and it was good to go.
I didn't notice any clumping or settling, either. This powder mixed up super well and went down easily.
BCAAs are naturally bitter. I knew that when buying the unflavored option, though, so it wasn't a surprise to me at all. 
That said, some people prefer to just mix the unflavored BCAAs with water and gulp it down, while others prefer to mix them with a flavored drink.
I fall into the latter category, so I like to mix mine with a sports drink to help mask the flavor. It changes the flavor a little bit, but nothing super crazy.
Third Party Tested, GMP Compliant
While researching Nutricost, I saw that their products are not only Third-Party Tested, but they are also made in a GMP Compliant, FDA Registered Facility.
When it comes to supplements, I feel like it can still be a bit of the "wild west" as far as formula, purity, and quality goes.
The fact that Nutricost goes the extra mile to have their products tested as well as made in a high-quality facility shows me that they really do care about providing the best product and experience for their customers.
Cons
Can Stock Out
Lastly, Nutricost products on Amazon tend to stock out once in a while I've noticed, just due to the popularity of the brand. So that's something to keep in mind.
Final Thoughts
Nutricost BCAAs is a solid product. Not much I can really complain about. Their unflavored is a great option for those who want to mix the powder with a flavored liquid.

The price is extremely competitive, and the amount of servings you get in each tub is great. If you're looking for a simple formula and a wall-friendly BCAA powder to help support your workouts, definitely check out Nutricost.

What Are BCAAs?
Isoleucine, leucine, and valine are BCAAs that can be found in foods like chicken, milk, eggs, and more!
Depending on your diet, lifestyle, and preferences, using a BCAA supplement can be an extremely convenient way to help support overall intake and help act as a safety net to ensure you are getting enough of them to support your goals.
But what's the big deal about BCAAs anyways, and how can they help support your workout and fitness goals? Great question. 
Research shows that BCAAs can help support:
Because of this, BCAAs can make a great addition to any gym-goers supplement arsenal, especially depending on their current daily eating habits.