Type Zero BCAA Capsules Review
Support recovery time with BCAA capsules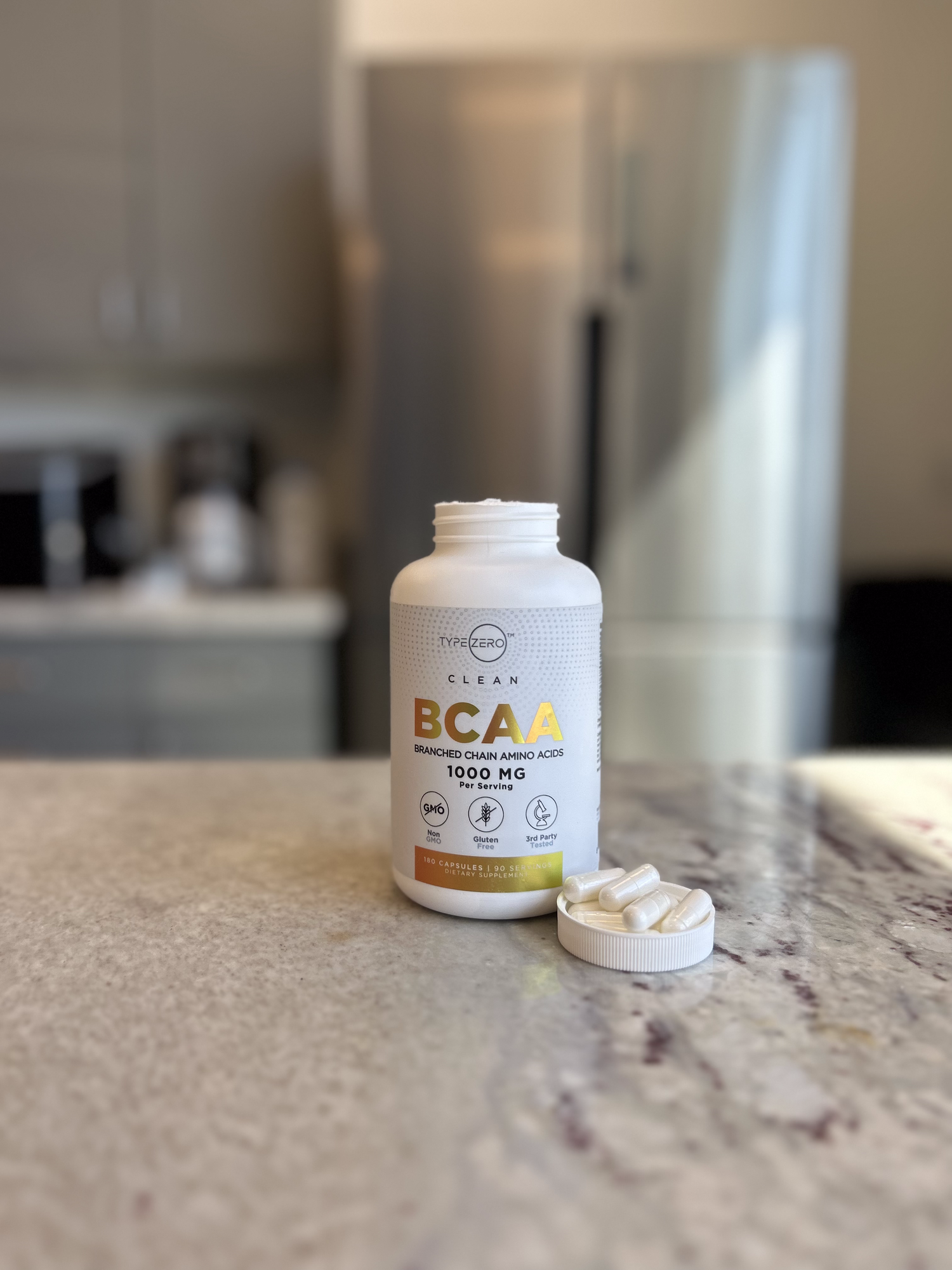 Type Zero BCAA Capsules Review
Type Zero has a large size of BCAA caps - 90 servings. Get 1,000 MG of branched-chain amino acids, known as BCAAs, in each serving. The bottle costs $24.95 for a supply that could last up to 3 months.
Buy on Amazon
While I love pushing myself hard at the gym, sometimes the muscle soreness makes it tough to keep performing at a high level the next day. 
If you're anything like me, you might have a difficult time getting enough protein each day to help support your muscle growth and recovery.
This can lead to feeling extra sore, and just not seeing the muscle-building results you'd expect from those intense gym sessions.
Enter BCAAs. These are a great safety net to help support workout recovery and muscle-building goals.
But do a quick google search and you'll see there are literally hundreds, if not thousands of BCAA options available.
Type Zero's BCAAs caught my eye because of their formula, affordable price, and slick packaging. I decided to give them a go. Check out my full review on their product after ordering it to see if you should try it out, too.
Type Zero BCAA Capsules a Glance: 
90 servings per bottle 
1,000 MG of amino acids per serving 
Highly researched formula uses a 2:1:1 ratio of amino acids 
BCAAs Are Like ABCs - Gotta Have Em'
Branched-chain amino acids, known as BCAAs, are 3 specific amino acids that gym goers often take after training because they can help reduce muscle soreness and help improve exercise performance. 
Think of BCAAs as muscle fuel.
Pros
Just What You Need Formula
This formula is totally targeted to help with muscle recovery. The only ingredients here are Leucine, Isoleucine, and Valine. Each serving provides 1,000 MG of amino acids, or 500 MG per capsule, since 2 capsules make up a serving.

Bonus: Type Zero uses the most highly-researched, popular ratio of 2:1:1 for amino acids. Each serving has 2 capsules that are normal-sized. 
Last thing, the capsules are non-GMO and gluten free. So that's always a plus.
Price Matters - And Type Zero Delivers
I love that this bottle has 90 servings and only costs $24.95. That means this can last up to 3 months, if not longer depending on how often you supplement with BCAAs throughout the week.
If you break down the price, it ends up costing about 27 cents per serving, which is a pretty good deal. 
I have seen some BCAAs that cost less, but many cost a lot more. For a supply that can last about 3 months long, $24.95 feels like a great deal, especially if you consider all of the other quality benefits of this supplement. 
Extra Quality Assurances
While searching for a great BCAA, I learned that Type Zero  products are not only third-party tested but they are also made in a GMP-Compliant, FDA-Registered Facility.
It's reassuring that Type Zero has taken the time to have its products tested and made in a high-quality facility. It shows me that they care about providing the best possible product and experience for its customers.
Packaging
The biggest reason Type Zero caught my eye - other than the great price and formula - is the cool bottle. A shiny bottle = better performance. Right??
Cons
Some May Prefer Powdered BCAAs
I feel like BCAA capsules are incredibly easy to take after a workout. However, I know some people may prefer the powdered version. It is a personal preference for sure. Obviously, this may not be a deal breaker for some, but it could be a factor for some folks
Gotta Have 'Em
For those who need convenience and a streamlined formula, Type Zero BCAA capsules are a great option. 
The long-lasting bottle can keep you going for up to 3 months, and only costs $24.95. While I know some of you may prefer the powder, capsules can offer a great alternative. These high-quality capsules that have been 3rd-party tested worked like a charm for me. 
BCAAs have changed the game for me. If you are looking for a way to support your recovery, I definitely recommend looking into a BCAA supplement. 
After supplementing with Type Zero BCAAs, I've noticed I don't feel as sore all of the time after working out. And I can get through my entire workouts without as much creaking in my body– #IYKYK #Over30Club.
If you are in the market for BCAAs, I suggest checking out Type Zero.
Why Supplement with BCAA's?
Extensive research has demonstrated the significant role of BCAA supplements in helping enhance athletic performance and aiding in recovery. BCAA's are a specific set of branched-chain amino acids: isoleucine, leucine, and valine. These can be found in foods like chicken, milk, eggs, and more.
BCAA supplements can feed your muscles by providing the necessary fuel, helping optimize athletic performance and recovery. 
Research shows that BCAAs can help support: