Nutricost BCAA Capsules Review
Muscle recovery and convenience in a capsule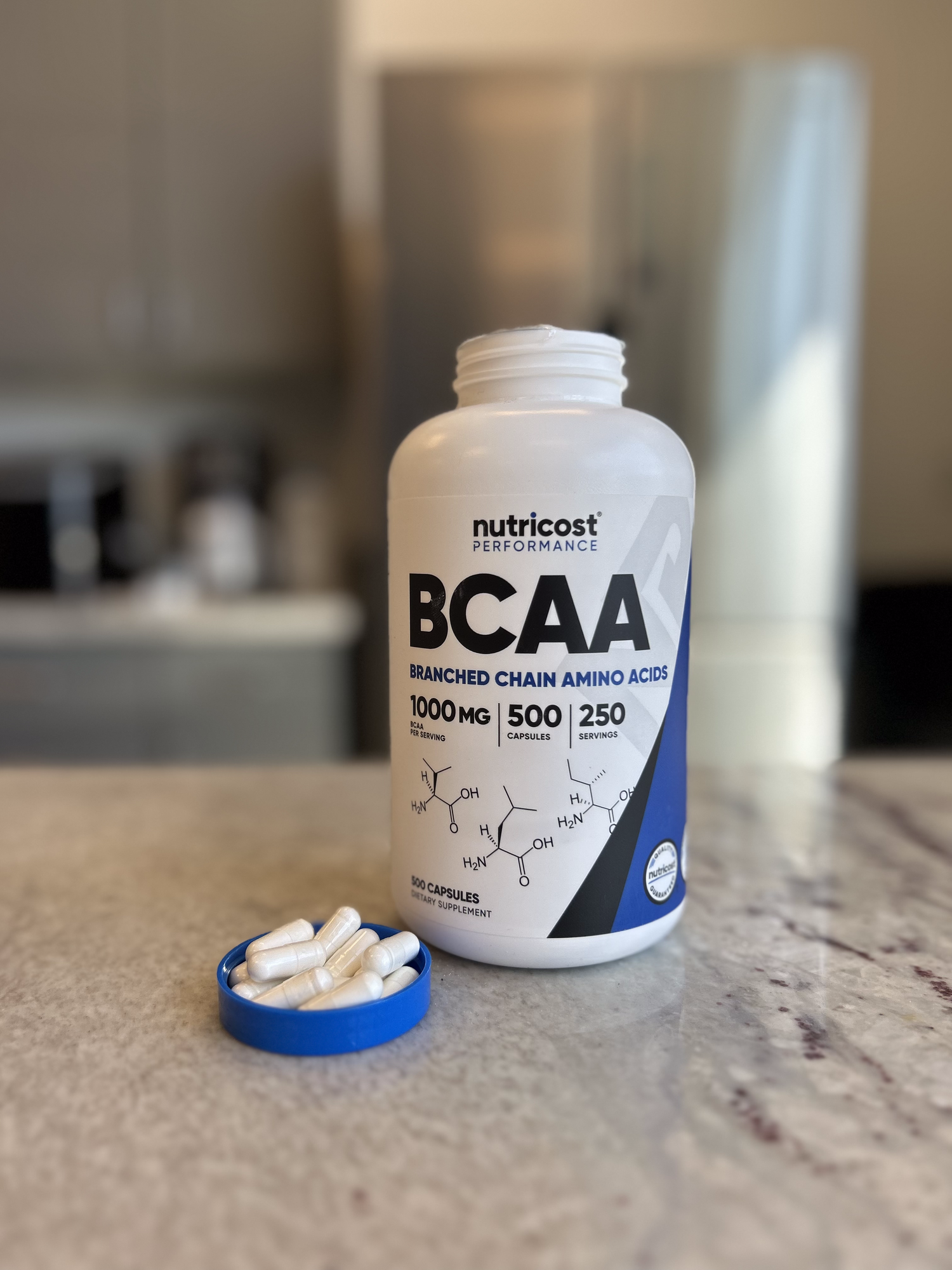 Nutricost BCAA Capsules
Nutricost has a monster size of BCAA caps - 250 servings! Get 1,000 MG of amino acids in each serving. The bottle costs $21.95 for a supply that could last up to eight months.
Buy on Amazon
I love hitting the gym before work if I can fight off the urge to hit 'snooze' in the morning. It's such a great way to start the day. 
Sometimes, it's a mad dash to get cleaned up, take my BCAA powder, feed the kids, take care of the dog, stuff some food in my face, AND get to work on time. I'm tired just thinking about it. It would be fantastic to eliminate just one step to make getting out the door easier. 
There is an answer! BCAA's can come in convenient capsules instead of a more involved powder that needs to be mixed. 
If you're hitting the gym daily like me, you're probably taking BCAA's to help reduce soreness and keep up your routine. Nutricost has a capsule option that has 4.5 stars on Amazon. I was hopeful that these little capsules could make my morning routine a little less chaotic. 
Spoiler alert: it worked!
I ordered some from Amazon and wrote a review so you, too, can make your mornings more peaceful.  
Nutricost BCAA Capsules a Glance: 
250 servings per bottle 
1,000 MG of amino acids per serving 
Highly researched formula uses a 2:1:1 ratio of amino acids 
Make Your Life Easier with BCAA Capsules from Nutricost
BCAAs, also referred to as branched-chain amino acids, are 3 specific amino acids that gym goers often take after training because they can help support workout recovery, reduce muscle soreness, and even help with exercise performance. 
BCAAs can make a great addition to any gym-goer's supplement arsenal. When I started using them on workout days, I noticed an improvement in my recovery time and a decrease in soreness. Strongly recommend! 
Pros
Great Formula
I appreciate the direct and targeted Nutricost formula for the BCAA caps. Some formulas include extras that hike up the price, but I don't want or need that for my BCAAs. It's great to keep it simple! 
500 mg L-Leucine
250 mg L-Isoleucine
250 L-Valine
It's worth noting that this is a highly-researched, popular ratio of 2:1:1. Each serving has 2 capsules that are normal-sized. Each serving is only 5 calories, which is barely worth mentioning!
I Have Never Seen a Better Deal on BCAAs 
I know that literally everything is getting more expensive these days. Supplements are an additional expense. And that's where this product absolutely shines. 
They provide a whopping 250 servings per bottle; each tub costs only $21.95. The cost-per-serving breakdown comes to about 8 cents per serving. 
Let me repeat that: If you take a serving every day, you have a 8-month supply of BCAAs for less than $25.
I honestly don't know how anyone could beat this deal. This bottle lasts forever (not literally, but almost!). 
Popular Brand with a Commitment to High Quality
While researching Nutricost, I learned that their products are not only third-party tested but they are also made in a GMP-Compliant, FDA-Registered Facility.
When it comes to supplements, I feel like it can still be a bit of the "Wild West" as far as formula, purity, and quality go.
The fact that Nutricost goes the extra mile to have its products tested and made in a high-quality facility shows me that they care about providing the best product and experience for its customers.
Cons
Some May Prefer Powdered BCAAs
While I love the convenience of the Nutricost BCAA capsules, I know some people may prefer the powdered version. I definitely need to drink water after working out and it could make sense just to drink BCAA's. 
I just need to shave off any extra time mixing powder and drinking it in the morning to make my day the smoothest start possible, so I still prefer capsules. They're just extremely convenient.
Officially My Favorite
Nutricost BCAAs are truly a time-saver. There is nothing to complain about if you're down with the capsules instead of powder. 
The price is extremely competitive, and the amount of servings you get in each bottle is hard to beat. If you're looking for a simple formula and a wall-friendly BCAA powder to help support your workouts, definitely check out Nutricost.
Why Supplement with BCAA's?
Extensive research has demonstrated the significant role of BCAA supplements in helping enhance athletic performance and aiding in recovery. BCAA's are a specific set of branched-chain amino acids: isoleucine, leucine, and valine. These can be found in foods like chicken, milk, eggs, and more!
BCAA supplements can feed your muscles by providing the necessary boost, helping optimize their performance and recovery. 
Research shows that BCAAs can help support: