Nutricost Astaxanthin Review
Antioxidant support from the sea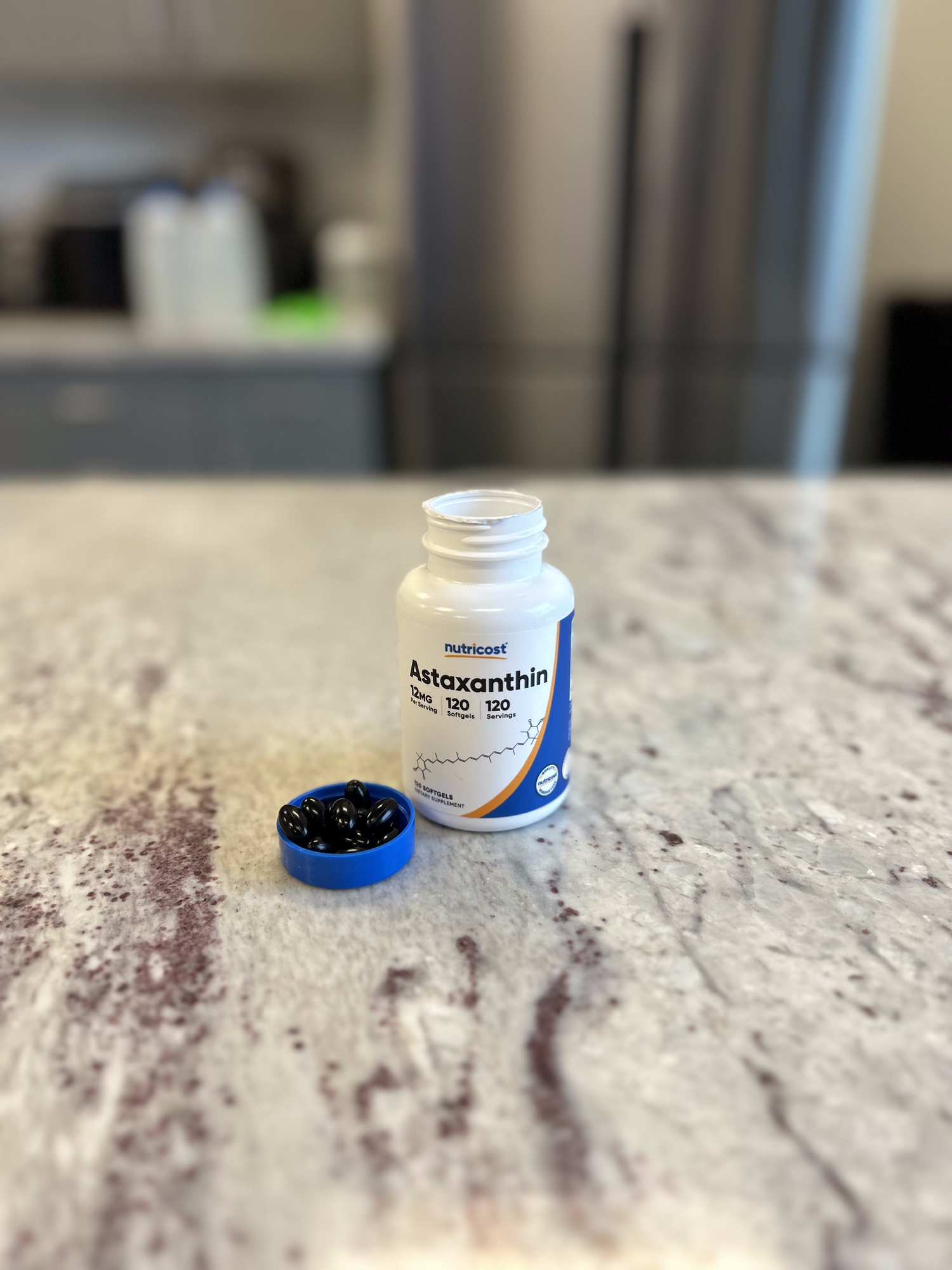 Nutricost Astaxanthin
Need more antioxidant support? Nutricost has you covered with Astaxanthin gel caps. Each bottle contains 120 servings and costs only 25 cents per serving.
Buy on Amazon
Lots of great food and supplements come from the ocean. I love a good clam chowder or platter of oysters. However, some people don't jive with the seafood but still want the benefits that come from the ocean. 
Good news - there is a gel cap that will help give you antioxidant support and digestive support. Astaxanthin may be difficult to pronounce, but it's easy to take. 
Thousands of high reviews for Nutricost's Astaxanthin caught (get it!?) my eye, so I had to order some gel caps for myself. Keep reading for my in-depth review. 
Content Warning: Dad Jokes Ahead
Product at a Glance: 
120 servings per bottle 
$29.99 per bottle
3rd-party tested for purity 
Astaxanthin is a carotenoid pigment from the sea and can be found in algae, shrimp, and salmon. 
This unique supplement has many health benefits, including providing great antioxidant support.
Pros
Solid Price Point
Each bottle of Nutricost Astaxanthin has 120 servings, which is approximately four months of supply. The bottle costs just $29.99, which shakes out to about 25 cents per serving. This bottle has 12 MG of astaxanthin per serving, which is a nice and strong dose. 
I couldn't find a suggested dose for astaxanthin, but the competing brands I saw online ranged from 4 MG to 12 MG, so Nutricost is delivering at the top. That high dosage definitely increases the value for me!
There are other options for astaxanthin that cost more and a few that cost less. Most have a similar price point to Nutricost, but not all have the same quality control with 3rd-party testing like Nutricost. When selecting your bottle, double-check the dosage and serving size because there are several options for dosage and serving size with Nutricost.
Streamlined Formula
I am a big fan of the single-ingredient supplements. This one is a standout – the only ingredient in the gelcap is astaxanthin which comes from microalgae. 
Rest assured, knowing that this is a non-GMO and gluten-free supplement. 
Strong Brand Presence
Nutricost is known for its high quality, which makes me happy to try new Nutricost supplements. A few key items that make Nutricost stand out above the rest are:
Nutricost is the official supplement provider for BYU athletes 
Products are 3rd-party tested for purity
Supplements are manufactured in a GMP-compliant and FDA-registered facility
As a consumer, I know it is essential to trust your supplement provider, which is why I keep returning to Nutricost. 
Cons
Gel Caps Look Like Jelly Beans
I usually try my hardest to be critical of supplements. That said, there is not much to gripe about with this product. The biggest thing I could think of is that they do look odd compared to other capsules.
The good news is that the gel caps go down easily, but they do totally look like black jelly beans. I was so surprised when I opened the bottle and saw them for the first time. It's not really a 'con,' but it surprised me, and I thought I would include it in my review.
Final Decision: Nutricost
For me, Nutricost has made this decision easy. Don't be alarmed by the dark-colored gel caps - that is just how these look from the microalgae.
Between the high-quality ingredients, the strong dose, and the streamlined formula, I can confidently recommend Astaxanthin by Nutricost. The affordable price makes it quite the catch of the day.
Why Supplement with Astaxanthin?