Nutricost Casein Protein Review - Is It the Best Casein Protein?
Recharge your muscles while you're resting with Nutricost's Casein Protein. An unbeatable price, great formula, and delicious flavor will make this your new go-to!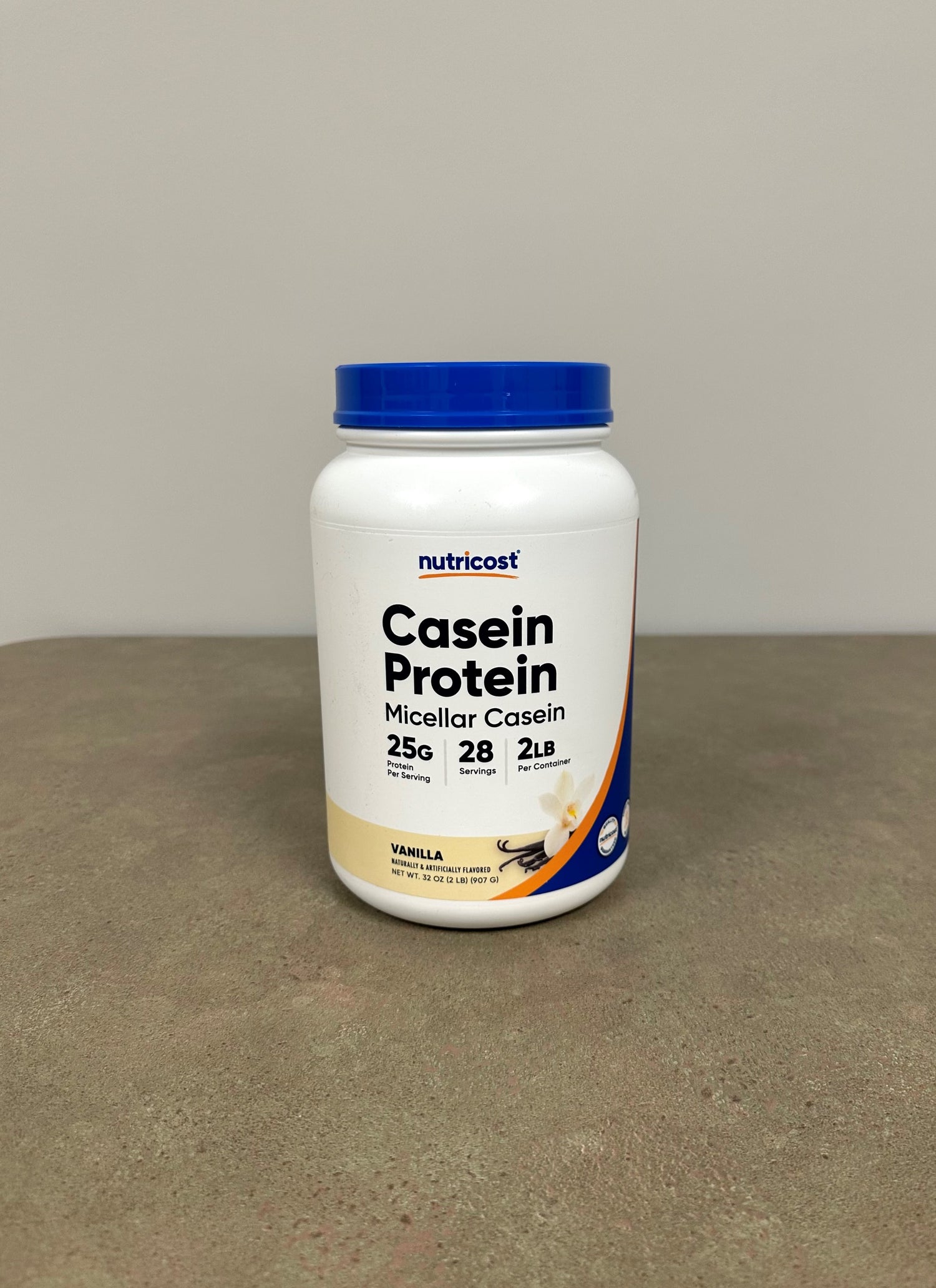 Nutricost Casein Protein
Use the best of what Nutricost has to offer for muscle recovery and growth with their slow-digesting Casein protein. Take control of your health with a tasty vanilla shake that packs 25g of protein per serving – and only 110 calories!
Buy on Amazon
Do You Get Enough Protein?
If you weigh 200 lbs, you need 72 grams of protein per day, according to UCLA Health. I know managing nutrition and health in a very busy life is hard. Some days just making it to the gym is a feat, and I don't have time to check on my protein intake. 
To make sure I'm getting enough protein and maximize workout recovery, I like to take Casein Protein before bed. Casein is different from other proteins like whey in the fact that it is slower digesting, meaning it provides a sustained release of amino acids for your muscles. Whereas whey protein is more quickly digested and absorbed.
I did some research on the most popular Casein products and decided to review Nutricost. 
Since Nutricost is a top seller on Amazon, I was excited to see if they could deliver a delicious, well-rounded casein protein. I was hopeful that this would be the best casein protein out there!
A quick look at Nutricost's Casein Protein:
Classic vanilla soft-serve flavor is delicious
25g of protein and only 110 calories
Unbeatable price point
Check out my full review below.
Shake it up! My Review of Nutricost Casein Protein
Pros
There is a Reason Vanilla Flavor is a Classic!
Nutricost's classic vanilla flavor is smooth, creamy, and delicious. It reminded me of summers as a kid, simple and not-too-sweet vanilla ice cream. The flavor was a 10/10 for me.
I mixed 1 full scoop with about 10 ounces of water. It mixed easily into a thicker protein shake texture common with many casein powders.
*If you've never tried Casein before, it is usually much thicker than a traditional Whey protein powder. For me, this is a pro for Casein powder. 
I'm happy to report that the mix wasn't gritty at all, either.
Great Price Won't Break The Bank
Just as impressive as the flavor and texture is the price per serving of this tub. You can get it right now for $34.95; the 2LB tub is a one-month supply of 28 servings and breaks down to just $1.24/serving.
 At $66.95, the 5LB tub is an even better deal at $00.88/serving! That is 71 servings or over two months of supplements.  
I was looking for a cost-effective casein powder that packed a punch as far as flavor and formula are concerned while also staying budget-friendly. This knocked "cost-effectiveness" out of the park. 
***Side note: I've always wondered why Nutricost has some of the best prices for the best products. 
I recently learned that they can keep costs low because they are a totally vertically integrated company - they do almost everything in-house and don't have to waste money on outsourcing labels, mixing new ingredients, and product packing. 
This way, they keep their high-quality products at a consumer-friendly price.
Focused Formula
Nutricost Casein Protein is a simple, straightforward formula. Each serving is a standard 25 grams of casein protein, 110 calories, and only 1 g of sugar. 
It's important to note again that because this is a casein protein, it provides sustained release of amino acids over a longer period of time.
There are no additional mystery ingredients in Nutricost Casein Protein, which I appreciate. It is also non-GMO and gluten-free. For a classic vanilla protein shake, Nutricost keeps it simple with no fuss and great flavor!
High-Quality Product
One aspect that I love about Nutricost products in general, after having done some research, is that they are third-party tested and made in a GMP Compliant, FDA-registered facility.
Why is this a big deal? Because it's always nice to know that you are getting exactly what is listed on the label and nothing else. 
It's certainly an extra step the company takes to ensure they create a high-quality, pure product and take care of their customers.
Pros
Texture
Casein protein produces a thicker shake, which is different from popular protein powders like whey protein isolate and concentrate. 
If you've never had it before, you might be surprised by the different consistency. 
Personally, it's not a problem for me, but I thought I would include it in my review just to give you a heads up.
Pro B
Share information about your brand with your customers. Describe a product, make announcements, or welcome customers to your store.
Availability
Lastly, Nutricost is a top-seller on Amazon, so it's not uncommon for certain products to stock out occasionally.
Yes, this is the Best Casein Protein
Nutricost's Casein Protein is the top of the market, and in my opinion, one of the best casein options available.
This is right up my alley at 25g of protein per serving and only 110 calories. The price point is absolutely unbeatable, aAnd the flavor is definitely something you'll look forward to.
Whether you are looking to pack on more muscle with your workouts, support  your recovery time, or just wanting to increase your protein intake, I recommend trying Nutricost Casein Protein. 
It is easy to mix up anywhere, tastes great, and is super affordable. This one is a no-brainer!
Why Supplement with Casein Protein?
If you're looking for something different than a traditional fast-acting Whey Protein, slow-digesting Casein Powder could be for you.
Because casein is a protein, it can help support muscle recovery and growth when paired with the right training program.
 Research also shows that Casein Protein can help with satiety and curb overeating, which is  aplus.
Additionally, Casein Protein contains slightly less lactose than Whey Protein Concentrate, which could be a good alternative for lactose-sensitive folks. 
Bonus! Casein Protein contains all of the essential amino acids that we can't produce on our own and need to get in our food and supplements. 10/10 recommend!