The Shakedown on TransformHQ's Weight Loss Shake
Need a quick, protein-dense meal? TransformHQ has you covered with their affordable and delicious Weight Loss Shake.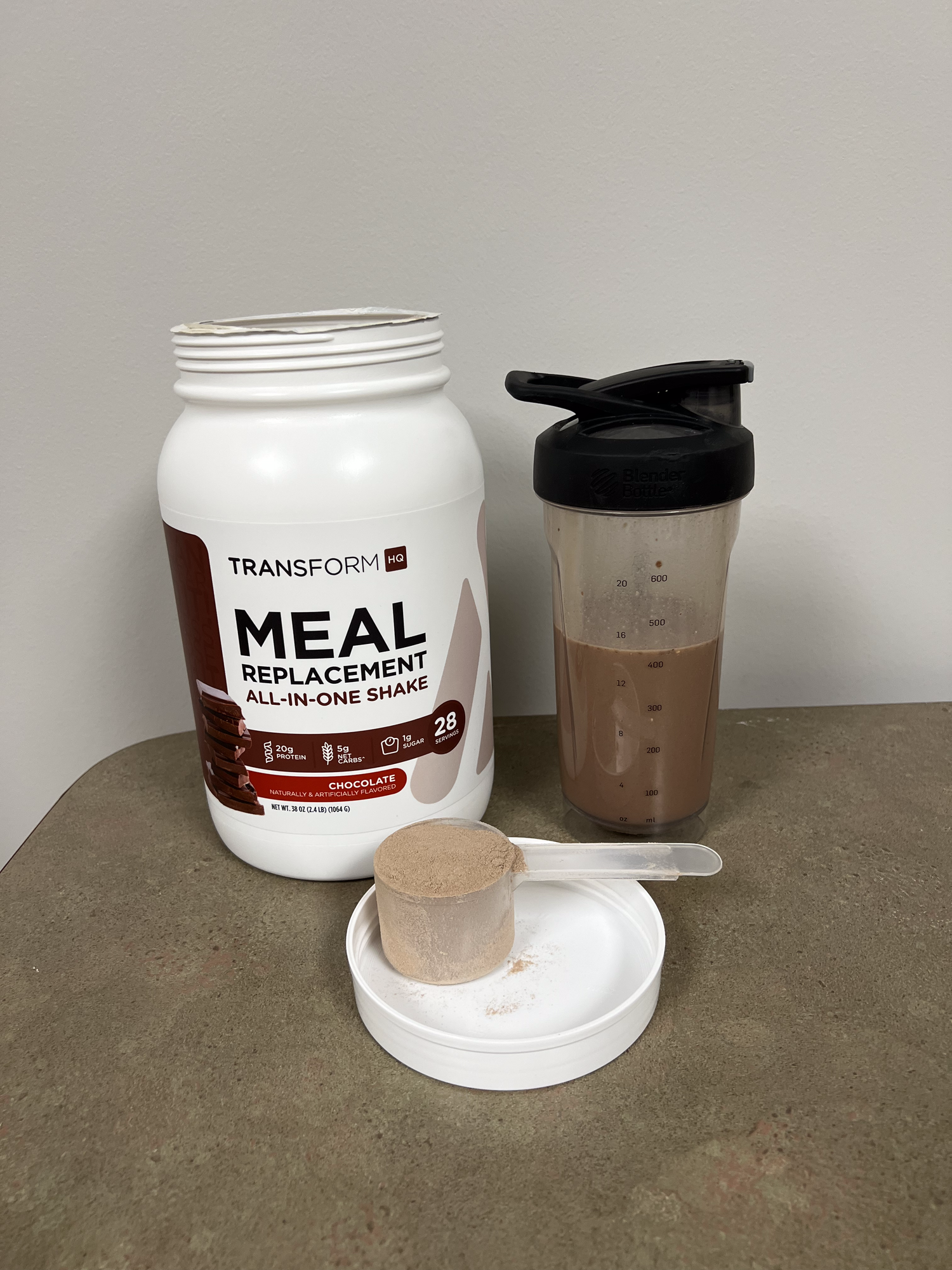 TransformHQ Weight Loss Shake
At just $2.14 per meal, Transform HQ has the perfect on-the-go meal for you. Get important vitamins and minerals, 20g of protein, and just 160-180 calories per serving. Help curb hunger while enjoying delicious flavors like Chocolate! Mix it up with water, or get creative with almond milk or oat milk. The possibilities are endless.
Buy on Amazon
The Shakedown on TransformHQ's Weight Loss Shake
Meal Replacement shakes are a popular tool/meal used for those looking to support their weight loss.
But are meal replacement shakes all that they are cracked up to be? Let's dive deep into my review of TransformHQ's Meal Replacement Shake to see if it's as good as the reviews on Amazon say.

The Inside Scoop: Is TransformHQ Weight Loss Shake Worth It?
TransformHQ is a weight-loss-focused company started by original transformation experts Chris and Heidi Powell.

After the success of their TV show "Extreme Weight Loss" on ABC, they poured their combined decades of experience into creating a line of supplements designed to help support transformation, one of those products being their Weight Loss Shake.

After trying out TransformHQ's Weight Loss Shake, I compiled a list of Pros & Cons. If you're in the market for a weight loss shake, check this review out!

How I Used It
To help you understand how I rated this product throughout the review, I wanted to cue you on how I used this shake. 
I am usually running out the door before work, quite literally. I have very little time to make a full-blown breakfast. 
So I poured 1 scoop of the Chocolate shake powder into my shaker bottle and added 12 ounces of almond milk. That was it!
Pros
Delicious Flavor
If I didn't start this review off with the flavor, I'd be doing everyone a massive disservice. 
The Chocolate flavor, mixed with almond milk, was incredibly delicious. It was hands down the best-tasting meal replacement shake I've ever tried.
I could distinctly taste the rich, milk-chocolatey flavor. It was incredibly delicious, without any weird aftertaste. It honestly tasted like a dessert.
This is a shake I would look forward to drinking every morning. I was highly impressed with this flavor.
It's also important to note that TransformHQ has 17+ other flavors as well.
Formula
When it comes to their ingredient label, TransformHQ's Weight Loss Shake has things dialed in. Each serving provides the following:
160 Calories
20g of Protein
5g Fiber
10g Carbohydrates
11 Vitamins & Minerals
That's what I call a well-balanced meal in each scoop. You get important daily vitamins, minerals, and macronutrients, making replacing a regular meal easy. 
But after trying TransformHQ's Weight Loss Shake, I noticed a couple of other things I want to call out.
Hunger Support
It looks like TransformHQ's Weight Loss Shake is designed with hunger control in mind. TransformHQ's shakes are packed with protein and fiber. 
One cool thing to note is that TransformHQ utilizes 3 different protein forms in their formula:
Whey protein concentrate
Whey protein isolate
Casein 
Protein has been studied for its ability to help curb appetite. What's more, according to TransformHQ, they include 3 different protein sources in their formula to help support hunger control. 
Moreover, the 5g of fiber (some of which comes from VitaFiber®) in each serving also helps provide additional hunger control.
I definitely noticed less hunger and appetite after drinking one of these for breakfast!
Allows for Variation
I love TransformHQ's calorie range. If I want a lower-calorie shake, I can just mix this with water, and I'm ready. 
If I want to add calories, I can mix it with almond milk or milk or throw in additional mix-ins!
Mixability
This shake mixed easily in my shaker bottle. I shook it vigorously for about 30 seconds to ensure I didn't see any clumps, and it was good to go after. 
Just make sure you fasten the shaker bottle lid on tight!
True to the name, TransformHQ's Weight Loss Shake had more of a shake-like consistency. If you want a thinner consistency, you can always mix in more liquid.
Cost (Price Per Serving)
TransformHQ's Weight Loss Shake provides 28 servings for $59.99 on Amazon. That comes down to just $2.14 per meal (scoop).
Comparing that price per meal with the average cost of fast food breakfasts and other already-made meals you might find at the store actually seems affordable, especially with everything being so expensive these days.
Overall, it is a cost-effective weight loss shake and an even more wallet-friendly meal than most options available.
Cons
Harder to Find Scooper
It took me a second of diving around in the tub with my hand to find the scooper. Due to the shipping, it sank to the bottom. 
That said, this is definitely not a deal-breaker by any means.
7 Out of 17+ Flavors on Amazon
As of right now, TransformHQ has 7 different shake flavors listed on Amazon, ranging from Chocolate and Pineapple Whip to Blueberry Cheesecake, Chocolate Peanut Butter and Orange Cream.
This is listed as a "con" only because TransformHQ has 17+ flavors. I hope they add more flavors to Amazon soon. But until they do, the other flavors available on Amazon also look delicious, too.
Final Thoughts
TransformHQ's Weight Loss Shake is a well-rounded, absolutely delicious shake. Its ingredient profile is awesome and seems to be catering to providing a well-balanced meal that also helps support hunger.
If you're looking for a tasty dessert-like shake, you can't go wrong with the Chocolate flavor.
What Are Weight Loss Shakes?
Weight Loss Shakes are calorie-controlled, easy-to-make meals that people whip up to replace a regular meal.
These types of shakes are great if you are trying to support your weight loss efforts, as they tend to be lower in calories. That said, they can also offer flexibility. 
Depending on your goals, like if you're trying to maintain your weight, you can also add additional ingredients to the shakes themselves or eat something else on the side to increase calories.
How to Use Them
For weight loss, the most common use is to replace 1-2 higher-calorie meals daily by mixing a shake with water, almond milk, or your beverage of choice. 
Shake it up, and you're good to go! 
When to Use Them
You can use a weight loss shake to replace any meal during the day. That said, the most popular meals to replace them with tend to be breakfast and lunch.
What to Look For In A Shake
You want to find a shake that provides important vitamins, minerals, macronutrients, and enough calories to help you replace a regular meal.
Additionally, you should also find a shake that is cost-effective and not just an extra expense. Your weight loss shake should help reduce the money you spend on meals/your grocery bill.
And lastly, it needs to taste amazing because here's the thing: if you're going to replace a regular meal with a shake, and if the shake doesn't taste good and isn't something to look forward to, you will have a hard time sticking with it!