The Scoop on Nutricost's Meal Replacement Shake
Get the low-budget and "high payout" Meal Replacement by Nutricost. At only $1.50 per meal, the price on this convenient shake is incredible!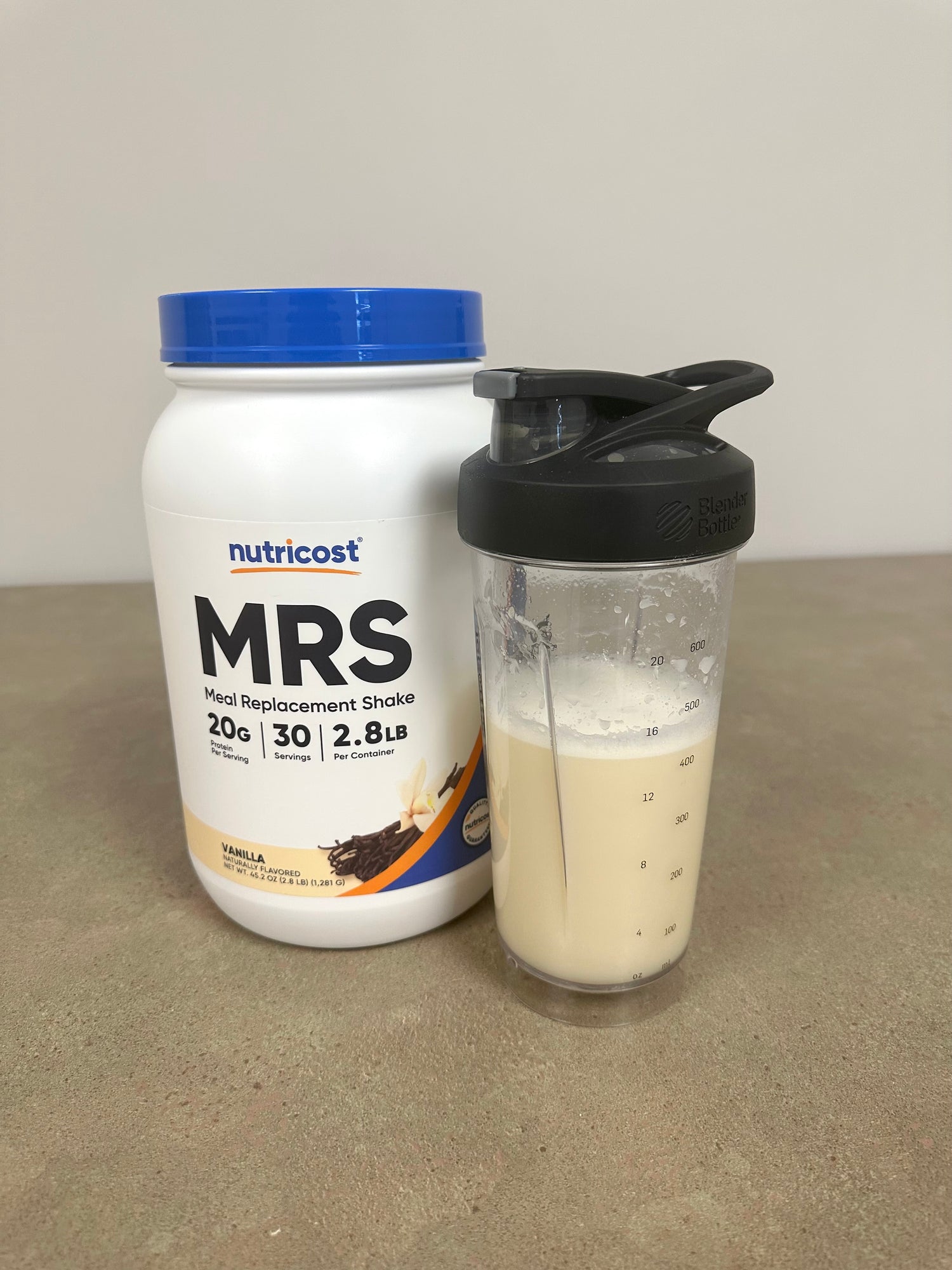 Nutricost's Meal Replacement Shake
If you're looking to incorporate more protein into your diet, this easy-mixing and delicious shake will do just the trick. Get your 20g of protein and 10g of fiber to go – and just 170 calories. Do your body a favor and provide the fuel you need to crush the day.
Buy on Amazon
Here's the Scoop on Nutricost's Meal Replacement Shake
Meal replacement shakes are all the rage right now when it comes to supporting weight loss. That's because good meal replacement shakes help support results in a couple of different ways:
They help reduce calories when replacing a meal.
They can help keep you feeling full.
They are a cost-effective, delicious tool.
Nutricost is an incredibly popular brand on Amazon, with a wide range of supplements available and pretty great reviews. 
But what about their meal replacement shakes? Do they hold up to the brand's allure? And most importantly, are they recommendable for someone trying to support their weight loss?
Check out this in-depth review and learn everything you need about Nutricost's Meal Replacement Shake.
How I Tested Nutricosts' Meal Replacement
I usually don't have much time to make something big for breakfast. So I snagged the Vanilla Meal Replacement Shake flavor and mixed that up for my breakfast for two days.
Here are my overall thoughts about the product.
Pros
Cost
First things first, Nutricost's shake is exceptionally wallet-friendly. For just $44.95, you get 30 servings, aka meals.
That comes down to just $1.50 per meal. Compare that price to the average fast food, restaurant, or individual items on your grocery bill, and that's some incredible savings.
Great nutrition at an affordable cost is a big emphasis for Nutricost, as evidenced by the brand name itself.
Mixability
Sometimes meal replacement shakes, depending on their formula and how big the scooper is, can get chalky, clumpy, and have a lot of settling.
That definitely wasn't the case with Nutricosts's Meal Replacement Shake. I mixed one scoop with 10 ounces of almond milk the first day, shook it up in a shaker bottle for 30 seconds, and it was good to go.
At 10 ounces, the consistency was very similar to a shake-like experience. It was a little thicker but not too thick. On the second day, I mixed it with 12 ounces, and the consistency was even better, in my opinion.
The label recommends 6-10 ounces; I wouldn't recommend 6 ounces, as that might be slightly harder to mix!
Third-Party Tested
One great aspect of Nutricost's Shakes is that they are third-party tested and manufactured in a GMP-Compliant, FDA-Registered Facility.
This lets me know that I am getting everything that is listed on the label in those exact amounts. It also lets me know that Nutricost goes the extra mile to provide a high-quality product and experience for their customers.
Calories, Protein, & Fiber Per Serving
When it comes to nutrition, a couple of factors I weigh a little more than others are calories, protein, and fiber. And here's why:
I like a shake that gives me wiggle room to add more mix-ins or higher-calorie liquid (like whole milk) when I want to. And at 170 calories per serving, Nutricost's Meal Replacement Shake does just that.
Each serving also provides 20g of protein and 10g of fiber.
Protein helps provide fuel, fiber supports gut health, and these nutrients also help curb hunger. From my experience, 20g of protein and 10g of fiber are on the higher end when it comes to shakes, which I'm a fan of.
After drinking this shake for breakfast, I felt less "snacky" until lunchtime.
Cons
The Flavor Was "Good"
That's a weird criticism to have, right? The flavor wasn't bad by any stretch of the imagination. In fact, it was good! No nasty aftertaste or unpleasant flavor tones. It had a sweet taste, especially when I mixed it with almond milk.
My only criticism is that I would have loved just a little stronger vanilla flavor. The sweetness factor overpowered slightly.
That said, if you are a fan of vanilla, or more subtle vanilla flavors, this might be a flavor you check out. 
Lastly, they also offer a Chocolate flavor for those who are more of a chocolate fan.
More Vitamins & Minerals
I would have loved to see more vitamins and minerals in their formula. That said, they provide a nice helping of important macronutrients to help you swap out your meals.
This certainly isn't a dealbreaker, as you can also add some mix-ins if you'd like for more micronutrients.
Final Thoughts
From its affordability, macronutrients, mixability, and third-party testing, Nutricost Meal Replacement Shake is a quality product. There's no doubt about it.
If you're looking for a convenient, simple way to help support your weight loss efforts, I recommend checking out Nutricost's Meal Replacement Shake. And at that price point, you could even try out both flavor options they provide.
Why Supplement with a Meal Replacement Shake?
Meal Replacement shakes are simple, convenient meals that replace regular, higher-calorie meals. They are easy to make. In most cases, you can whip up a tasty shake in as little as 30 seconds! 
These shakes can help support weight loss efforts by helping you reduce calories (by replacing a high-calorie meal) and helping you feel full and satisfied. 
That said, it's essential to find a shake that provides a calorie range based on your preferences and a well-rounded formula that is also high in protein and fiber to help curb hunger.
How to Use Them
If weight loss is your goal, the most popular way to use these shakes is to replace 1-2 meals daily with a shake. Just mix a scoop in with the amount of liquid noted on the shake tub, shake it up, and you're ready.
When to Use Them
In general, meal replacement shakes can be used to replace any meal during the day. Some of the more popular meal times people use a shake are to replace their breakfast and/or lunch.