TransformHQ Creatine Monohydrate Review
Get the benefits of creatine supplementation with TransformHQ's micronized powder.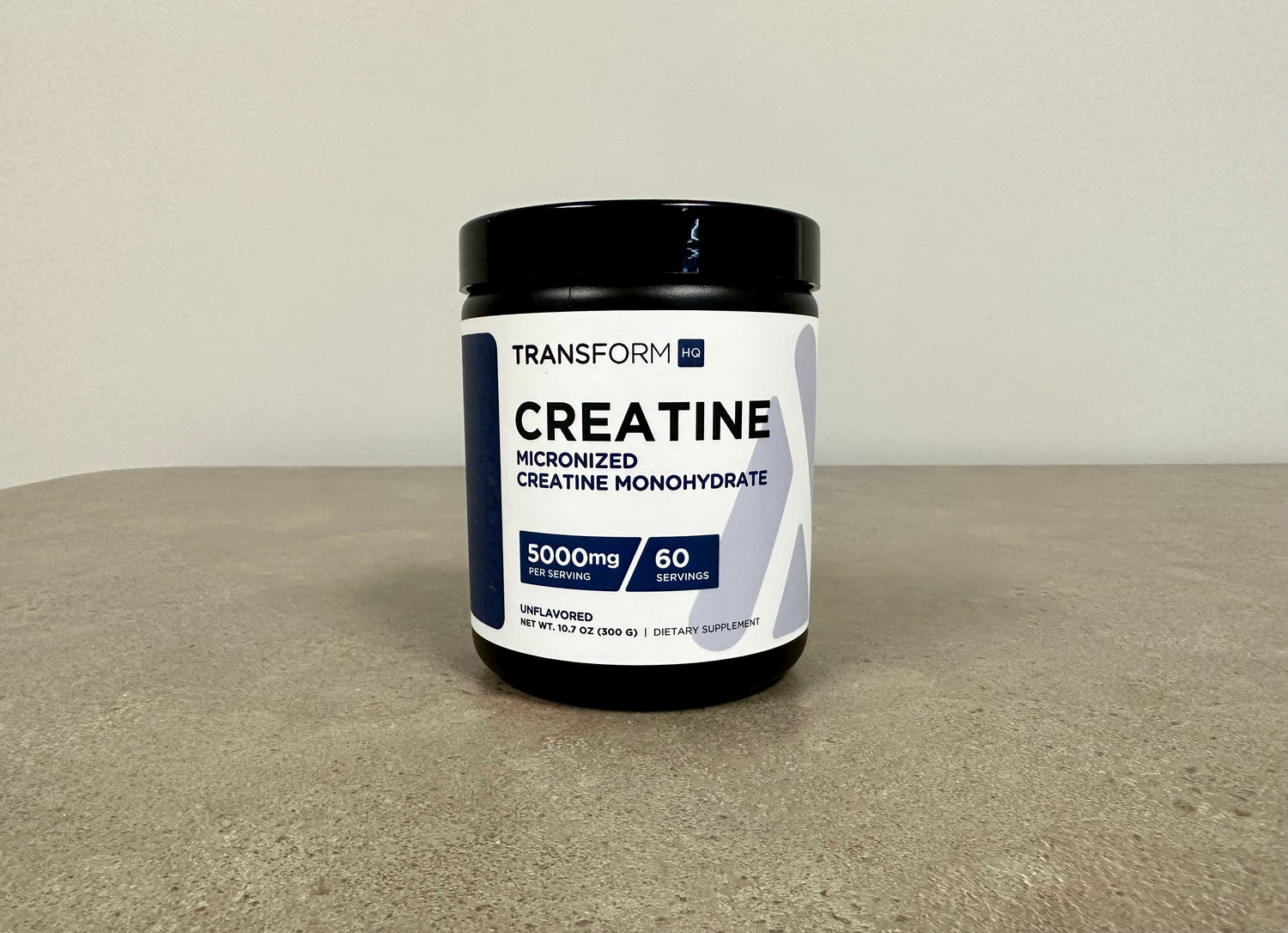 TransformHQ Creatine Monohydrate
Get 5g of unflavored, micronized creatine monohydrate in each serving. TransformHQ's creatine monohydrate has 60 servings per tub and costs 41 cents per serving. 
Buy on Amazon
TransformHQ was founded by original transformation experts, Chris & Heidi Powell. Their flagship products they are known for include their highly-rated, delicious meal replacement shakes and energy drink mixes. 
They also have a Performance Line of products which include creatine, whey protein isolate, BCAAs, and pre-workout. Their unflavored creatine caught my attention, and I had to try it out! 
TransformHQ Creatine Monohydrate at a Glance:
41¢ per serving
Unflavored
Gluten-free
Under the Lid - My In-Depth Review
Creatine monohydrate is a highly researched and effective supplement that many athletes use to support their fitness goals. I was interested in TransformHQ's unflavored creatine monohydrate supplement and decided to order some for myself!
Pros
Straightforward Formula
TransformHQ has a straightforward creatine monohydrate powder. Each scoop provides 5G of the micronized powder. 
I like that this supplement is only creatine. There are no other ingredients or blends added to the supplement. Sometimes, if there are additives in the formula, the unflavored powder can have a bad aftertaste, but not in TransformHQ's creatine monohydrate!
Easy-Mixing Powder
You don't need a special tumbler to get this micronized powder to dissolve quickly. It is easy to mix with water and has no grittiness or any unpleasant consistency. 
Also, it is simple to mix in a scoop of TransformHQ's unflavored creatine in a juice or smoothie recipe. 
Plus! Quality Assurance
Not all supplement companies take the steps to make their products the highest and most trustworthy grade, which is why it's great that TransformHQ's creatine monohydrate is made in a GMP compliant, FDA registered facility.
Cons
Price & Servings
The whole tub costs $24.99 for 60 servings. While this isn't the most expensive creatine out there, it is not the most budget-conscious either. The tub doesn't have as many servings as competitors, who often offer 100 or more servings.
TransformHQ's per serving price breaks down to about 41 cents per serving, higher than other options at the 23 cents per serving range.


The higher-than-average price with fewer servings may be an important consideration for some consumers. But, for those looking to try creatine for the first time or prefer a smaller tub to get started, this might be worth checking out!
My Final Thoughts
TransformHQ has a good product! The formula is straightforward creatine monohydrate, with no other ingredients in each 5g serving. Micronized power makes this very easy to mix on-the-go, and is made in a GMP compliant, FDA registered facility. 
Something to remember is that TransformHQ's creatine monohydrate provides fewer servings and costs more than competitors. While some may feel that this product is worth the money, it may deter others.
Why Supplement with Creatine Monohydrate?