Naturebell Creatine Monohydrate Review
Hoping to up your fitness game? Check out Naturebell's Creatine!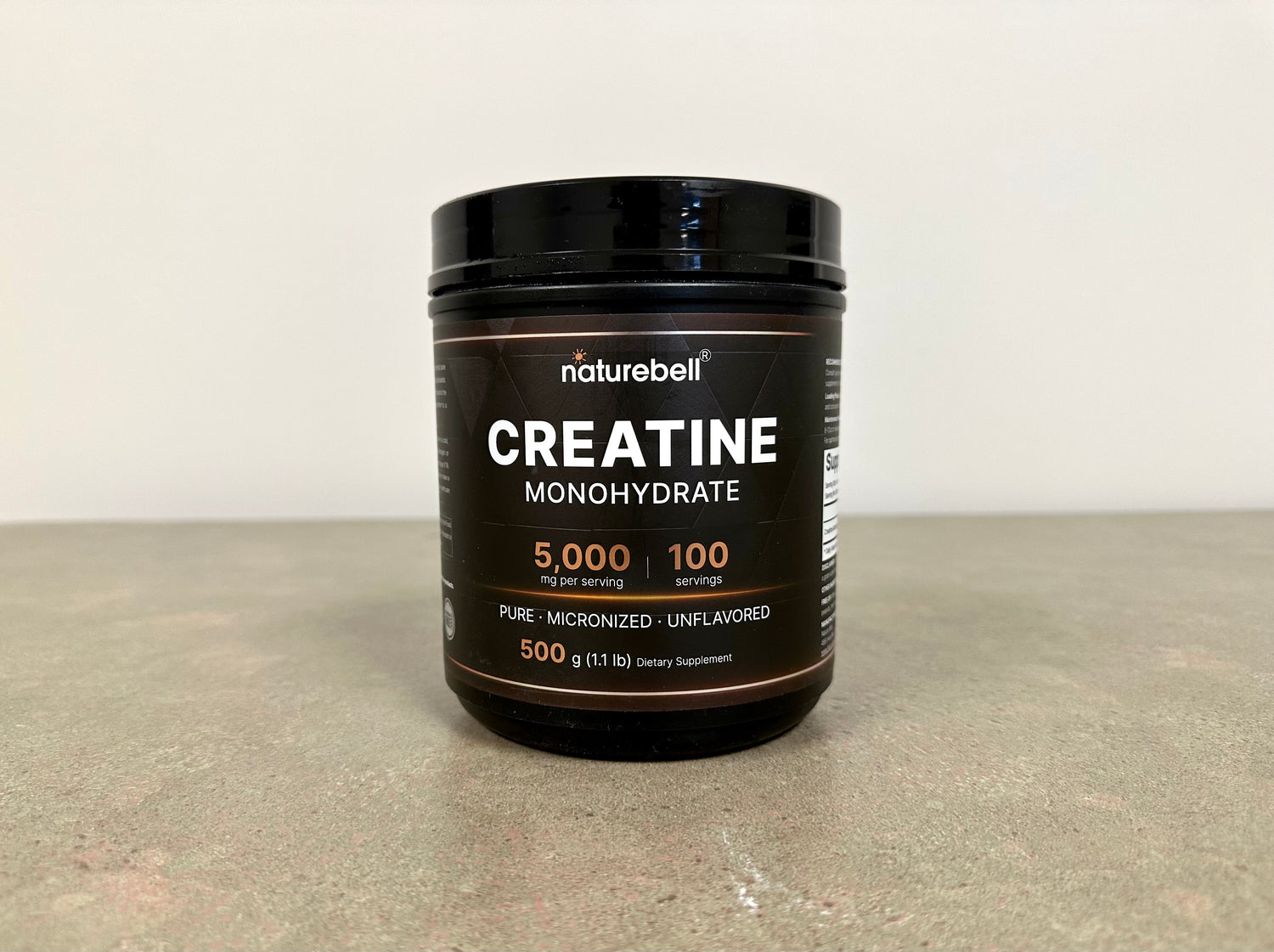 Naturebell Creatine Monohydrate Review
Each scoop of Naturebell's Supplement offers 5g of micronized creatine monohydrate to help you support your fitness goals. 3rd-party tested and available in a 2-pack purchase, be sure to check out this highly recommended supplement.
Buy on Amazon
Naturebell is a supplement company that offers sports and wellness products. They offer products to support immune health, brain and mood boosters, and herbal supplements. In addition to sports and wellness products, they offer a beauty line with some interesting niche products. 
With a lot of reviews and sitting in the top 10 creatine supplement list on Amazon, Naturebell Creatine caught my eye. I had to try it out! 
I'm always on the look for a high-quality creatine powder. That said, I wanted to research their creatine and see if it was up to par with their other high-quality products they offer.
Product at a Glance: 
Scooper included in tub
5g micronized creatine monohydrate per serving 
3rd party tested 
Under the Lid - My In-Depth Review
After determining that I wanted to try Naturebell's creatine monohydrate, I ordered it online. The black tub arrived quickly with 100 servings. 
I was easily able to open it, grab the scooper, and stir the powder into a glass of water. Keep reading for my full review!
Pros
No Fuss Formula
Naturebelle exclusively utilizes high-quality creatine monohydrate in their product. This tub contains no additional ingredients or blends whatsoever. Each scoop provides 5g of micronized creatine monohydrate.
Many unflavored powders tend to include additional ingredients, like amino acids that can result in an unpleasant aftertaste, but that is not the case with this product.
Finally, Naturebell's creatine monohydrate is non-GMO and free of soy, gluten, and tree nuts.
Mixability
Since the creatine monohydrate is micronized, it is quick to dissolve in water – no fancy shaker required! The consistency is not gritty at all, making it easy to drink. 
Bonus: the unflavored micronized powder is so easy to quickly blend into a juice or your favorite smoothie!
Additional Certifications
Naturebell has products 3rd-party tested for purity and quality.
Cons
Cost is Higher than Usual
Naturebell's creatine is more expensive than other options that I have seen, coming in at $38.95. Top competitors offer 100 serving tubs at around $23 per tub.

The Naturebell creatine monohydrate shakes out to 39¢ per serving. I have seen them run some deals online, though. 
Also, if you are more price sensitive (like me), purchasing a 2-pack option would probably give you a better bang for your buck.
My Final Thoughts
If you are looking for a company that focuses more on herbs and vitamins, Naturebell could be a great option for you. 
For the budget-conscious, this may not be your best pick, since you can find more affordable options with the same servings per tub. 
However, they offer 5g of micronized creatine monohydrate in each serving, and use 3rd-party testing to ensure quality. Naturebell delivers a high-quality supplement, it just depends on what you are looking for in your creatine monohydrate supplement!
Why Supplement with Creatine Monohydrate?