Evlution Nutrition BCAA 5000 Review: Increase Muscle, Endurance, and Recovery
Get the most out of your training session with EVL BCAA to fuel your body before, during, and after the gym.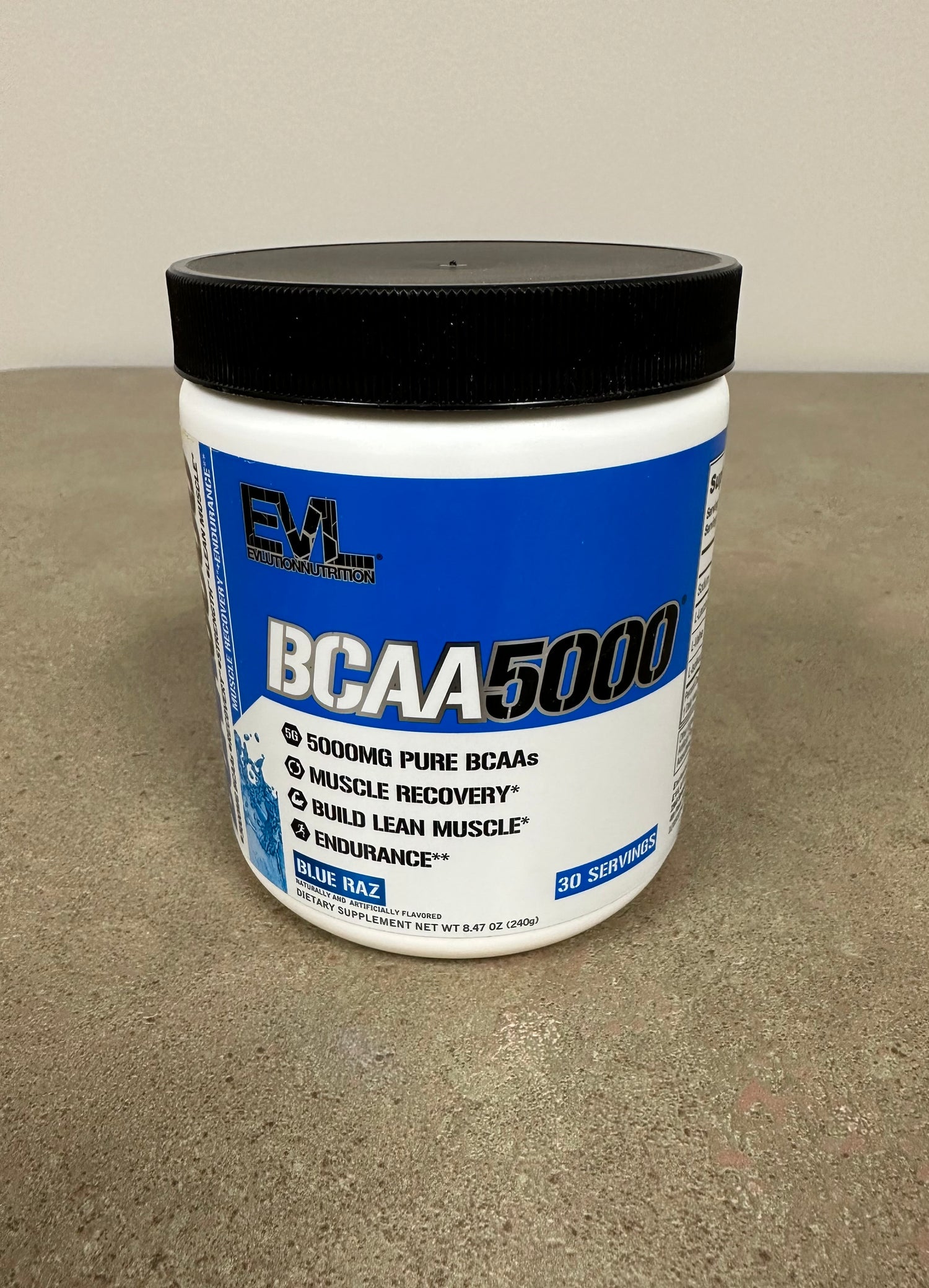 EVLUTION BCAA 5000
Experience the simplicity of EVL's BCAA supplement, offering an optimal 2:1:1 ratio per serving, giving you 5000mg of pure BCAA. Embrace superior quality at an unbeatable price, and choose from an array of flavor options like Blue Raz.
Buy on Amazon
Evlution Nutrition BCAA 5000 Review: Increase Muscle, Endurance, and Recovery
Ready to evolve? Let's check out Evlution Nutrition's Blue Raz BCAA powder. 
Evolution Nutrition, also referred to as EVL,  has established itself as a prominent brand in the realm of advanced bodybuilding amino acid nutritional supplements for both men and women. 
Known for an unwavering commitment to utilizing only the highest quality ingredients, this company uses ingredients that have been rigorously tested in laboratories for safety and for efficacy. 
I am always looking for a way to help reduce soreness so I'm not tempted to skip a day at the gym. After having reviewed several other BCAA supplements, I was excited to see how this one held up.
Evlution Nutrition BCAA 5000 at a Glance: 
Non-stim supplement
Easy-to-mix powder 
Promotes increased endurance
Under the Lid – My In-Depth Review
Pros
Cost – This One Won't Break the Bank
First things first, I was happy about the price point. I purchased the 30 servings tub for $17.99, which shakes out to be only 59¢ per serving. 
This is definitely on the more affordable end of BCAA supplements, with some other BCAA products ranging around $22+ for the same amount of servings.
EVL also offers a larger tub with 60 servings for $26.99, dropping the price to 44¢ per serving. All in all, the BCAA 5000 is definitely wallet-friendly, for those who are looking to shop on a budget.
WYSIWYG – What You See is What You Get in This Formula
EVL offers a traditional BCAA formula, following the proven 2:1:1 ratio. Each serving gives you 5g of BCAA. I consider this a reliable BCAA blend! 
Additionally, I appreciate EVL BCAA's 0 carbs, 0 sugars, and 0 stimulants formulation. I don't want any extras or fillers in my supplements. 
Note that there is a small amount of sodium, but nothing out of the ordinary or notable. 
This is a pretty straightforward, solid formula for those looking for pure BCAAs.
No Tumbler? No Problem
I was feeling super lazy when I mixed this powder, and just poured the filtered water in a cup to swish around - I didn't even use a knife to mix it. 
Even though I didn't shake it, the powder mixed easily and had no grit!
I'm Blue, but Not Sad About It!
The Blue Raz flavor is pretty standard, and easy to drink. I could easily drink this every day before a workout for a month or two, before needing to look at other flavor options.
It is not too sweet or sour, and if you like an even more subtle flavor, you could increase the water-to-powder ratio.
Cons
Many similar products by EVL
EVL has a wide range of very similar BCAA products, it can be a bit confusing to make sure you are getting the one you want. The one I reviewed here is the EVL BCAA 5000, but they have the BCAA Lean and the BCAA Energy as well. 
Be sure to read the fine print and ingredients to make sure you don't end up with a different blend. They all look pretty similar too, so it would be easy to grab the wrong one.
My Final Thoughts
EVL has a solid product. The price point is good, the quality is high, and it is super easy to mix. If you've tried other blue raspberry supplements, you'll likely love this flavor. 
And if you're looking for a wallet-friendly, straightforward BCAA supplement, this might be one worth looking into.
EVL offers a wide range of flavors, and it looks like Pink Lemonade is popular. I'll have to try that one next!
Why Supplement with BCAA's?
Extensive research has consistently demonstrated the beneficial effects of BCAA supplements on athletic performance and recovery.
By incorporating BCAA supplements into your routine, you can experience heightened energy levels and reduced fatigue. These supplements directly nourish your muscles with vital amino acids such as leucine, isoleucine, and valine.
Embracing regular use of BCAA supplements empowers your muscles by providing the necessary support before, during, and after your workouts, giving them the much-needed boost they require.