A Look Under the Lid: Cellucor BCAA Sport
Fuel Your Performance with Cellucor's 2:1:1 BCAA blend, PLUS Glutamine at only 76¢ per serving.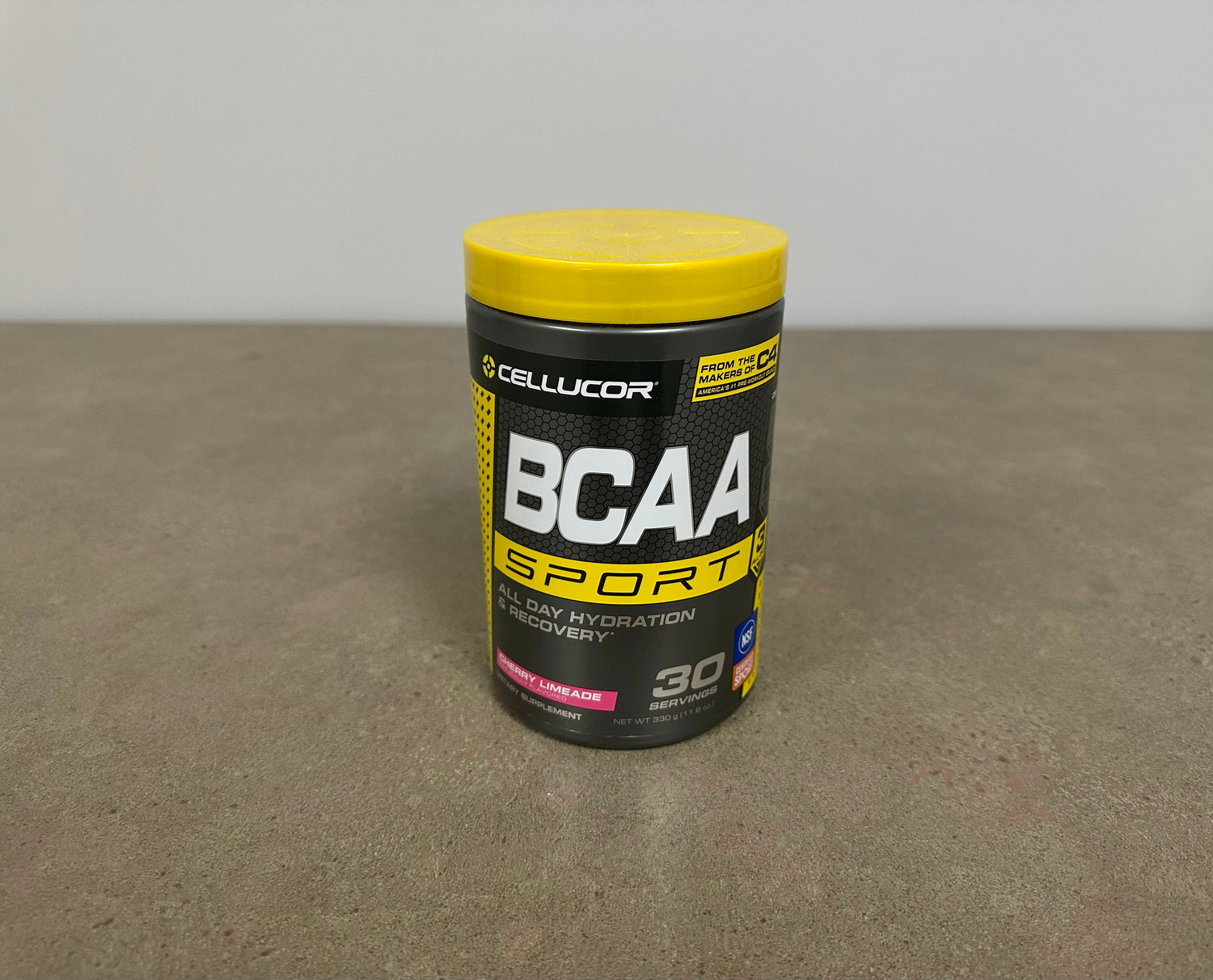 Cellucor BCAA
If you're looking for a little more than a standard BCAA blend, Cellucor's BCAA Sport is for you. Transform your recovery with BCAAs enhanced with electrolytes and glutamine to fuel your muscles. Don't worry, there are no unnecessary extras like sugar, calories, or caffeine in this powerful supplement.
Buy on Amazon
A Look Under the Lid: Cellucor BCAA Sport
Many gym enthusiasts and athletes supplement with BCAAs in an effort to help support exercise recovery, reduce muscle soreness, and even help with workout performance. 
One of the most popular ways to supplement with them is in powder form. That said, I wanted to look at supplement behemoth Cellucor, specifically their BCAA Sport product, to see how it holds up.  
Is it a worthy contender for those seeking to supplement their recovery and fitness goals? How does it taste, is the formula good, and is it recommendable?
You're in luck, because that's exactly what you're going to find out in this review.
Cellucor BCAA Sport: Get The Inside Scoop
I grew up with Cellucor products. In fact, Cellucor's C4 Pre-Workout was one of the first pre-workouts I tried about 16 years ago.
Cellucor is definitely a well-established brand. Their BCAA Sport product caught my eye recently, so I decided to put it to the test.
Here's a look at my review and overall experience using it. Remember, though, that this is purely my experience with this product, and everyone's experience may be a bit different.
Pros
Formula
Regarding the back panel, Cellucor BCAA Sport checks quite a bit of boxes.
First, they provide 4,000mg of BCAAs in a studied 2:1:1 ratio. This ratio is common amongst most BCAA powders, which is nice. This means that you get more L-leucine than L-isoleucine and L-valine. L-Leucine is touted as carrying quite a bit of the BCAA benefits.
It's also important to note that the BCAAs in Cellucor BCAA Sport are "instantized," which means they've undergone a process to make them mix even easier.
Next, they provide an "Amino Acid Blend" and "Glutamine." Here's a look at some of the research behind some of the ingredients in the Amino Acid Blend and Glutamine:
Overall, BCAA Sport looks like a pretty solid formula. It's got your BCAAs and some additional ingredients to help your post-workout recovery.
Cost (Price Per Serving)
One big thing I like to always look at when reviewing a supplement is its overall price and price per serving breakdown. Everything is more expensive nowadays, and I feel like your supplements shouldn't be breaking the bank.
Cellucor BCAA Sport provides 30 servings per tub for a total of $22.92. That means each serving costs about $0.76. 
BCAA Sport falls somewhere on the lower price end of BCAA powders. It's certainly not the most affordable, but it's also not outrageously priced.
Mixability
Because the BCAAs are instantized, the powder mixed easily. I mixed a scoop with about 16 ounces of water in my shaker bottle, and I didn't notice any clumping or large amounts of settling at the bottom of my shaker bottle. 
I would shake it once or twice each time before I took a sip, and I was good to go.
NSF Certified
Cellucor BCAA Sport is NSF Certified for Sport. According to the company, the product has been "subjected to rigorous testing and protocols required to become certified for sport." That's a nice nod for those looking for a high-quality, tested product.
Cons
Flavor
Here's the short answer: the flavor wasn't terrible by any means, but it was a little tart and intense following their recommended liquid amount of only 8 ounces of water.
I actually ended up doubling the amount of water. After doing this, the flavor was certainly more palatable to my preferences. Full disclosure, I like to have more to sip on as it forces me to drink more during my workouts. I'm also a fan of more subtle flavoring.
Flavor Selection
I had a hard time finding other flavors available on Amazon. In fact, the only one I was able to find was Cherry Limeade.
You might be out of luck if you're not the biggest fan of Cherry Limeade and looking for other flavors.
Final Thoughts
Overall, Cellucor BCAA Sport is a solid product. It provides your standard mix of BCAAs in a 2:1:1 ratio and some nice additional blends.
Additionally, the cost is on the lower end of the spectrum, which is excellent for those more price sensitive like myself.
Lastly, the flavor was OK after I added more water. However, if you are a big fan of Cherry Limeade and more tart-flavored products, this might be exactly what you're looking for.
It is worth mentioning that their flavor options are extremely limited.
Either way, the BCAA Sport Cherry Limeade gets a thumbs up from me.
What are BCAAs?
The three aminos classified as BCAAs are isoleucine, leucine, and valine. As amino acids, they are the building blocks of protein.
Furthermore, BCAAs have been researched and studied for their effects on helping reduce muscle soreness and supporting recovery.
They are considered "essential," meaning that your body does not make them naturally and must be consumed through food.
You can find BCAAs naturally in foods like chicken, fish, eggs, milk, peanuts, and several other sources. 
Depending on your diet, preferences, budget, and lifestyle, supplementing with a BCAA powder can be an extremely convenient way to support your fitness goals.