Natrol 5-HTP
5-HTP can help support mood, sleep, and overall wellness.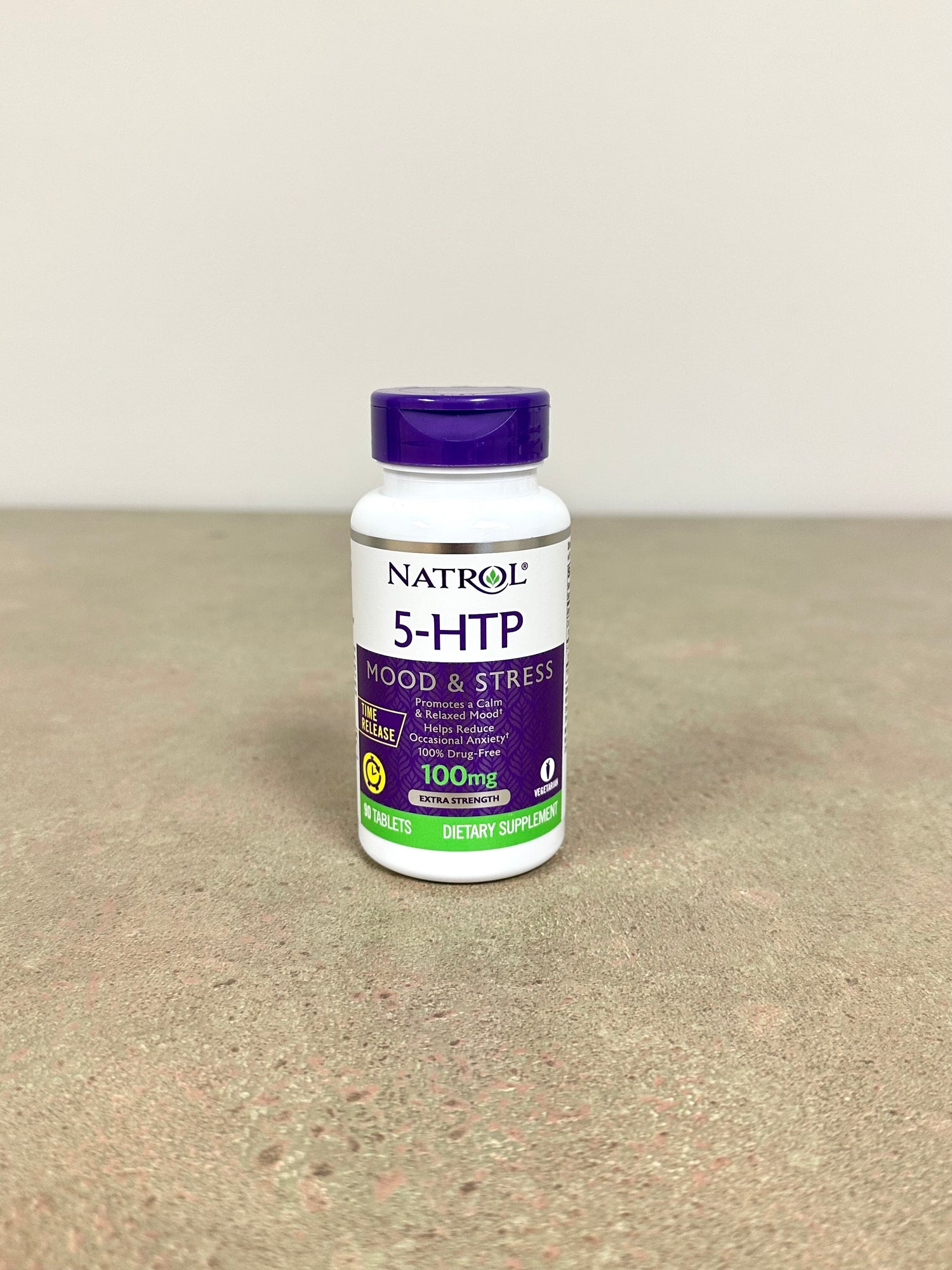 Natrol's 5-HTP
Natrol's 5-HTP offers a time release for 100mg of 5-HTP. Made with Non-GMO ingredients, this formulation also includes Vitamins B6, B12, Magnesium, and Inositol. Check out this vegetarian-friendly, gluten-free, long-lasting supplement by Natrol.
Buy on Amazon
Time-Release Natrol 5-HTP Review
5-Hydroxytryptophan, more commonly referred to as 5-HTP, is a natural compound your body converts into serotonin. Serotonin is essential in regulating mood, stress, sleep, and more.
Many fitness and wellness enthusiasts are using 5-HTP in an effort to help improve their lives with better sleep and a more positive outlook. 
Most people have trouble falling asleep or staying asleep at some point in their lives. Natrol Supplements specializes in making tablets to help improve sleep, mood, and relaxation. All of their products are made with Non-GMO ingredients, no preservatives, and no synthetic dyes. 
I was curious about Natrol's 5-HTP supplement, so I researched it and wrote a review for you! 
Natrol 5-HTP at a Glance: 
Time-Release Formula
Includes Vitamin B
Non-Habit Forming 5-HTP
Under the Lid - My In-Depth Review
How and Why Use 5-HTP?
Before I get into the details, you might be asking yourself, "What can 5-HTP do for me?" and "How much should I take, and how often?"
The answer will be different depending on your reasons for taking 5-HTP.
You cannot get 5-HTP in food, but we can get it from a plant called Griffonia simplicifolia. Essentially, a 5-HTP supplement can help influence serotonin levels, a neurotransmitter that helps with enhancing sleep, improving mood, and even helping to manage weight. 
There is a wide range of suggested dosages for 5-HTP. One website I found suggested a low dose (100mg) taken right before bed and higher doses (300-500mg) taken with a meal.
If you are not sure how much to take, consult your primary care physician.
Pros
First Things First: Good Price Point
Natrol has definitely delivered on this one. A bottle of 100mg capsules costs $21.84, and the bottle has 150 servings. That shakes out to only 14¢ per serving, which is pretty good if you ask me.
While this is a good price point, there are some options at an even lower cost. One competitor I saw offered their 5-HTP at 7¢ per serving. And of course, there are many options that cost more than Natrol, upwards of 46¢ per serving. 
The directions say to take one tablet up to two times daily. This means that even if you take the highest suggested dose of two capsules a day, a single bottle will last you well over two months. If you take one a day, then it will last up to five months. 
A Formula with Bells and Whistles
Unique Features
According to their website, Natrol tablets are made with clean ingredients. In addition to being Non-GMO, they specify the following dietary qualities: 
Vegetarian
Gluten-Free
No Artificial Flavors
No Artificial Sweeteners
No Preservatives
No Synthetic Dyes
Cons
There are More Affordable Options
While the price point is not bad for Natrol's 5-HTP, if you want something more affordable, you can definitely find it. This could be a deciding factor for someone looking for the best 5-HTP for their life.
It Takes a While to see Effects of 5-HTP
One of the only drawbacks of 5-HTP is that if you want it to work, then you have to take it for a few weeks to feel the effects. Depending on your reasons for taking 5-HTP,  you may experience benefits between two weeks and six months. 
That said, this is true of any 5-HTP, not unique to Natrol 5-HTP, and something to keep in mind if you are taking 5-HTP for the first time.
My Final Thoughts
Natrol has a solid product. For some people, the best 5-HTP supplement comes down to price. For some, it comes down to other features or ingredients. For me, I personally like the time-release formula because it sets this supplement apart from competitors. 
As I mentioned earlier, while it is an affordable product, you could look elsewhere for a more straight-forward, budget-friendly option.
Also, if you don't feel you need the time-release option, you could find another option that might suit your needs better. 
And as always, be sure to consult your physician about how you should be supplementing!
Why Supplement with 5-HTP?