Nested Naturals 5-HTP Review: Is This Supplement for You?
Looking for a supplement to help assist with mood and sleep? Check out my full review!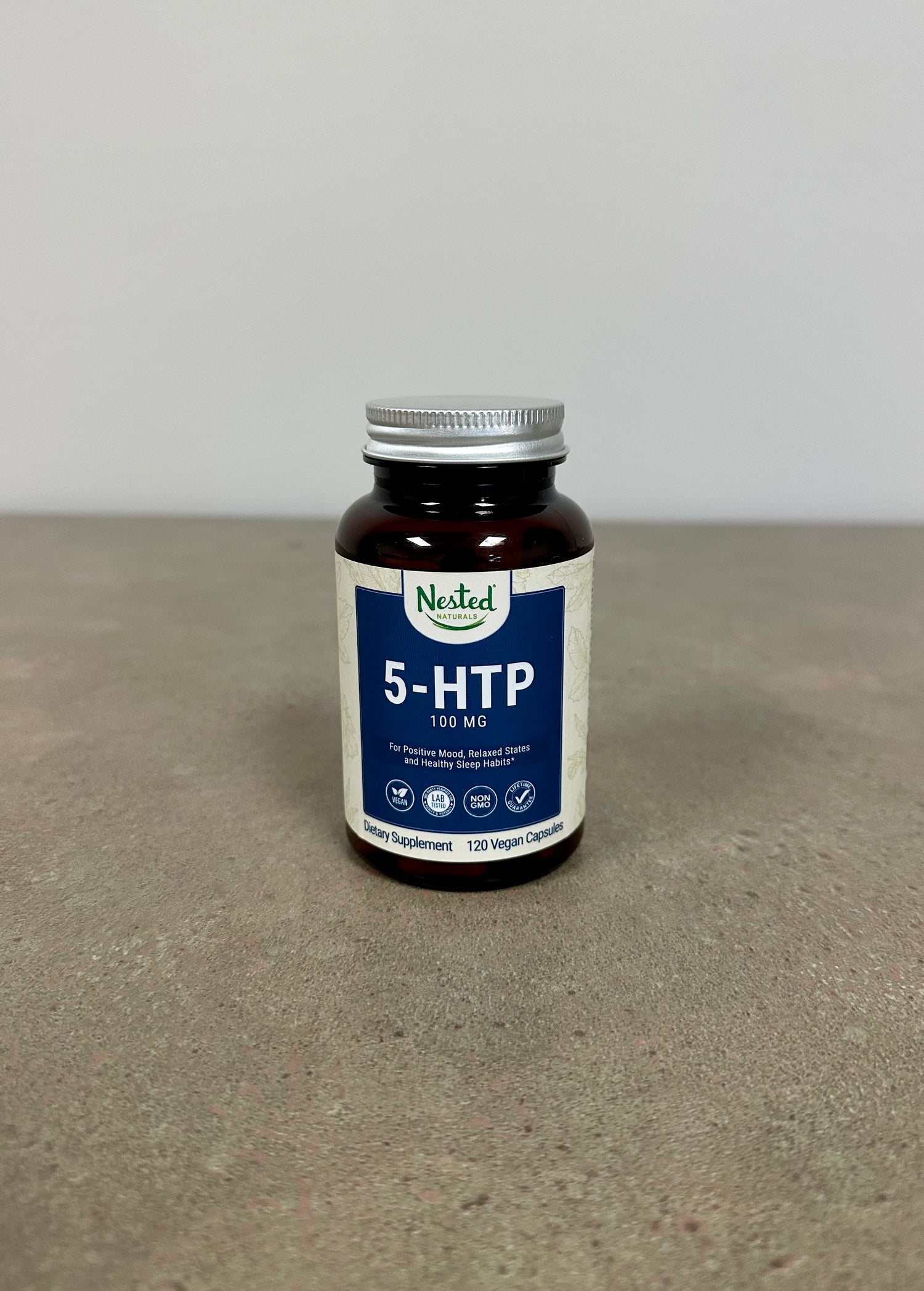 Nested Naturals 5-HTP
Rest assured that this product by Nested Naturals is produced with cruelty-free practices and customer-centric ethics. To guarantee quality assurance, all Nested Natural products undergo rigorous third-party testing. Nested Naturals provides 100mg of 5-HTP free from wheat, gluten, GMOs, soy, dairy, eggs, fish, nuts, corn, yeast, shellfish, and tree nuts.
Buy on Amazon
Nested Naturals 5-HTP Review: Is This Supplement for You?
5-Hydroxytryptophan (5-HTP), often known as 5-HTP, is a naturally occurring compound that your body converts into serotonin. In a nutshell, serotonin plays a crucial role in regulating mood, stress levels, sleep, and various other functions.
An increasing number of fitness and wellness enthusiasts are incorporating 5-HTP into their routines to help support their overall well-being by promoting better sleep and fostering a more positive mindset.
Nested Naturals is a plant-based vitamin and mineral supplement company specializing in sleep assistance, vitality, and healthy aging products. With over 10 years of industry experience, they offer a wide range of non-GMO, cruelty-free, and ethically sourced supplements that are packaged in 100% recyclable materials. 
Nested Naturals touts 'radically transparent supplements', which is why I wanted to check out their 5-HTP option. I hoped that they might offer a contender for the best 5-HTP supplement.
A Quick Look at Nested Naturals 5-HTP:
Vegan capsule
Cruelty-free research
100mg of 5-HTP
The Research: How much 5-HTP should you take?
It's important to note that the benefits of 5-HTP typically take a minimum of two weeks to manifest, and sometimes even longer. This aspect should be considered when evaluating whether this supplement is suitable for you.
The recommended dosage for 5-HTP covers a wide range. One website I came across suggested a lower dose of 100mg taken before bedtime to improve sleep quality, while higher doses of 300-500mg, taken with a meal, may be more effective for addressing medical symptoms. If you are uncertain about the appropriate dosage for your specific situation, consult your physician.
Pros
Formula
I was happy to discover that this product is free from wheat, gluten, GMOs, soy, dairy, eggs, fish, nuts, corn, yeast, shellfish, and tree nuts. If you have any of these allergies, you don't have to worry about taking this supplement. 
The only ingredient in the capsule is 100mg of 5-HTP, and the capsule is vegan. I think this is a huge plus for consumers like me!
Nested Naturals recommends taking 1 capsule daily with water as needed. According to the label, this bottle could last 4 months. That said, 100mg a day is only one of commonly suggested doses, so make sure you consult your doctor.
Additional Certifications
Another great feature of the Nested Naturals products is their quality assurance. Their 5-HTP product is 3rd party tested, non-GMO, the capsules are vegan, and the product comes with a lifetime guarantee. 
Considering their certifications, Nested Naturals 5-HTP definitely seems like a quality supplement company.
Cons
Cost (Servings Per Bottle)
Each bottle of Nested Naturals 5-HTP costs $21.95. Each bottle has 120 servings of 100mg each, which come to 18¢ per serving. While that price is not bad, I have seen competitors offer 2x the servings (with the same amount of 5-HTP per capsule) for an even more affordable price point.
My Final Thoughts
Clearly, Nested Naturals 5-HTP is a reputable and beneficial product. I personally love that it is totally allergen-free and vegan. In a competitive supplement market, the earth-focused vision of Nested Naturals is appealing to me as well. 
Remember, however, that Nested Naturals does provide fewer servings per bottle and also cost than some competitors. 
Considering the positive feedback and lack of many allergens, the higher price point may be worth it for some consumers, but that depends on what you are looking for in your 5-HTP supplement. Only you can decide if Nested Naturals is the best 5-HTP for you!
Why Supplement with 5-HTP?
Regular usage of 5-HTP can provide support for individuals facing challenges with weight loss by assisting in curbing hunger and increasing satiety. People commonly take 5-HTP to increase serotonin levels, which has been proven to assist with weight management, promote better sleep, and enhance mood. 
Furthermore, regular intake of 5-HTP can enhance sleep quality by promoting an increase in melatonin production.
I became curious about the potential benefits of 5-HTP and decided to purchase a bottle of Nested Naturals 5-HTP. I embarked on a thorough research journey to gather information about this product.
To begin with, I wanted to understand why 5-HTP might be beneficial for me. Additionally, I wanted to find out the appropriate dosage, when to take 5-HTP, and how often to take it. 
The advantages of 5-HTP vary depending on the individual's specific needs. Essentially, this supplement can aid in the production of serotonin within the body. Although 5-HTP is not naturally found in food, it can be derived from the Griffonia simplicifolia plant.