Primaforce's 5-HTP Review: Will This Help Me Relax?
Consider adding 5-HTP to your supplement routine to support better sleep and less stress.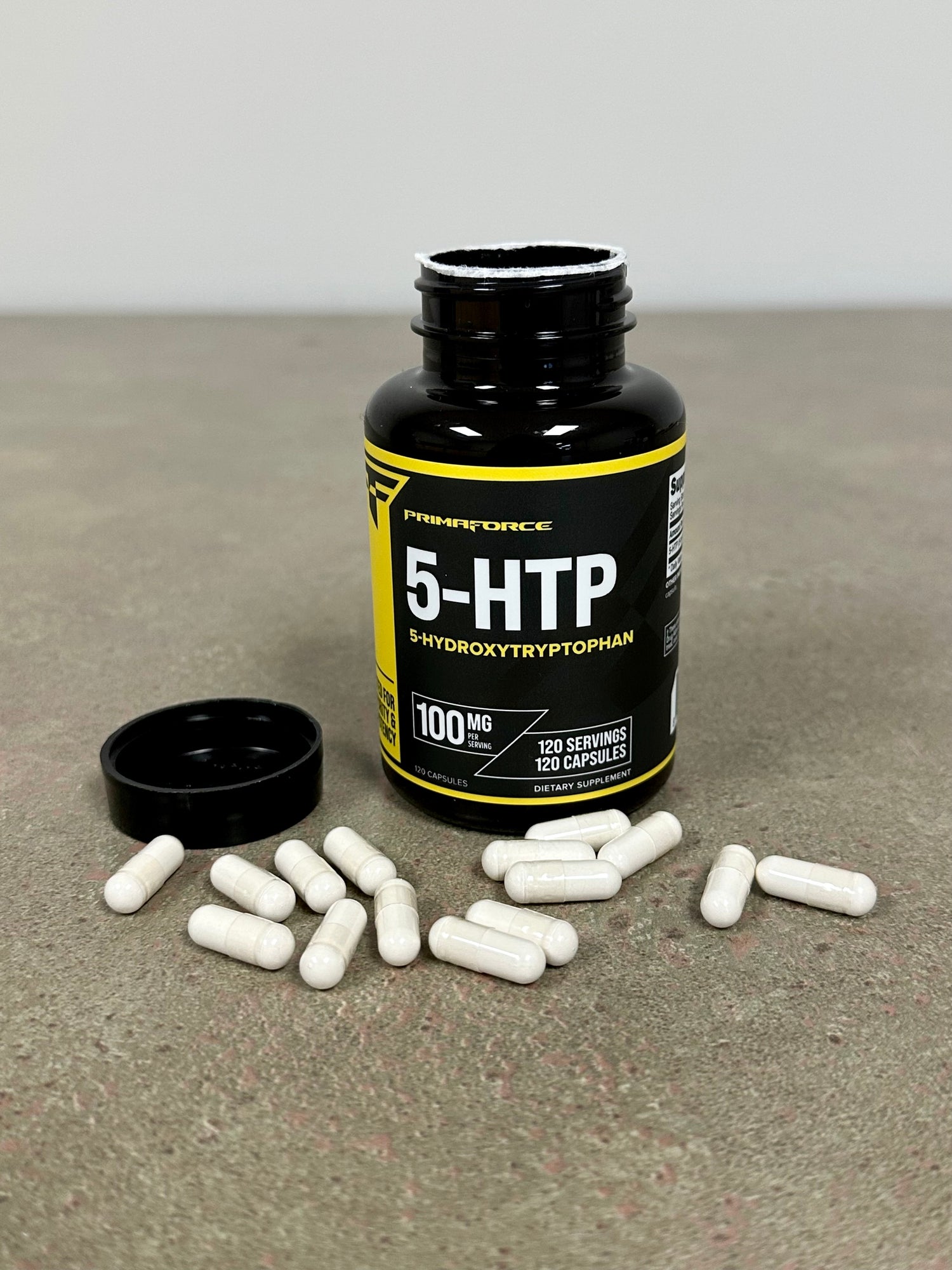 Primaforce 5-HTP
Increase your quality of life with a Primaforce 5-HTP supplement. Every batch of Primaforce 5-HTP is manufactured in a GMP-compliant, FDA-registered facility.
Buy on Amazon
5-Hydroxytryptophan, more commonly referred to as 5-HTP, is a natural compound your body converts into serotonin. Long story short: serotonin is essential in regulating mood, stress, sleep, and more.
Many fitness and wellness enthusiasts are using 5-HTP in an effort to help improve their lives with better sleep and a more positive outlook. After researching 5-HTP for a bit, I wanted to take a look at the products available and see how they compare. Just like you, I'm always searching for the best serotonin supplement out there. 
I settled on Primaforce's 5-HTP. Primaforce is a supplement brand that operates out of Utah. They are a growing company and offer an array of body building products. Check out my full review on their 5-HTP below!
How and Why Use 5-HTP?
I was curious about what 5-HTP could do for me. I ordered a bottle of Primaforce 5-HTP and dove into researching everything I could about the product. 
Before getting into the nitty gritty, though, you might be asking yourself, "What can 5-HTP do for me?" and "How much should I take, and how often?"
Depending on your reasons for taking 5-HTP, the answer will be different. 
You cannot get 5-HTP in food, but we can get it from a plant called Griffonia simplicifolia. Essentially, a 5-HTP supplement can help influence serotonin levels, a neurotransmitter that helps with managing weight, enhancing sleep, and improving mood. 
One important thing to know about supplementing with 5-HTP is that according to my research, it looks like the benefits take at least two weeks to appear, if not longer. 
This is something to keep in mind as you consider if this supplement is right for you. 
There is a wide range of suggested dosages for 5-HTP. One website I found suggested a low dose (100mg) taken right before bed and higher doses (300-500mg) taken with a meal.
If you are not sure how much to take, consult your physician. Alright, onto my full review of Primaforce 5-HTP.
Pros
Cost (Servings Per Bottle)
The first part of my review process was comparing Primaforce 5-HTP pricing with other comparable products.
Primaforce prices are in the middle of the road. I definitely saw some more expensive bottles of 5-HTP, running around $40 per bottle and some less expensive ones at about $14 per bottle. 
In one bottle of Primaforce 5-HTP (100mg), you get 120 servings for only $17.95. That is a 4-month supply if you take one a day. 
Less than $5/month? Not bad at all. 
Formula
Primaforce 5-HTP is a no-fuss formula - it is literally JUST the 5-HTP inside the capsule. You get 100mg in just one capsule. This makes it easy to scale if you want to start with a low dose and increase under the direction of a medical professional.

Also worth mentioning is that this product is also listed as non-GMO and Gluten-Free, which increases the quality of Primaforce's 5-HTP. 
Additional Considerations
Each batch of Primaforce 5-HTP is manufactured in a GMP-compliant, FDA-registered facility, which increases my trust in the brand. 
Additionally, each batch is tested by independent, ISO-Accredited laboratories. 
Primaforce has a Climate Pledge Friendly Badge on their Amazon site, which means that they use as little packaging as possible in your product. 
I really appreciate this and wish more companies would hop on board!
Cons
Noticeable Benefits May Take Time
If you want 5-HTP to work, then you have to take it for a few weeks to feel the effects. Depending on your reasons for taking 5-HTP,  you may experience benefits between two weeks and six months. 
That said, this is true of any 5-HTP, and not unique to Primaforce.
The Best 5-HTP
Primaforce 5-HTP is a great product and I recommend it! Obviously, you will have to decide if this is the best 5-HTP supplement for you. Be sure to consult with your doctor or nutritionist if you have any questions about how much 5-HTP to take, as there is no standard dosage. 
The midrange price point and high reviews on Amazon make Primaforce 5-HTP a first choice for me.
Why Supplement with 5-HTP?