Is Nutricost's 5-HTP Worth the Hype?
Looking for a supplement to help assist with mood and sleep? Look no further than this affordable supplement by Nutricost.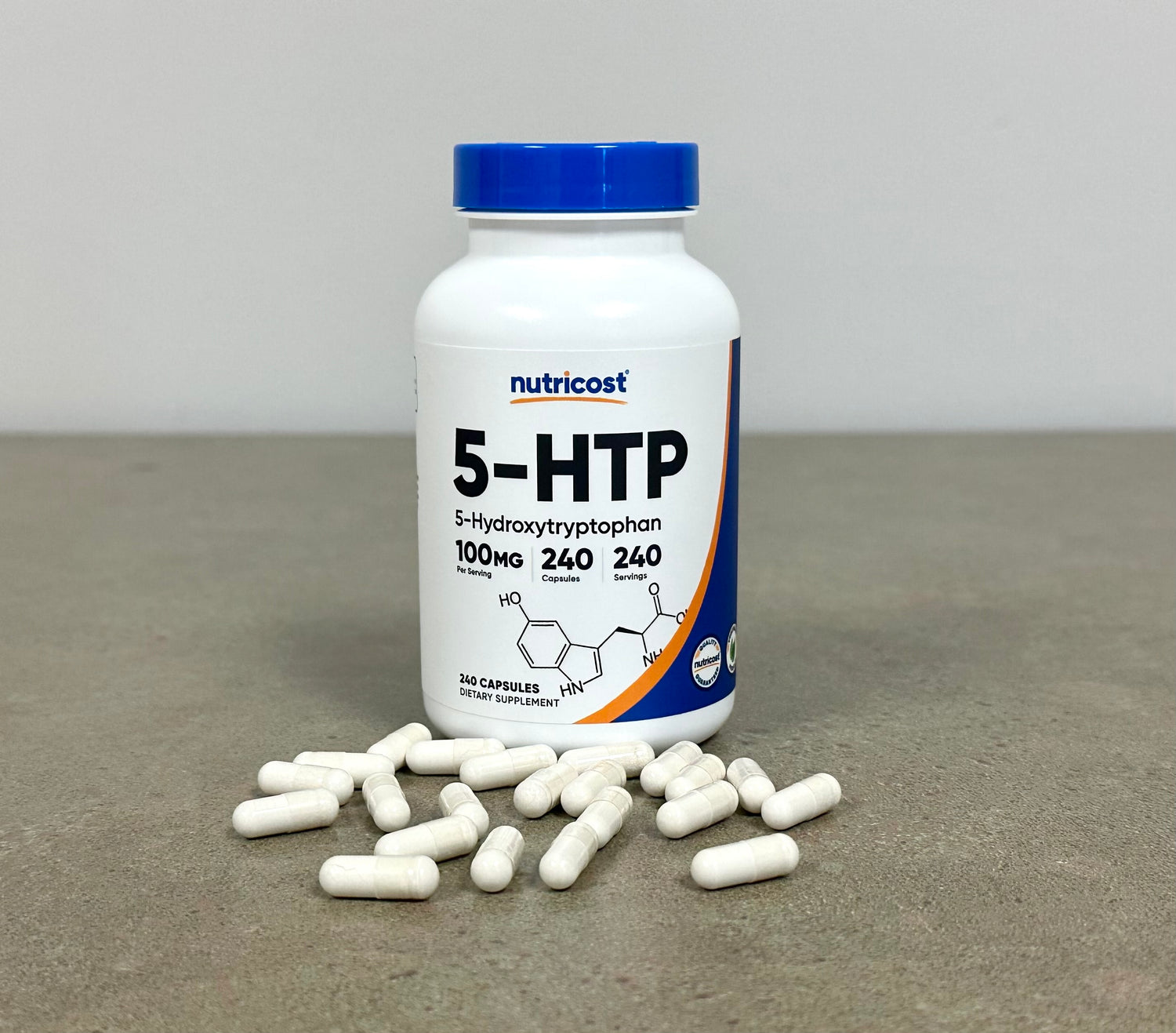 Nutricost's 5-HTP
Each Nutricost 5-HTP capsule contains 100mg of pure 5-HTP. Nutricost's formula is vegetarian-friendly, non-GMO, and gluten-free. It undergoes 3rd party testing and is made in a GMP compliant, FDA registered facility for your peace of mind. Elevate your well-being with our trusted 5-HTP supplement.
Buy on Amazon
Is Nutricost's 5-HTP Worth the Hype?
5-Hydroxytryptophan, more commonly referred to as 5-HTP, is a natural compound your body converts into serotonin. Long story short: serotonin is a neurotransmitter involved in regulating mood, stress, sleep, and more.
As a result, many fitness and wellness enthusiasts are turning to 5-HTP to help support their well-being. 
Nutricost's 5-HTP product caught my eye as it has a whopping 4.5-star rating on Amazon from 8,000+ reviews. I wanted to check it out and see if it lives up to the hype.
Under the Lid - My In-Depth Review
I ordered a bottle of Nutricost 5-HTP and dove into researching everything I could about the product. Here's my review and analysis below.
Pros
Cost (Servings Per Bottle)
Part of my review process was comparing Nutricost 5-HTP pricing with other products. And guess what? Nutricost 5-HTP won by an absolute landslide.
In one bottle of Nutricost 5-HTP (100mg), you get 240 servings for only $18.95! That is an 8-month supply if you take one a day. This boils down to just $0.07 per serving. 
Nutricost 5-HTP is hands down the most affordable 5-HTP on the market.
Formula
Nutricost 5-HTP is a simple, straightforward formula. Each serving is just 1 capsule, and you get 100mg of 5-HTP. This is a fairly common amount when compared to other 5-HTP products on Amazon.
There are no additional ingredients in Nutricost 5-HTP, which I am also a fan of. Sometimes companies will mix in some marketable ingredients just to hike the price tag. That is not the case here.
Nutricost keeps it simple, and I'm a fan.
Third-Party Tested
One aspect that I love about Nutricost products in general, after having done several reviews on their products, is that they are third-party tested and made in a GMP Compliant, FDA Registered facility.
Why is this a big deal? Because it's always nice to know that you are getting exactly what is listed on the label and nothing else. 
It's certainly an extra step the company takes to ensure they create a high-quality, pure product and take care of their customers.
Additional Certifications
Nutricost 5-HTP also comes with some extra certifications:
Non-GMO
Gluten-free
Vegetarian product
They are also the official supplement sponsor for BYU Athletics. This is just another indication that Nutricost's products are high-quality.
Cons
Popular on Amazon (Can Stock Out)
One thing I've seen with Nutricost products is because they are so popular on Amazon and social media, certain products run the risk of stocking out.
That said, it never seems to take Nutricost long to restock on said product. If you see a Nutricost product, like 5-HTP, that you want to get, I wouldn't wait super long if you're going to buy it.
My Final thoughts
Nutricost 5-HTP is a high-quality, recommendable 5-HTP supplement. There's no doubt about it. It's priced affordably, especially considering you get 240 capsules per bottle.
It provides a 100mg serving size, which is a fairly common formula among other 5-HTP products.It's tested for purity and quality and has additional certifications that make the product a top contender.
If you're in the market for a 5-HTP supplement, definitely check out Nutricost 5-HTP.
Why Supplement with 5-HTP?
Our body makes 5-HTP from the amino acid tryptophan. You can get tryptophan from turkey, oats, milk, and other foods.
Inside the body, 5-HTP is converted into a neurotransmitter called serotonin. This neurotransmitter is involved in helping regulate sleep, mood, stress, and more.
However, some research states that eating higher foods containing tryptophan doesn't have a proportional effect on producing higher 5-HTP levels.
As a result of 5-HTP's effects on serotonin, many are turning to 5-HTP supplements to try and help support their well-being.